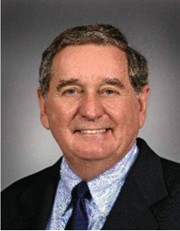 Tom Thomas Innis
Emeritus
2925 Campus Green Drive
308
LCB Opers, Bus Analy, and Infor Stytems - 0195
I have been managing money for other people since 1980, and I became A Registered Investment Advisor with the Securities and Exchange Commission in 1984. At the present time, I manage Pension and Profit Sharing Plans, Defined Benefit Plans, Retirement Accounts, IRA"s, and Personal Accounts.
Ph D, Pacific Western University 1992
MBA, University of Cincinnati Cincinnati, Ohio, 1967
BS, University of Cincinnati Cincinnati, Ohio, 1960
Research and Practice Interests
My current research is in the area of economic and stock market forecasting. This research is proprietary and is not published as it is used in my Investment Advisory Business. During my tenure in the Institutional Research Office, I authored approximately 50 reports that were distributed internally and used for administrative decision making.
2005 Pi Kappa Alpha & Delta Delta Certificate of Appreciation for UC & Greek students
2005 Reached a milestone of having taught a total of 20,000 students at UC.
2004 Simon Anderson Faculty Recognition Award
1996 Inducted into Beta Gamma Sigma
1994 inducted into the Golden Key National Honor Society - University of Cincinnati.
1994 winner of the EXCEL Award for Excellence in Undergraduate Teaching.
1991 featured faculty member in the Spring, 1991 College of Business Administration's Tribunal newsletter
1991 winner of the Grillot Award from the College of Business Administration.
1990 nominated by Delta Sigma Pi for the George Barbour Outstanding Professor Award.
1990 nominated for the Panhellenic Association Outstanding Professor Award.
1994 - Member of the Board of Trustees of the Synod of the Covenant, which serves three states of the Presbyterian Church (U.S.A.) Type:Community Service Level:Public
Chairman of the Mt. Washington Presbyterian Church Investment Committee. Type:Community Service Level:Public
CBA representative to the Athletic Department on recruiting activities. Type:University Level:University
Conducted a workshop for faculty & GTA"s in the Autumn Quarter (89-90) on "Effective Teaching Methods." Type:University Level:University
Faculty advisor to the University of Cincinnati Boxing Club. Type:University Level:University
Member of the 1997 EXCEL Committee Type:University Level:University
Member of the Fine Arts Business Campaign Volunteer Solicitation Teams. Type:University Level:University
Member of the University Committee on Race Relations. Type:University Level:University
Member of the University Committee on Retirement Programs Type:University Level:University
Presented a Financial Planning Seminar to the Alpha Theta Chapter of Delta Sigma Pi in October, 1997. Type:University Level:University
Presented a Financial Planning Seminar to the UCAAMP Professional Development Seminar in August, 1997. Type:University Level:University
Presented a seminar on Financial Planning for the 21st Century to the AMA chapter at UC in October, 1997. Type:University Level:University
Presented a series of mini-lectures in the Summer of 1991 & 1992 to parents of incoming freshmen. Type:University Level:University
Presented a Statistics seminar to the Ohio Cooperation Education Association annual meeting in Newark, Ohio in May, 1997. Type:University Level:University
Served as a member of the Retention & Academic Issues Work Group of the UC Strategic Enrollment Management Initiative. Type:University Level:University
Served on a promotion and tenure review committee for a University College professor. Type:University Level:University
Faculty advisor to Delta Sigma Pi (professional business fraternity ) Type:University/College Service Level:University
PERS FINANCE
PERS FINANCE
PERSFINANCE
PERS FINANCE
Personal Finance
Personal Finance
Personal Finance
PERS FINANCE
PERS FINANCE
Personal Finance
Personal Finance
Personal Finance
Personal Finance
Personal Finance
Personal Finance
Personal Finance
Personal Finance
Personal Finance
Business Statistics II
Personal Finance
Business Statistics II - Honors
Personal Finance
Business Stats I Honors
Special Topics in Finance
Teaching Assistant
Business Stats I
Business Stats II Honors
Business Stats I Honors
Business Stats II
Teaching Assistant
Business Stats II
Business Stats II
Business Stats II - Honors
Business Stats I - Honors
Business Stats II
Teaching Assistant
Business Stat II
Business Stat II
Business Stat II
Business Stat II - Honors
Business Stat I
Business Stat I - Honors
Business Stat II