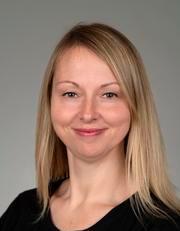 Amber Irwin , DNP,APRN-CNP,MSN,PMHNP-BC,BSN,RN
Asst Professor - Clin
Dr.
University of Cincinnati, College of Nursing
3110 Vine Street
Cincinnati, Ohio 45219
Phone 937-779-9443
Email irwinar@ucmail.uc.edu
Amber Irwin serves as an Assistant Professor at the UC College of Nursing.  Dr. Irwin joined the UC CON team in 2015 as Adjust Faculty.  She taught Concepts of Community and Community as Partner in the Undergraduate, Accelerated, and RN to BSN programs until 2018.  She switched gears and started teaching Mental Health in 2019 as full-time faculty for the Undergraduate and Accelerated programs.  Her research interests include nursing administration, wellness, and public health in the rural/underserved areas.  She has 21 years of clinical experience, primarly in the community/public health/mental health nursing area.  
MSN: American Sentinel University Denver, Colorado, 2011 (Nursing Education)
BSN : Shawnee State University Portsmouth, OH, 2007
ADN: Shawnee State University Portsmouth, OH, 2002
AD: Southern State Community College Hillsboro, OH, 2000 (Science)
DNP: Chamberlain College of Nursing Grover, Illinois, 2018 (DNP; Healthcare systems leadership)
PMHNP Certification : University of Cincinnati Cincinnati, OH, 2022 (Psych Mental Health Nurse Practitioner )
Licensed School Nurse Certification : Ashland University Ashland, OH, 2012 (Nursing )
Research and Practice Interests
For my DNP project, I implemented a communication protocol in a rural urgent care center to improve patient satisfaction.  Nursing Administration was the field of study for my DNP project.  I was able to publish it twice in two separate peer-reviewed journals.  
I have an interest in completing mental health studies/wellness studies in the rural areas of southern, Ohio.  I grew up in the Appalachian community, and I would like to focus my future research in those areas.  I feel strongly thats where research is needed the most.  
 
Positions and Work Experience
2016 -05-2018 Adjunct Faculty, Course lead and Clinical coordinator for community courses in the BSN and RN-BSN program, University of Cincinnati , Batavia, OH
2009 -2015 Public Health Nurse, Served as a school nurse in the Manchester Local School District and Ohio Valley School District under the direction of the health dept., Adams County Board of Health, West Union, OH
2006 -2009 Site Coordinator , Adams Brown County Economic Inc (Family Planning/WIC), West Union, OH
2004 -2006 Charge Nurse, Dialysis Clinic Inc., Seaman, OH
08-2019 -To Present Assistant Professor, Course Lead and Clinical Coordinator for mental health courses for both the Accelerated and BSN programs, University of Cincinnati, Cincinnati, Ohio
02-02-2023 -To Present Certified Nurse Practitioner , Shawnee Family Health Center, West Union, OH
Investigators:Robin Lucas, Amber Irwin 2011 -2012 HRSA Teen Pregnancy Role:Collaborator 5000 Completed Type:Grant Level:Regional
Investigators:Angie Clark, Donna Green, Robin Wagner, Amber Irwin 06-30-2020 -06-30-2022 HRSA NEPQR-Simulation Education Grant Role:Collaborator 2,000,000 Denied Type:Grant
Grant: #U4E42429 Investigators:Clark, Angela; Green, Donna; Irwin, Amber; Rota, Matthew; Wagner, Robin; Werdman, Eileen 07-01-2021 -06-30-2023 Health Resources and Services Administration Appalachian Experiential Learning and Simulation Program (App-ELS) Role:Collaborator 500000.00 Awarded Level:Federal
Peer Reviewed Publications
Amber Irwin (2020. ) Improving patient satisfaction at a rural urgent care center.Nursing Management, , 51 (2 ) ,13 -14, 15More Information
Amber Irwin (2019. ) Nursing 2019, , 49 (3 ) ,18 -19, 20More Information
Amber Irwin and Christine Colella (2020. ) Use of standardized patients in mental health simulation.Journal of Mental Health and Addiction Nursing, , 4 (1 ) ,e26-e29 More Information
Invited Presentations
Amber Irwin (10-22-2020. ) Virtual simulation in mental health nursing education .Virtual, Virtual. Conference. . Level:National
Amber Irwin (11-18-2022. ) Overcoming Obstacles in Nursing Education .CURESZ Foundation , Virtual. UC. . Level:Local
Amber Irwin (11-2021. ) Community Nursing in Rural, OH .GlobeMed, Virtual. Other Institution. . Level:Local
Poster Presentations
Amber Irwin, Robin Wagoner (2021. ) New direction in innovating strategies to enhance mental health simulation in nursing education .Ohio League for Nursing, Columbus, OH. . Conference. . Level:State
Amber Irwin (2018. ) Communication protocol for long wait times in the rural urgent care setting: Improving patient satisfaction .Schaumburg Conference Center, Schaumburg, Illinois. . Conference. . Level:University
Paper Presentations
Amber Irwin (11-05-2021. ) Community Nursing in Rural, Ohio .Virtual. UC. Level:Local
2020 -2020 Yeaworth Outstanding Teacher Award Status:Nomination Type:Monetary
2018 -2018 Honors with Distinction Chamberlain College of Nursing Status:Recipient Level:University Type:Non-Monetary
2011 -2011 Honors with Distinction American Sentinel University Status:Recipient Level:University Type:Non-Monetary
04-01-2022 -04-01-2022 Faculty Excellence Award Status:Recipient Level:University Type:Monetary
04-2022 Outstanding Faculty Award Awarded by the Class of 2022
2022 UC Forward Award: Collaborative Experiential Learning Status:Recipient Level:University Type:Monetary
2023 Rosalee Yeaworth Award Status:Recipient Level:University Type:Monetary
University of Cincinnati (Sophomore Essay Task Force ) Member Type:Departmental Service Level:University 2019 -2020
American Legion (American Legion Ladies Auxiliary ) Member Type:Community Service Level:Local 2016 -To Present
Boy scouts of America Board Member Type:Community Service Level:Local 2013 -To Present
Resurrected Life Church Treasurer Type:Community Service Level:Local 1997 -2000
West Union High School (West Union Performing Arts Program ) Vice President Type:Community Service Level:Local 2019 -To Present
(BSN Capstone project ) Mentor Type:Service to Student Groups Level:University 01-2021 -04-2021
(MMI Rater ) Other Type:Departmental Service Level:University 12-2020 -12-2021
(RPT ) Elected Member Type:Other Level:University 08-2022 -08-2023
Student Affairs Council Elected Member Type:Other Level:University 08-2020 -08-2022
Foundation Drive, UC Day of Giving Ambassador for the College of Nursing Co-Chair Type:Other Level:University 03-2023
DNP Project Team Member Committee Member Type:Service to Student Groups Level:University 2022
Post Graduate Training and Education
09-2010-09-2011 MSN: Nursing Education, Masters in nursing degree with a concentration in nursing education, American Sentinel University, , Denver, Colorado
02-2011-02-2012 School Nurse Licensure, Completed one year of masters education classes to obtain a school nurse licensure for the state of Ohio. , Ashland University, , Ashland, Ohio
06-2016-07-2018 Doctor of Nursing Practice, Concentration in Healthcare systems leadership, Chamberlain College of Nursing, , Grover, Illinois
07-2019-07-2019 iCON, Took part in a week long training involving the use and application of an ipad in nursing education, University of Cincinnati, , Cincinnati, Ohio
01-2021-12-2022 PMHNP Certification , University of Cincinnati, , Cincinnati
2019 -To Present: Sigma Theta Tau Beta Iota Chapter University of Cincinnati, Cincinnati, Ohio
2018 -2019: Sigma Theta Tau Phi Pi Chapter Chamberlain College of Nursing, Grover, Illinois
2000 -2002: Phi Theta Kappa Southern State Community College, Sardinia, Ohio
-NBSN-3040C COMMUNITY PARTNER Level:Undergraduate
-NBSN-3002 CON COM PUB HEALTH Level:Undergraduate
-NBSN-4066C RN-BSN COMM PARTNR Level:Undergraduate
-NBSN-3030C MENTAL HEALTH CONT Level:Undergraduate
-NBSN-3030C MENTAL HEALTH CONT Level:Undergraduate
Mental Health Level:Graduate
Faculty Development Activities
2019 -2020 Mental Health Simulation Developed and implemented a mental health lab using standardized patients, University of Cincinnati Cincinnati, Ohio Type:Other
Academic - University of Cincinnati, College of Nursing
3110 Vine Street
Cincinnati  Ohio, 45219
Phone: 937-779-9443
irwinar@ucmail.uc.edu