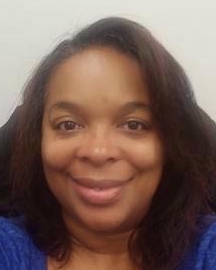 Latonya Jackson
Research Assistant Professor
University of Cincinnati
Rieveschl Hall 851JD
312 College Drive
Cincinnati, Ohio 45221
Phone 513-556-6424
Email jacks3la@ucmail.uc.edu
Aquatic toxicology, ecotoxicology, endocrine disrupting chemicals, chemical mixtures in the aquatic environment, anthropogenic contamination, chronic and acute effects of environmental contaminants on fish, fish biology, live-bearing fish, combined effects of global warming and other stressors on aquatic organisms
B.S. Biology, , Lafayette, LA, 2002:
Ph.D.: University of Louisiana-Lafayette Lafayette, LA, 2016 (Environmental and Evolutionary Biology)
Research and Practice Interests
My main research interests involve studying the responses of aquatic organisms to environmental stressors, with a focus on the long-term effects of endocrine disrupting chemicals and other environmental contaminants on different fish species; the implications of such effects at the organism, population, and ecological levels;  discerning mechanisms of toxicity; and linking laboratory results and field data to population- and ecosystem-level responses. 

Recent work examined the impacts of estrogens on sexual development, fecundity, sex ratio, growth, liver and sex organ histology, and organism development on matrotrophic and lecithotrophic fish at the organism and population levels.

Current projects include an evaluation of population and multi-generational responses to acute and chronic exposures to toxicants and multiple stressors and discerning the effects and mechanisms of toxicity in fish with differeing modes of reproduction and development.

Collaborations and communitcating our scientific results to the public and different sectors are extremely important.  Therefore, this lab supports and encourages conference attendance and local, regional, and state-wide outreaches. This lab collaborates with the local EPA and other local and national labs on research projects.  
Peer Reviewed Publications
Latonya Jackson and Paul Klerks (2019. ) Effects of 17α-ethinylestradiol exposure in the live-bearing fish Heterandria formosa .Archives of Environmental Contamination and Toxicology, ,
Latonya Jackson, Bruce Felgenhauer, and Paul Klerks (2019. ) Feminization, altered gonadal development, and liver damage in least killifish (Heterandria formosa) exposed to 17α-ethinysestradiol .Ecotoxicology and Environmental Safety, , 170 ,331-337
Shawn Llopis, Brittany Singleton, Tamika Duplessis, Latonya Carrier, Brian Rowan, and Christopher Williams (2013. ) Dichotomous roles for the orphan nuclear receptor NURR1 in breast cancer .BMC Cancer, , 13 ,139
Muralidharan Anbalagan, Krzysztof Moroz, Alaa Ali, Latonya Carrier, Seth Glodowski, and Brian G. Rowan (2012. ) Subcellular Localization of Total and Activated Src Kinase in African American and Cauca-sian Breast Cancer .PloS One, , 7 ,e33017
Muralidharan Anbalagan, Latonya Carrier, Seth Glodowski, David Hangauer, Bin Shan, and Brian G. Rowan (2012. ) KX-01, a novel Src kinase inhibitor directed toward the peptide substrate site, synergizes with tamoxifen in estrogen receptor α positive breast cancer .Breast Cancer Research and Treatment, , 132 ,391-409
Muralidharan Anbalagan, Alaa Ali, Ryan K Jones, Carolyn G Marsden, Mei Sheng, Latonya Carrier, Yahao Bu, David Hangauer, and Brian G Rowan (2012. ) Peptidomimetic Src/pretubulin inhibitor KX-01 alone and in combination with paclitaxel sup-presses growth, metastasis in human ER/PR/HER2-negative tumor xenografts .Molecular Cancer Therapeutics , , 11 ,1936-47
Carolyn G. Marsden, Mary Jo Wright, Latonya Carrier, Krzysztof Moroz, and Brian G. Rowan. (2012. ) Disseminated breast cancer cells acquire a highly malignant and aggressive metastatic pheno-type during metastatic latency in the bone .PLoS One , , 7 ,11 -e47587
Carolyn Marsden , Mary Wright , Latonya Carrier, K Moroz, R Pochampally, B Rowan (2012. ) A novel in vivo model for the study of human breast cancer metastasis using primary breast tumor-initiating cells from patient biopsies .BMC Cancer, , 12 ,10
Muralidharan Anbalagan, Latonya Carrier, David Hangauer, and Brian G. Rowan. (2011. ) KX-01, a Novel Src Kinase Inhibitor Directed towards the Peptide Substrate Site, Induces Robust Apoptosis and Synergizes with Tamoxifen and Chemotherapy in Breast Cancer .Cancer Research, , 70 ,2535
Zengshan Li, Latonya Carrier, Aditi Belame, Arunthavarani Thiyagarajah, Virgilio A. Sal-vo, Matthew E. Burow, and Brian G. Rowan (2009. ) Combination of methylselenocysteine with tamoxifen inhibits MCF7 breast cancer xenografts in nude mice through elevated apoptosis and reduced angiogenesis .Breast Cancer Research and Treatment, , 118 ,33-43
Christopher Williams, A Basu , A El-Gharbawy, L Carrier , C Smith , B Rowan (2009. ) Identification of four novel phosphorylation sites in estrogen receptor alpha: impact on recep-tor-dependent gene expression and phosphorylation by protein kinase CK2 .BMC Biochemistry, , 10 ,36
Zengshan Li, Latonya Carrier, B. G. Rowan (2008. ) Methylseleninic acid synergizes with tamoxifen to induce caspase-mediated apoptosis in breast cancer cells .Molecular Cancer Therapeutics, , 7 ,3056-3063
Academic - University of Cincinnati
Rieveschl Hall 851JD
Cincinnati  Ohio, 45221
Phone: 513-556-6424
jacks3la@ucmail.uc.edu