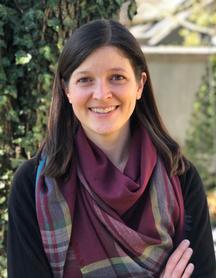 Melissa Jacquart
Asst Professor
Arts & Sciences Hall, Room 201B

My research focuses on epistemological issues in the philosophy of science, specifically on the use of models and computer simulations in astrophysics. My research also examines the role philosophy can play in general public understanding of science, and in science education. I'm also interested in ethics & values in science, science policy, feminist philosophy, and philosophy of education, particularly developing effective teaching methodologies for philosophy.

Please visit my website for more information on my research and teaching:  melissajacquart.com​
PhD: University of Western Ontario 2016 (Philosophy)
MA: University of Western Ontario 2012 (Philosophy)
BS: University of Wisconsin-Madison 2009 (Astronomy-Physics, Physics, and Philosophy)
Positions and Work Experience
2009 -2011 Science Assistant, National Science Foundation, Washington, D.C.
2016 -2018 Postdoctoral Researcher , University of Pennsylvania , Philadelphia, PA
Grant: #NSF SES-1946951 Investigators:Jacquart, Melissa; Potochnik, Angela 04-01-2020 -03-31-2021 National Science Foundation Workshop: Philosophy of Science and Public Engagement Role:PI $34,522.00 Awarded Level:Federal
Grant: #2022-23 Whiting Public Engagement Fellows Investigators:Jacquart, Melissa 03-31-2022 -12-31-2023 Whiting Foundation Bringing Philosophy to Science Fairs Role:PI 50000.00 Hold Level:Non Profit
Grant: #DGE-2224857 Investigators:Bates, Littisha; Crowley, Brooke; Jacquart, Melissa; Morehouse, Nathan; Potochnik, Angela; Trott, Carlie 10-01-2022 -09-30-2025 National Science Foundation NSF IGE Engaging Science: Transforming Graduate Education through Public Engagement with Science Role:Collaborator 499999.00 Awarded Level:Federal
Grant: #DMR-2328826 Investigators:Jacquart, Melissa; Mikheev, Evgeny; Walla, Sarah 10-01-2023 -09-30-2026 National Science Foundation Collaborative Research: FuSe: Spin Gapless Semiconductors and Effective Spin Injection Design for Spin-Orbit Logic Role:Collaborator 269769.00 Awarded Level:Federal
Peer Reviewed Publications
Jacquart, M. and Wright, J. (2016. ) "Teaching Philosophy Graduate Students about Effective Teaching" .Teaching Philosophy, , 40 (2 ) ,
Weisberg, M. Jacquart M. Madore. B. & Seidel, M. (2018. ) The Dark Galaxy Hypothesis .Philosophy of Science, ,
Other Publications
Jacquart, M. (2018. ) Learning About Reality Through Models and Computer Simulations .Science & Education.,
Book Chapter
Jacquart, M. Dark Matter & Dark Energy The Routledge Companion to Philosophy of Physics .
Kronz, F. and Jacquart, M. (2011 ) The Scientific Method Leadership in Science and Technology: A Reference Handbook .
Academic - Arts & Sciences Hall, Room 201B