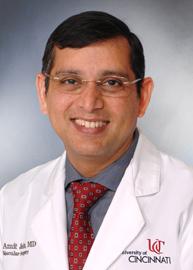 Amit Jain , MD,FACS,RPVI
Adjunct Associate Professor
Medical Sciences Building
Room 2567B
231 Albert Sabin Way
Cincinnati, Ohio 45267
Phone 513-558-5367
Email amit.jain@uc.edu
Dr. Jain is a vascular surgeon specializing in the area of aortic surgery. He has a special interest and expertise in treating aneurysms, dissections, and occlusive diseases involving the thoracic and abdominal aorta. He routinely performs cutting-edge, minimally invasive, endovascular aneurysm repairs. He also specializes in open and hybrid aortic interventions for complex abdominal and thoracoabdominal aneurysms. 
 
Dr. Jain treats patients with a wide variety of vascular conditions including peripheral arterial diseases, peripheral aneurysms, carotid stenosis, mesenteric stenosis, dialysis access, and varicose veins. He makes an individualized treatment plan for each patient and has excellent surgical outcomes with consistently high levels of patient satisfaction. He has received multiple patient care excellence awards based on the Press Ganey scores. His expertise is often requested by neurosurgeons, urologists, and cancer surgeons in complex surgeries involving major vascular resections, repair, and/or reconstructions.
 
Bachelor's Degree: Central Board of Secondary Education, India 1996 (Biology)
Medical Degree: MGM Medical College, Indore, India 2002
Master's Degree: TN Medical College and BYL Nair Hospital, Mumbai, India 2006 (Surgery)
Research Fellowship in Cardiothoracic Surgery: North Shore Long Island Jewish - Lenox Hill Hospital 2006
General Surgery Residency: North Shore Long Island Jewish - Lenox Hill Hospital 2012
Vascular and Endovascular Surgery Fellowship: University of Virginia 2014
American Board of Surgery (General Vascular Surgery) (Certification Date: 05-16-2016 )
American Board of Surgery (Certification Date: 03-18-2013 )
Thrombosis
Vascular Malformations
Vascular Surgery
Amaurosis Fugax
Anti-Neutrophil Cytoplasmic Antibody-Associated Vasculitis
Aortic Aneurysm
Aortic Diseases and Disorders
Arterial disease
Arteriosclerotic Aortic Disease
Arteritis
Buerger's disease (Thromboangiitis obliterans)
Carotid Artery Disease
Carotid Artery Injury
Carotid Artery Stenosis
Carotid Artery Thrombosis
Carotid Artery, Internal, Dissection
Cerebral Arterial Disease
Claudication
Deep vein thrombosis (DVT)
Edema
Endoleak
Fibromuscular Dysplasia
Glomus Tumors
Hemangiosarcoma
Iliac Aneurysm
Leg Ulcer
Leriche Syndrome
May-Thurner Syndrome
Peripheral Arterial Disease (PAD)
Peripheral Vascular Disease (PVD)
Polyarteritis Nodosa
Popliteal Artery aneurysm
Popliteal Artery Entrapment Syndrome
Spider Veins
Subclavian Steal Syndrome
Superficial Thrombophlebitis
Systemic Vasculitis
Thoracic Aortic Aneurysm
Thoracic Outlet Syndrome
Thromboembolic Disease
Upper Extremity Vascular Disease
Varicose Veins
Vascular Disease
Vascular System Injuries
Vascular Tumor
Vasculitis (Angiitis)
Venous Disease
Venous Insufficiency
Venous Thromboembolism
Venous Thrombosis
Research and Practice Interests
Aortic Aneurysm, Aortic dissection, Carotid stenosis, Peripheral Vascular Disease, Thoracic and thoracoabdominal aortic aneurysms and dissections, Thoracic outlet syndrome, Popliteal entrapment syndrome.  
Peer Reviewed Publications
Bath, Jonathan; Leite, Jose O; Rahimi, Maham; Giglia, Joseph; Jain, Amit; Shelton, Kyla; Meier, George H (2018. ) Contemporary outcomes for ruptured abdominal aortic aneurysms using endovascular balloon control for hypotension.Journal of vascular surgery, , 67 (5 ) ,1389-1396 More Information
Hawkins, Robert B; Mehaffey, J Hunter; Narahari, Adishesh K; Jain, Amit; Ghanta, Ravi K; Kron, Irving L; Kern, John A; Upchurch, Gilbert R (2017. ) Improved outcomes and value in staged hybrid extent II thoracoabdominal aortic aneurysm repair.Journal of vascular surgery, , 66 (5 ) ,1357-1363 More Information
Flohr, Tanya R; Hagspiel, Klaus D; Jain, Amit; Tracci, Margaret C; Kern, John A; Kron, Irving L; Cherry, Kenneth J; Upchurch, Gilbert R (2016. ) The History of Incidentally Discovered Penetrating Aortic Ulcers of the Abdominal Aorta.Annals of vascular surgery, , 31 ,8-17 More Information
Flohr, Tanya R; Hagspiel, Klaus D; Jain, Amit; Tracci, Margaret C; Kern, John A; Kron, Irving L; Cherry, Kenneth J; Upchurch, Gilbert R (2016. ) The natural history of penetrating ulcers of the iliac arteries.Journal of vascular surgery, , 63 (2 ) ,399-406 More Information
Jain, Amit; Flohr, Tanya F; Johnston, William F; Tracci, Margaret C; Cherry, Kenneth J; Upchurch, Gilbert R; Kern, John A; Ghanta, Ravi K (2016. ) Staged hybrid repair of extensive thoracoabdominal aortic aneurysms secondary to chronic aortic dissection.Journal of vascular surgery, , 63 (1 ) ,62-9 More Information
Johnston, William F; Jain, Amit; Saad, Wael E; Upchurch, Gilbert R (2014. ) Chest pain from excluded inferior vena cava filter after stent placement.Journal of vascular surgery. Venous and lymphatic disorders, , 2 (1 ) ,70-3 More Information
Jain, Amit; Tracci, Margaret C; Coleman, Dawn M; Cherry, Kenneth J; Upchurch, Gilbert R (2013. ) Renal malperfusion: spontaneous renal artery dissection and with aortic dissection.Seminars in vascular surgery, , 26 (4 ) ,178-88 More Information
Nassiri, Naiem; Jain, Amit; McPhee, Diana; Mina, Bushra; Rosen, Robert J; Giangola, Gary; Carroccio, Alfio; Green, Richard M (2012. ) Massive and submassive pulmonary embolism: experience with an algorithm for catheter-directed mechanical thrombectomy.Annals of vascular surgery, , 26 (1 ) ,18-24 More Information
Sharma A, Jain A, Singh K, Waites J (2014. ) Atherosclerotic peripheral arterial disease of the lower extremities: What every primary care physician should know .Consultant, , 54 (7 ) ,537-41
Jain A.;Cherry K. (02-24-2015. ) Subclavian and axillary artery aneurysms .Clinical Scenarios in Vascular Surgery: Second Edition, ,
Jain A.;Upchurch G. (02-24-2015. ) Asymptomatic internal carotid artery stenosis .Clinical Scenarios in Vascular Surgery: Second Edition, ,
Rosen R.;Jain A. (11-17-2014. ) Interventions for Mesenteric Ischemia.Urgent Interventional Therapies, , 442-457 More Information
Johnston W.;Jain A.;Saad W.;Upchurch G. (01-01-2014. ) Chest pain from excluded inferior vena cava filter after stent placement.Journal of Vascular Surgery: Venous and Lymphatic Disorders, , 2 (1 ) ,70-73 More Information
Kulkarni S.;Jain A.;Damani T.;Shah P. (12-01-2012. ) Laparoscopic distal pancreatectomy: Does size matter? .Surgical Chronicles, , 17 (3 ) ,174-178
Jain, Amit L; Sidana, Abhinav; Maruf, Mahir; Sugano, Dordaneh; Calio, Brian; Wood, Bradford J; Pinto, Peter A (2019. ) Analyzing the current practice patterns and views among urologists regarding focal therapy for prostate cancer.Urologic oncology, , 37 (3 ) ,182.e1-182.e8 More Information
Academic - Medical Sciences Building
Room 2567B
Cincinnati  Ohio, 45267
Phone: 513-558-5367
amit.jain@uc.edu