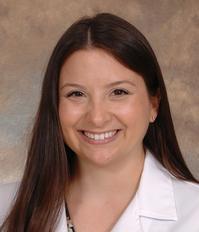 Marissa Jama
Clinical Instructor - GME
Personal Statement
As physicians, we are not only treating a patient's diagnosis – we are also caring for a human being. I find meaning in the moments that bring me closer to my life's purpose of serving others through connection and healing. My journey to medicine first started as a curiosity about the world which I explored through science. This has grown to become a reverence for the scientific complexities that drive our work in medicine every day. I am humbled by the opportunity to be a physician and practice in the field of Internal Medicine because of the ability to unite these themes of scholarship and compassion in my vocation.
 
Why I Chose Cincinnati
I am so happy to be back in Southwest Ohio! I'm originally from Downers Grove, IL (a suburb of Chicago) but I completed my undergraduate degree at the University of Dayton so I consider this area my home away from home. The University of Cincinnati IM program stood out from the rest with its emphasis on humanism in medicine and revolutionizing medical education which are two very important aspects of medicine to me. Opportunities to engage with the community and knowing how to best support those we care for seem to be central to everything that we will be doing and I cannot wait to get started!
DO: Chicago College of Osteopathic Medicine of Midwestern University