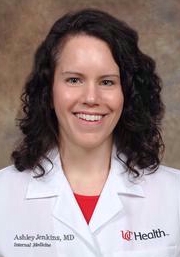 Ashley Marie Jenkins
Asst Professor - Clin Volunteer
Medical Sciences Building
COM IM General Medicine Division - 0535
Internal Medicine and Pediatrics
3333 Burnet Avenue
Cincinnati, Ohio 45229
As of the 2018-2019 academic year, Dr Jenkins is a second year Internal Medicine-Pediatrics (Med-Peds) hospital medicine research fellow at Cincinnati Children's Hospital Medical Center (CCHMC) and University of Cincinnati Medical Center (UCMC).  She holds a dual appointment in Internal Medicine as a Clinical Instructor and in Pediatrics as a Clinical Fellow, and her research projects and interests span both institutions.
 
As a Med-Peds hospitalist, she has a special interest in improving the quality of healthcare for adolescents and adults with chronic conditions of childhood especially in the inpatient setting. Her research interests broadly and within this population include community-based research, health literacy as it pertains to healthcare system navigation and communication with healthcare providers, and shared decision making across the lifespan.
 
Bachelor of Arts, Brown University Providence, RI, 2006 (International Relations, Biology)
Doctor of Medicine, Eastern Virginia Medical School Norfolk, VA, 2012 (Medicine)
Research and Practice Interests
Dr. Jenkins broad research interests include improving patient care in complex healthcare systems by  including all key stakeholders in problem identification, intervention design, and implementation. Her clinical background as a Med-Peds hospitalist fostered a specific interest in healthcare access and delivery for patients across a continuum of ages, including adolescents and young adults with chronic conditions of childhood as they transition from pediatric to adult healthcare. She currently has a number of active projects that have common themes of health systems navigation and community-based participatory research approaches.

At UCMC, Dr Jenkins is leading an interdisciplinary team to determine facilitators and barriers of communication on the inpatient medicine wards. Using a community-based participatory approach, this team includes hospitalists, residents, nurses, and care managers working together to improve patient care on the medicine wards.

Dr. Jenkins currently has funding from a community-engagement partnership development grant aimed at improving the care of patients with spina-bifida as they transition to adulthood. She is leading a mixed methods community-based participatory research study to the needs of individuals with spina bifida to successfully transition to adult care.

Finally, Dr Jenkins has an epidemiologic study focused on understanding factors affecting timing of inpatient transition from pediatric to adult facilities for adolescents and young adults with chronic conditions of childhood. Using the National Inpatient Sample (NIS), this study works to characterize not only epidemiology of and examine factors associated with transition from pediatric to adult hospitals in this population, but also evaluate the effect of national guideline implementation.
Internal Medicine
Investigators:Jason Woodward, Rhonda Morrison, Diane Burns, Ashley Jenkins 03-31-2018 -03-31-2019 UC CCTST Using Concept Mapping to Assess the Health Needs of Individuals with Spina Bifida Transitioning to Adulthood Role:Co-Investigator Active Type:Grant
Grant: #T32 HP10027 Investigators:Kristen Copeland 07-01-2018 NIH Ruth L. Kirschestein National Research Service Award Role:Trainee Active Type:Fellowship Level:National
Published Abstracts
Jenkins, A; Herbst, B; O'Toole, JK (2018. )Aren't Adults Just Big Kids?: Standardizing Care of Adults in Pediatrics Hospitals .[Abstract]Journal of Hospital Medicine, 13 (4 ),Author
Royer S, Caldwell A, Herbst B, Jenkins A, Kelleher M, Ambroggio L, Chima R, O'Toole J (2018. )Hospital-Acquired Venous Thromboembolism Among Adults Admitted to Children's Hospitals, Pediatric Hospital Medicine .[Abstract]Journal of Hospital Medicine, 13 (4 ),Co-Author
Jenkins A, Bolser B, Parker M (2018. )Eye See You Noticed: Being a Pupil of the Physical Exam .[Abstract]Journal of Hospital Medicine, 13 (4 ),
Peer Reviewed Publications
Unaka N, Statile A, Jerardi K, Dahale D, Morris J, Liberio B, Jenkins A, Simpson B, Mullaney R, Kelley J, Durling M, Shafer J, Brady PW (2017. )Improving the Readability of Pediatric Hospital Medicine Discharge Instructions .Journal of Hospital Medicine, ,(7 ),551
Post Graduate Training and Education
07-01-2012-06-30-2016 Internal Medicine-Pediatrics Residency, Cincinnati Children's Hospital and University of Cincinnati Medical Centers, ,Cincinnati, OH
07-01-2016-06-30-2017 Internal Medicine-Pediatrics Chief Resident, Cincinnati Children's Hospital and University of Cincinnati Medical Centers, ,Cincinnati, OH
01-15-2018-05-31-2020 Masters in Clinical and Translation Research, Focus-Community Engagement, University of Cincinnati, ,Cincinnati, OH
07-01-2017-06-30-2020 Internal Medice-Pediatrics Hospital Medicine Research Fellow, Cincinnati Children's Hospital and University of Cincinnati Medical Centers, ,Cincinnati, OH
Academic - Internal Medicine and Pediatrics
3333 Burnet Avenue
Cincinnati  Ohio, 45229
Phone: 513-803-4829
Fax: 513-803-9244
ashley.jenkins@uc.edu