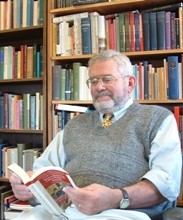 James M Hall
Emeritus Faculty
I am the author of John Dryden: A Reference Guide (1984), a fully annotated bibliography of more than three centuries of secondary work on Dryden. My current research interest is the seventeenth-century diarist Samuel Pepys, particularly his manner of narrating sensational events (public and private--e.g. The Great Fire of London and his sex life) in diary form. I regularly teach Shakespeare, Milton, and Advanced Composition on the undergraduate level and Chaucer on both the graduate and undergraduate levels.
Ph.D.: Yale University 1966
Research and Practice Interests
Samuel Pepys's Diary (esp. narrative and stylistic issues)
Book
John Dryden: A Research Guide. Boston: G.K. Hall & Co., 1984.
Peer Reviewed Publications
"Perspectives on the City: A Bibliography." Urban Resources 1 (1984): 53.
"The Spider and the Silkworm: Shelley's 'Letter to Maria Gisborne'." Keats-Shelley Memorial Bulletin 20 (1969): 1, 10.
Review
"Literature Criticism from 1400 to 1800." The Scriblerian. (1987): 210, 211.
Paper Presentations
(07-06-1989. ) 'Sons of Belial': Reported Violence and Misbehavior in Pepys's Diary .University of Durham.
(07-07-1987. ) Samuel Pepys and Margaret Penn: A Curious Episode .University of Durham.
(10-27-1980. ) The Role of the Humanities in Urban Planning .Cincinnati, OH.
English Literature (Medieval, Early Modern, Restoration) Advanced Composition