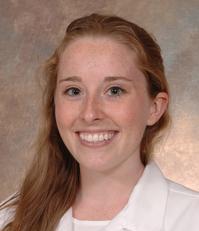 Ellen Jochum
Clinical Instructor - GME
Personal Statement
Internal medicine encompasses the perfect combination of complex patient presentations with the ability to create strong, long-lived relationships with patients. While other students expressed annoyance at the depth of chart review required when seeing internal medicine patients, I appreciate the holistic approach required to provide optimal care for patients. I respect the sheer vastness of knowledge required to practice internal medicine. I enjoy the immense variety of patients that are managed by internal medicine teams, from relatively healthy patients to patients at their most sick and vulnerable, hospitalized with any myriad of infections or cancers or organ dysfunction.
 
Why I Chose Cincinnati
I chose Cincinnati because it was evident even within the first few minutes of the interview that UC fosters genuine, supportive relationships among residents. I saw that UC not only provides excellent medical training and truly patient-centered care, but also emphasizes well-rounded personal growth.
MD: The University of Toledo College of Medicine and Life Sciences