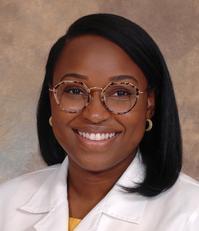 Jeshanah Johnson
Clinical Instructor - GME
Personal Statement
I knew that I was meant to do Internal Medicine after reflecting on my core clerkships and things that I have learned about myself during the past three years. The first is that I thrive at building relationships and trust with my patients. We all have a story that is unique to us, and the ability to share it with others takes a certain level of trust and mutual respect. In Internal Medicine, I was often able to build a story with my patients. I could create a three-dimensional structure of who that person is by listening to their background, family history, tidbits about themselves, and personal understanding of their present illness during my visits. I found that listening to a patient first created a better picture for me than an electronic medical record ever could.
 
Why I Chose Cincinnati
I chose UC for the opportunity to grow with a program that is proactive about patient care and resident education. It is clear to me that my opportunities in Cincinnati will be endless and open many doors for my future career.
 
MD: University of Mississippi School of Medicine