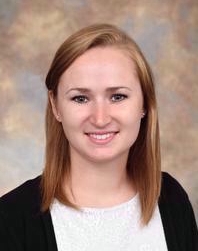 Katelyn Johnson
Assistant Professor
Assistant Professor
Phone 513-558-7868
Email katelyn.johnson@uc.edu
Dr. Johnson is an Assistant Professor of Pharmacy Practice and a Community Pharmacist. She received her Doctor of Pharmacy Degree from the University of Cincinnati James L. Winkle College of Pharmacy in 2015 and completed a PGY1 Community Pharmacy Residency with Kroger Health in 2016. Following residency, she completed a two year Corporate Pharmacy Fellowship with Kroger Health in 2018 and obtained her Master of Science in Pharmacy Leadership from the James L. Winkle College of Pharmacy. 

Dr. Johnson is the PGY1-PGY2 Community-based Pharmacy Administration and Leadership Residency Program Director for Kroger Health. She is a board certified ambulatory care pharmacist and maintains an active practice site at Kroger Health. She is the course director for Pharmacy Practice, a first year professional course. Additionally, she teaches in multiple courses, including Non Prescription Therapeutics and Therapeutics I. 

Her research interests include medication therapy management, medication adherence, point-of-care testing, community pharmacy residency, and community pharmacy practice advancement.
Doctor of Pharmacy: James L. Winkle College of Pharmacy Cincinnati, OH, 2015
Master of Science in Pharmacy Leadership: James L. Winkle College of Pharmacy Cincinnati, OH, 2018
Peer Reviewed Publications
Johnson K, Kirby J, Kayse A, Brookhart A, Frede S, Hincapie A (2020. ) Impact of an adherence intervention program on patient adherence and star ratings measures in a large community pharmacy chain.Journal of the American Pharmacists Association, , 60 (4 ) ,e70 -e78More Information
Zmoira A, Rogers E, Johnson A, Johnson K (2020. ) Implementation of a depression screening as part of a holistic adherence assessment in a large community pharmacy chain.Journal of the American Pharmacists Association, , 61 (4 ) ,S154 -S160More Information
Coffman R, Johnson A, Frede S, Pleiman M, Johnson K. (2021. ) The evaluation of mandatory alerts on long-acting opioid prescriptions and the use of a community pharmacy naloxone protocol.Journal of the American Pharmacists Association, , More Information
2016 Daniel A. Herbert Incentive Grant Award The American Pharmacists Association Foundation
2018 Excellence in Healthcare Quality Initiatives Award Pharmacy Quality Alliance
2019 First Professional Year Faculty Excellence in Mentorship Award University of Cincinnati James L. Winkle College of Pharmacy
2020 Faculty Excellence Award Rho Chi Society
2021 First Professional Year Faculty Excellence in Mentorship Award University of Cincinnati James L. Winkle College of Pharmacy
2022 Deans Faculty Excellence Award University of Cincinnati James L. Winkle College of Pharmacy
Post Graduate Training and Education
2015-2016 PGY1 Community Pharmacy Residency, Kroger Health, , Cincinnati, OH
2016-2018 Corporate Pharmacy Fellowship, Kroger Health, , Cincinnati, OH
Academic - Phone: 513-558-7868
katelyn.johnson@uc.edu