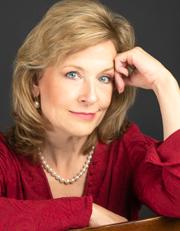 Amy S. Johnson
Assoc Professor
Associate Professor of Voice (Soprano)
Dieterle Vocal Arts Cntr
217
CCM Voice - 0003
For over two decades, critics have recognized soprano Amy Johnson as one of America's finest singing actresses, and she has garnered comparable acclaim as a voice teacher in both private and academic settings. Her studio has attracted a diverse group of singers from all parts of the world. Many have gone on to study at some of the finest music schools both domestically and abroad, been awarded international continued study grants, earned places in prestigious Young Artists' Programs, been winners in the Corbett, Lotte Lenya and Metropolitan Opera competitions, and are appearing in theatres worldwide, including the Metropolitan Opera, Deutsche Oper Berlin, major national Broadway tours and the Broadway, Los Angeles and Chicago productions of Hamilton.  In addition to teaching voice, Ms. Johnson is co-producer of CCM Undergraduate Opera (Opera d'arte), and has served as co-Artistic Director of CCM Summer Opera Studio/Bootcamp. She is a board member with the National Opera Association, was recently published in Classical Singer Magazine, has been both co-principal in a production company and co-founder of a summer opera/language program in Italy, and is in frequent demand for masterclasses and artist-in-residencies.

Ms. Johnson's repertoire encompasses over two dozen roles ranging from Donna Anna in Don Giovannito Salome. She has earned special praise for her portrayal of Tosca in over a dozen productions worldwide, notably with New York City Opera on PBS' Live from Lincoln Center. She has performed leading and title roles alongside major international artists with such companies as Vlaamse Opera Antwerp, Glimmerglass, New York City Opera, Indianapolis, Portland, Spier Festival South Africa, Palm Beach, Michigan, Arizona, Toledo, Orlando, Virginia, Greensboro, Knoxville, Kentucky, Santa Barbara and others.

This year Ms. Johnson will join forces with renowned pianist Kathleen Kelly on a series of recitals.  Both artists have a long history of performing American music and collaborating with American composers.  The centerpiece of the program, Judith Shatin'sPatterns, based on a monodrama of Amy Lowell, was commissioned by Ms. Johnson, and is the latest of numerous world premieres written for her.  She is particularly known for her work with renowned composer Thea Musgrave, who tailored the leading soprano role in her opera Simon Bolivarfor her, and later asked her to debut her orchestral work Three Women:  Queen, Mistress, Slave.  Ms. Johnson created the roles of Finola Daley in the Eric Sawyer/Harley Erdman opera The Garden of Martyrs.  She has received critical acclaim for her performances of Oh Millersville!by Jon Chenette, and A Race to the Skyby Richard Pearson Thomas. Composer Patrick Keady wrote a setting based on the German children's tale Der Struwwelpeterfor Ms. Johnson.  Her soon to be released solo CD, Amy Johnson – Red, White and Bluecontains never-before recorded arias by Stephen Schwartz, Robert Aldridge, Ms. Musgrave and Anton Coppola.  This fall she will perform two concerts featuring the works of venerable composer/conductor Coppola (still active at age 102) including two premieres.  She also returns in September to the Dramatic Voice Symposium in New Orleans, where she will teach and perform a gala concert alongside such luminaries as Greer Grimsley, Clifton Forbis, Gordon Hawkins, Jay Hunter Morris and Luretta Bybee.
BA: Grinnell College Grinnell, IA,
MM: Manhattan School of Music New York, NY,