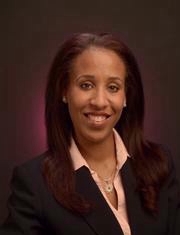 Lindsay N Johnson , Ph.D.
Lindsay N. Johnson's research interests consist of topics related to diversity & inclusion, leadership, and gender equity in organizations and higher education. Her research explores workplace phenomenon including culture & bias, social identity, discrimination, and incivility towards women and other underrepresented groups. Johnson's current projects investigate intersections of ideology, identity, and work industry and their impact on women & underrepresented minorities in STEM. Her teaching interests include diversity in the workplace, organizational psychology, and similar courses.
PhD: University of Georgia Athens, GA, 2013 (Industrial-Organizational Psychology)
MS: University of Georgia Athens, GA, (Industrial-Organizational Psychology)
BA: Spelman College Atlanta, GA, (Psychology / Management & Organization)
Positions and Work Experience
08-15-2014 - Assistant Professor, UC, Department of Psycholgy,
Investigators:Lindsay Johnson, Stacie Furst-Holloway 08-01-2015 -05-01-2016 University Research Council Diversity Ideology in STEM Role:Primary Investigator 6500 Active Type:Grant Level:University
Grant: #URC Faculty Awards AY2014-15 Investigators:Johnson, Lindsay 05-01-2015 -04-30-2016 UC's University Research Council An Investigation of Diversity Ideology in the STEM Workplace Role:PI $6,500.00 Active Level:Internal UC
Book Chapter
Johnson, L. N., Thomas, K. M., & Brown, B. L. (in press). Women of color in the STEM workplace. (edited book). Eds. Polinick, Irby, & Ballenger
Peer Reviewed Publications
Johnson, L. N., Lautenschlager, G., &Thomas, K. M. (in prep). Gender, identity, and minority status in STEM.
Johnson, L. & Thomas, K. M. (May, 2012). A Similar, Marginal Place in the Academy: Contextualizing the leadership strategies of Black women in the U.S. and South Africa. Special Issue of Advances in Developing Human Resources, 14(2).
Johnson, L. N. (under review). Role Congruity, Identity, Efficacy, and Career Persistence of Women in STEM. Journal of Diversity in Higher Education
Harrison, M. S., Johnson, L. N. (under review). The Impact of Work Unit Composition, Identity, Perceived Affirmative Action Stigma on Organizational Attachment and Well-Being of Minority Managers. Academy of Management Journal
Paper Presentations
Chrobot-Mason, D, Johnson, L Examining Women's Leadership Identity Development .Purdue University. Conference. Level:University
Johnson, L., Swafford, F., Montgomery, A. Diversity Ideology in STEM .University of Delaware. Conference. Level:University
Johnson, L, Mack, J., Furst-Holloway, S., Rewards& Penalties: The importance of equal values to the promotion and tenure process .University of Delaware. Conference. Level:University
Bologna, D, Douglas, H., Weiskircher, K., Johnson, L. A place to belong: Differential effects of psychological resources on individual engagement for racial and ethnic minority students. Chicago, IL. Professional Meeting. Level:National
Bologna, D, Douglas, H., Weiskircher, K., Johnson, L. Student Well-being within a JD-R Model Framework .Anaheim, CA. Conference. Level:National
Symposium
Thomas, K, Brown, Ashbury-Nardo, Avery, Johnson, Tran, & Volpone Teaching Diversity during Turbulence .Anaheim, CA. Professional Meeting. Level:National
UC Department of Psychology (Diversity Committee ) Committee Member Type:Departmental Service Level:Department 08-15-2014
Department of Psychology (OLHR Faculty Search Committee ) Committee Member Type:Departmental Service Level:Department 09-01-2014
ORGL Club (Organizational Leadership Club ) Mentor Type:Service to Student Groups Level:Department 08-15-2014
(Women's Center Asst. Director Search Committee ) Member Type:University/College Service Level:College
09-30-2014: Association of Black Psychologists Member University of Cincinnati,
05-08-2008: Society for Industrial-Organizational Psychology Member Division 14, APA,
10-30-2011: International Leadership Association Member ILA,
African American Affinity Group University of Cincinnati,
Leading Diversity in the Workplace Level:Undergraduate
International HRM Level:Undergraduate
Industrial-Organizational Psychology Level:Both
Leading Diversity in the Workplace Level:Undergraduate
Faculty Development Activities
BAD DATE -BAD DATE Ready Set Go: Setting the Tone of Your Lab Workshop to discuss strategies in starting research lab, UC LEAF and One Stop University Hall Type:Workshop
11-21-2014 -11-21-2014 Leveraged Empowerment Coaching Session Coaching session for STEM tenure track women faculty, UC LEAF ERC Type:Workshop
08-15-2014 UC LEAF Learning Community Meet monthly with other STEM women faculty to discuss challenges, strategies necessary to be successful, UC LEAF TUC Type:Workshop
10-01-2014 UC LEAF Writing Circles Weekly time designated specifically for writing for STEM women faculty, UC LEAF McMicken Type:Self-Study Program
BAD DATE -BAD DATE Experiential Course Design Workshop CETL Type:Workshop
04-21-2015 -04-21-2015 Write Winning Grants Workshop Type:Workshop
UC LEAF Manuscript Writing Retreat UC LEAF Type:Workshop