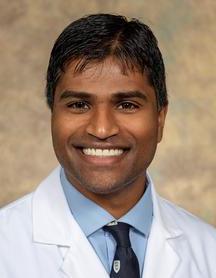 Arun Jose
Asst Professor - Clin Geo
Medical Sciences Building
COM IM Pulmonary Division - 0564
Holmes Hospital
200 Albert Sabin Way
Cincinnati, Ohio 45219
University of Cincinnati Medical Center
234 Goodman St
Cincinnati, Ohio 45219
Dr. Jose graduated from the Johns Hopkins University in 2007, with a bachelors of Science degree in Biomedical Engineering. He then remained at the Johns Hopkins University to complete his medical school degree in 2012, followed by an internal medicine residency at the Johns Hopkins Hospital "Osler" Internal Medicine Program from 2012-2015. He subsequently completed a fellowship in pulmonary and critical care medicine from the George Washington University, before joining the faculty at the University of Cincinnati as a Clinical Instructor, pulmonary hypertension specialist, and IMSTAR fellowship recipient in 2018

His academic interests include the diagnosis and evaluation of pulmonary hypertension, particularly those comorbid with cardiac or pulmonary parenchymal diseases, as well as the response to exercise in pulmonary vascular disease. He is currently involved in a number of clinical and translational research projects at the University of Cincinnati, and is also a member of the pulmonary hypertension assemblies of the American Thoracic Society and the International Society of Heart and Lung Transplantation.
Bachelor of Science, Johns Hopkins University Baltimore, Maryland, 2007 (Biomedical Engineering)
Doctor of Medicine, Johns Hopkins University Baltimore, Maryland, 2012 (Medicine)
Residency, John Hopkins Hospital Osler Baltimore, MD, 2013 (Internal Medicine)
Fellowship, George Washington University Washington, DC, 2018 (Pulmonary & Critical Care Medicine)
Peer Reviewed Publications
Jose, Arun; Franco-Palacios, Domingo; King, Christopher S; Gomberg-Maitland, Mardi (2018. )A 70-Year-Old Woman Presenting With Diarrhea and In-hospital Cardiac Arrest.Chest, ,153 (1 ),e5-e8
Jose, Arun; King, Christopher S; Shlobin, Oksana A; Kiernan, Joseph M; Cossa, Nicolas A; Brown, A Whitney; Nathan, Steven D (2017. )Ventricular Diastolic Pressure Ratio as a Marker of Treatment Response in Pulmonary Hypertension.Chest, ,152 (5 ),980-989
Jose, Arun; Rafei, Hind; Ahari, Jalil Combination targeted pulmonary hypertension therapy in the resolution of Dasatinib-associated pulmonary arterial hypertension.Pulmonary circulation, ,7 (4 ),803-807
Williams, Jeffrey; McLean, Anna; Ahari, Jalil; Jose, Arun; Al-Helou, Georges; Ibi, Italo; Najam Md, Farzad; Gutierrez, Guillermo (2017. )Decreases in Mixed Venous Blood O2 Saturation in Cardiac Surgery Patients Following Extubation.Journal of intensive care medicine, ,885066617741435
Jose, A; Cramer, A K; Davar, K; Gutierrez, G (2017. )A case of drug-induced lupus erythematosus secondary to trimethoprim/sulfamethoxazole presenting with pleural effusions and pericardial tamponade.Lupus, ,26 (3 ),316-319
Jose A, King CS, Shlobin OA, Brown AW, Wang C, Nathan SD (2018. )Exercise pulmonary haemodynamic response predicts outcomes in fibrotic lung disease .European respiratory Journal, ,52 (3 ),
Paper Presentations
Arun Jose (2018. )Abnormal Exercise pulmonary hemodynamics predict outcomes in patients with lung diseases .Nice, France. Conference. Level:International
Arun Jose (2017. )The left and right ventricular end diastolic pressure ratio as a novel marker of disease severity in a cohort of patients with pulmonary arterial hypertension .Washington, DC. Conference. Level:International
Post Graduate Training and Education
07-01-2012-06-30-2015 Residency - Internal Medicine, Johns Hopkins "Osler" Internal Medicine Resident, Johns Hopkins Hospital, ,Baltimore, Maryland
07-01-2015-06-30-2018 Fellowship - Pulmonary Disease and Critical Care Medicine, The George Washington University, ,Washington, DC
Research and Practice Interests
Dr. Jose's research and clinical interests include pulmonary vascular diseases such as pulmonary arterial hypertension, an abnormal elevation in the blood pressure in the lungs that can be fatal. He is particularly interested in the complex interplay between pulmonary hypertension, abnormal exercise physiology and functional capacity, and underlying cardiac or pulmonary diseases such as heart failure and interstitial lung disease.
Dr. Jose holds a 1st Degree Black Belt in Shorinjiryu Kenyukai Watanabe-Ha Karatedo, achieved in 2015 after years of study under 9th Degree Black Belt Shihan Watanabe Shunji,
Clinical - Holmes Hospital
200 Albert Sabin Way
Cincinnati  Ohio, 45219

Clinical - University of Cincinnati Medical Center
234 Goodman St
Cincinnati  Ohio, 45219