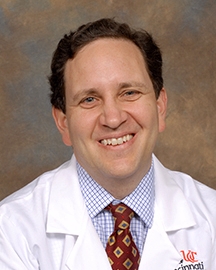 Daniel S Kanter
Professor of Neurology and Director, Neurocritical Care Program
Medical Sciences Building
5108
COM Neurology and Rehabilitation - 0517
Stetson Building
Room 2314
Cincinnati, Ohio 45219
Medical Degree, Case Western University
Residency, Harvard Medical School
Fellowship, Massachusetts General Hospital
Positions and Work Experience
- Director of Neurocritical Care,
Research and Practice Interests
Stroke, Stroke Therapy
Neurology
Neurocritical Care
Neurology
Grant: #1-R01-NS-36643-01-A0-S0-E0 Investigators:Kanter, Daniel 09-25-1998 -07-31-2003 National Institute of Neurological Disorders and Stroke Warfarin vs Aspirin for Symptomatic Intracranial Disease (WASID) Role:PI $23,260.00 Closed Level:Federal
Grant: #U54 EB007954 Investigators:Air, Dorothy; Beyette, Fred; Bishop, Paul; Broderick, Joseph; Clark, Joseph; Haridas, Balakrishna; Helmicki, Arthur; Jauch, Edward; Kanter, Daniel; Pancioli, Arthur; Papautsky, Ian; Privitera, Mary Beth; Shutter, Lori; Steckl, Andrew; Todd, Anita; Tomsick, Thomas; Wilsey, Philip 09-30-2007 -06-30-2012 National Institute of Biomedical Imaging and Bioengineering Point of Care-Care Center for Emerging Neurotechnologies Role:Collaborator $9,416,342.00 Active Level:Federal
Grant: #FA8650-16-2-6G12 (Task under Master FA8650-15-2-6605) Investigators:Blakeman, Thomas; Branson, Richard; Gomaa, Dina; Johannigman, Jay; Kanter, Daniel 09-19-2016 -09-18-2018 Air Force Research Laboratory Respiratory Mechanics in Traumatic Brain Injury (TBI) – The Effect of Inhaled Nitric Oxide Role:Collaborator $282,000.00 Awarded Level:Federal
Peer Reviewed Publications
Jasne, Adam S; Alsherbini, Khalid H; Smith, Matthew S; Pandhi, Abhi; Vagal, Achala; Kanter, Daniel (2019. )Cerebellar Hippocampal and Basal Nuclei Transient Edema with Restricted diffusion (CHANTER) Syndrome.Neurocritical care, ,31 (2 ),288-296
Stanton, Robert J; Roesch, Matthew J; Kanter, Daniel (2018. )Neurologic Abnormalities After Atrial Fibrillation Ablative Procedure.JAMA neurology, ,75 (9 ),1144-1145
Torabi, Elham; Froehle, Craig M; Lindsell, Christopher J; Moomaw, Charles J; Kanter, Daniel; Kleindorfer, Dawn; Adeoye, Opeolu (2016. )Monte Carlo Simulation Modeling of a Regional Stroke Team's Use of Telemedicine.Academic emergency medicine : official journal of the Society for Academic Emergency Medicine, ,23 (1 ),55-62
Kreitzer, Natalie P; Bonomo, Jordan; Kanter, Daniel; Zammit, Christopher (2015. )Review of Thromboelastography in Neurocritical Care.Neurocritical care, ,23 (3 ),427-33
Urrea-Mendoza, Enrique; Kanter, Daniel; Revilla, Fredy J; Dornoff, Eric; Espay, Alberto J (2015. )Stiff-arm syndrome.Neurology, ,85 (12 ),1088-9
Kanter,D.S.; Ruff,R.L.; Leigh,R.J.; Modic,M. (1987. )See-saw nystagmus and brainstem infarction: MRI findings .Neuro-ophthalmology (Aeolus Press), ,7 (5 ),279 -283
Kanter,D.S.; Horensky,D.; Sperling,R.A.; Kaplan,J.D.; Malachowski,M.E.; Churchill,W.H.,Jr. (1995. )Plasmapheresis in fulminant acute disseminated encephalomyelitis .Neurology, ,45 (4 ),824 -827
Bronner,L.L.; Kanter,D.S.; Manson,J.E. (1995. )Primary prevention of stroke .The New England journal of medicine, ,333 (21 ),1392 -1400
Greenberg,S.M.; Briggs,M.E.; Hyman,B.T.; Kokoris,G.J.; Takis,C.; Kanter,D.S.; Kase,C.S.; Pessin,M.S. (1996. )Apolipoprotein E epsilon 4 is associated with the presence and earlier onset of hemorrhage in cerebral amyloid angiopathy .Stroke; a journal of cerebral circulation, ,27 (8 ),1333 -1337
Monane,M.; Kanter,D.S.; Glynn,R.J.; Avorn,J. (1996. )Variability in length of hospitalization for stroke. The role of managed care in an elderly population .Archives of Neurology, ,53 (9 ),875 -880
Kanter,D.S.; Mikkola,K.M.; Patel,S.R.; Parker,J.A.; Goldhaber,S.Z. (1997. )Thrombolytic therapy for pulmonary embolism. Frequency of intracranial hemorrhage and associated risk factors .Chest, ,111 (5 ),1241 -1245
Ernst,R.; Pancioli,A.; Tomsick,T.; Kissela,B.; Woo,D.; Kanter,D.; Jauch,E.; Carrozzella,J.; Spilker,J.; Broderick,J. (2000. )Combined intravenous and intra-arterial recombinant tissue plasminogen activator in acute ischemic stroke .Stroke; a journal of cerebral circulation, ,31 (11 ),2552 -2557
Kleindorfer,D.; Hill,M.D.; Woo,D.; Tomsick,T.; Pancioli,A.; Kissela,B.; Demchuk,A.M.; Losiewicz,D.; Jauch,E.; Schneider,A.; Ringer,A.; Kanter,D.; Broderick,J.P. (2005. )A description of Canadian and United States physician reimbursement for thrombolytic therapy administration in acute ischemic stroke .Stroke; a journal of cerebral circulation, ,36 (3 ),682 -687
Pyne-Geithman,G.J.; Morgan,C.J.; Wagner,K.; Dulaney,E.M.; Carrozzella,J.; Kanter,D.S.; Zuccarello,M.; Clark,J.F. (2005. )Bilirubin production and oxidation in CSF of patients with cerebral vasospasm after subarachnoid hemorrhage .Journal of cerebral blood flow and metabolism : official journal of the International Society of Cerebral Blood Flow and Metabolism, ,25 (8 ),1070 -1077
Kissela,B.; Harris,S.; Kleindorfer,D.; Lindsell,C.; Pascuzzi,R.; Woo,D.; Szaflarski,J.; Kanter,D.; Schneider,A.; Sostok,M.; Broderick,J. (2006. )The use of standardized patients for mock oral board exams in neurology: a pilot study .BMC medical education [electronic resource], ,6 ,22
Heydorn,W.E.; Creed,G.J.; Goldman,D.; Kanter,D.; Merril,C.R.; Jacobowitz,D.M. (1983. )Mapping and quantitation of proteins from discrete nuclei and other areas of the rat brain by two-dimensional gel electrophoresis .The Journal of neuroscience : the official journal of the Society for Neuroscience, ,3 (12 ),2597 -2606
1982 Magna cum laude graduate from Georgetown University
1987 Neurology Prize from Case Western Reserve University School of Medicine Department of Neurology - awarded to the graduating student with the best performance in the Neurology Clerkship.
2000, 2002, 2003, 2004, 2005, 2006, 2007 Named one of Cincinnati's "Best Doctors" by Cincinnati Magazine
Post Graduate Training and Education
1988-1991 Residency, Neurology, Harvard Medical School, ,Boston, MA
1992-1993 Fellowship, Critical Care Neurology/Neurosurgery, Massachusetts General Hospital, ,Boston, MA
Ultrasound thrombolysis, biotechnology development
1988- American Academy of Neurology
1988-1997 Boston Society of Neurology and Psychiatry
1993-1997 Massachusetts Neurological Association
1994- American Heart Association
Academic - Stetson Building
Room 2314
Cincinnati  Ohio, 45219
Phone: 513-558-0434
daniel.kanter@uc.edu