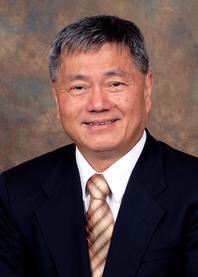 Winston Whei Yang Kao , PhD
Professor-Emeritus
Ben and Louise Tate Professorship of Ophthalmology
Stetson Building
Suite 5300
260 Stetson Street
Cincinnati, Ohio 45267
Phone 513-558-5151
Email winston.kao@uc.edu
The ultimate goal of our research project is to provide a better understanding of diseases which cause blindness, so that we can develop better treatment. We study the structure-function relationships of eye-specific genes which are vital for the maintenance of vision. Two research projects which are mutually supportive are: 1). Regulation of Cornea-specific K12 keratin gene expression, and 2). Corneal wound-healing. K12 keratin, exclusively expressed by corneal epithelial cells, is vital for normal corneal functions, and also plays an important role in corneal wound-healing. We are using the transgenic approach to examine the role of cytokines, receptors and/or other gene products in corneal wound-healing and development.
Research and Practice Interests
Roles of Mesenchyme-Epithelium Interactions on Morphogenesis during Eye Development, And Homeostasis And Wound Healing in Adult Corneas The central hypothesis of our ongoing research is that the mesenchyme-epithelium interactions via signal transduction of growth factors and their receptors play pivotal roles in eye morphogenesis during development and in ocular homeostasis and wound healing in adults. Morphogenesis of cornea, conjunctiva and eyelids during vertebrate eye development involves themigration and differentiation of mesenchymal cells of neural crest origin, and the differentiation of cells of the surface ectoderm. The bi-directional mesenchyme-epithelium interactions via growth factors are essential for morphogenesis during development and homeostasis in adults. Growth factors (e.g., TGF-s and FGF-7) play pivotal roles in modulating functions of mesenchymal cells of neural crest origin and differentiation of ectoderm cells during ocular morphogenesis. Conditional gene ablation in cornea has been achieved by the use of Cre-LoxP system with keratocyte-specific keratocan promoter and modification Krt12 allele via knock-in strategy. Tetracycline inducible mouse lines have been used to overexpress reporter genes in corneas. Development of Gene Therapy Strategy for Treating Ocular Surface Diseases The success of a gene therapy strategy relies on the delivery of reporter gene constructs to target tissues and sustained expression levels of the reporter genes sufficient to revert the pathological processes. Easy access of ocular surface tissues presents itself as an ideal model to examine the efficacy of gene therapy. We recently used Gene Gun, a particle-mediated gene transfer technique, to characterize the promoter of cornea-specific keratin 12 gene. We have also adapted the techniques of expressing reporter genes by injecting plasmid DNA into cornel stroma. The techniques can be potentially used as a mean of gene transfer for ocular surface tissues, e.g., cornea, conjunctiva, eyelid. To examine the efficacy of growth factors, e.g., TGF-s, FGF-7, HGF, etc. in modulating cornea functions, keratin 12 and keratocan promoters will be used to prepare reporter genes of afore mentioned growth factors. Gene gun will be used to deliver the reporter gene to corneal epithelium and their effects on corneal wound healing will be examined. Isolation and Characterization of Limbal Stem Cells Effective gene therapy to treat ocular surface diseases is not yet available. Limbal transplantation is an option of treating many ocular surface diseases. It is known that stem cells of corneal epithelium reside in the basal cell layer of limbus. Thus, the success of limbal transplantation to treat ocular surface diseases may result fromthe restoration of stem cells in the diseased tissues. However, our skill of culturing limbal stem cells is limited. Thus, there is a need to isolate and characterize the epithelial cells that posses characteristics of limbal stem cells, which can be used as un-limited sources for the use as auto graft or allograft to treat patients of limbal deficiency.
Grant: #R01 EY011845 Investigators:Kao, Winston Whei Yang 09-01-2006 -08-31-2012 National Eye Institute Structure/Function Relationship of the Lumican Gene Role:PI $2,151,626.00 Active Level:Federal
Investigators:Kao, Winston Whei Yang 09-01-2005 -10-31-2005 Research to Prevent Blindness, Inc. RPB International Research Scholar Award Role:PI $1,750.00 Closed Level:Private Non-Profit
Investigators:Kao, Winston Whei Yang 01-01-2003 -12-31-2003 Research to Prevent Blindness, Inc. RPB Senior Scientific Investigator Award Role:PI $65,000.00 Closed Level:Private Non-Profit
Grant: #R01 EY010556 Investigators:Kao, Winston Whei Yang 06-01-2004 -05-31-2010 National Eye Institute K12 Expression Cornea-Type Epithelial Differentiation Role:PI $2,187,323.43 Closed Level:Federal
Grant: #5-R03-EY-14207-03-A0-S0-E0 Investigators:Kao, Winston Whei Yang 08-01-2002 -07-31-2006 National Eye Institute Mouse Lines Overexpressing rtTa and Cre in Corneal Epithelium Role:PI $459,000.00 Closed Level:Federal
Grant: #5-R01-EY-09368-13-A0-S0-E0 Investigators:Kao, Winston Whei Yang 08-01-2002 -07-31-2007 National Eye Institute Proteoglycans in Normal and Scarred Corneas Role:PI $270,526.00 Closed Level:Federal
Grant: #5-R01-EY-013755-04-A0-S0-E0 Investigators:Kao, Winston Whei Yang 07-01-2002 -06-30-2007 National Eye Institute Roles of Growth Factors on Corneal Morphogensis Role:PI $1,695,498.40 Closed Level:Federal
Grant: #5-R01-EY-10556-04-A0-S0-E0 Investigators:Kao, Winston Whei Yang 08-01-1995 -07-31-2000 National Eye Institute Structure and Function of Corneal Keratin K12 Gene Role:PI $831,811.00 Closed Level:Federal
Grant: #5-R01-GM-50959-05-A0-S0-E0 Investigators:Kao, Winston Whei Yang 07-01-1997 -03-31-2000 National Institute of General Medical Sciences Growth Factors and Impaired Wound Healing Role:PI $15,977.00 Closed Level:Federal
Grant: #5-R01-EY-11845-04-A0-S0-E0 Investigators:Kao, Winston Whei Yang 04-01-1999 -03-31-2004 National Eye Institute Structure-Function Relationship of Lumican Role:PI $1,101,177.00 Closed Level:Federal
Grant: #R01 EY013755 Investigators:Kao, Winston Whei Yang; Liu, Chia-Yang; Meij, Johanna T; Xia, Ying 12-01-2008 -11-30-2013 National Eye Institute Roles of Growth Factors on Corneal Morphogenesis Role:PI $2,281,831.00 Active Level:Federal
Grant: #R01 EY015227 Investigators:Ho, Shuk Mei; Kao, Winston Whei Yang; Puga, Alvaro; Tam, Neville Ngai Chung; Xia, Ying 06-01-2009 -05-31-2014 National Eye Institute The Role of MAP 3 Kinase 1 in Ocular Surface Morphogenesis Role:Collaborator $1,759,938.00 Active Level:Federal
Grant: #2 R01 EY012486-08A1 Investigators:Kao, Winston Whei Yang; Liu, Chia-Yang; Liu, Hongshan 09-01-2009 -08-31-2011 National Eye Institute Role of Keratocan in Corneal Biology Role:Collaborator $785,000.00 Closed Level:Federal
Grant: #CK 1603 Investigators:Kao, Winston Whei Yang 07-01-2009 -08-31-2013 Ohio Lions Eye Research Foundation 2009 Eye Research Grant Role:PI $70,500.00 Active Level:Private Non-Profit
Grant: #T32 NS007453 Investigators:Broderick, Joseph; Herman, James; Kao, Winston Whei Yang; Strakowski, Stephen 07-01-2010 -06-30-2015 National Institute of Neurological Disorders and Stroke Predoctoral Training Program in the Neurosciences Role:Collaborator $629,724.00 Active Level:Federal
Grant: #RPB2011JA Investigators:Kao, Winston Whei Yang 07-01-2011 -06-30-2012 Research to Prevent Blindness, Inc. 2011 Research to Prevent Blindness (RPB) International Research Scholar Award Role:PI $3,500.00 Active Level:Private Non-Profit
Grant: #R21 EY021768 Investigators:Babcock, George; Kao, Winston Whei Yang; Liu, Hongshan 09-30-2011 -08-31-2015 National Eye Institute Cell Therapy of Corneal Diseases with Umbilical Mesenchyme Stem Cells Role:PI $1,705,844.00 Active Level:Federal
Grant: #R01EY011845 Investigators:Call, Mindy; Kao, Winston Whei Yang; Xia, Ying 09-01-2014 -06-30-2018 National Eye Institute Structure/Function Relationship of the Lumican Gene Role:PI $546,015.00 Awarded Level:Federal
Grant: #Saenger eqmt grant Investigators:Kao, Winston Whei Yang 07-01-2014 -12-31-2014 Cincinnati Sight Restoration Foundation Saenger Grant 2014 Role:PI $22,150.00 Awarded Level:Private Non-Profit
Grant: #R01 EY015227-10A1 Investigators:Kao, Winston Whei Yang; Puga, Alvaro; Xia, Ying 12-01-2014 -11-30-2019 National Eye Institute The Role of MAP 3 Kinase 1 in Ocular Surface Morphogenesis Role:Collaborator $395,729.00 Active Level:Federal
Grant: #EY022502 SubK Yr 1 Investigators:Kao, Winston Whei Yang 09-01-2014 -08-31-2015 TissueTech, Inc. Engineering of Human Corneal Endothelial Grafts Role:PI $84,474.00 Awarded Level:Industry
Grant: #LSU/RPB Investigators:Kao, Winston Whei Yang 08-01-2015 -07-31-2016 Research to Prevent Blindness, Inc. Creation and Characterization of Mouse Mutant Carrying N120S in Ubiad1 Gene Role:PI $30,000.00 Active Level:Private Non-Profit
Grant: #Glaucoma Investigators:Kao, Winston Whei Yang; Yuan, Yong 10-01-2016 -09-30-2017 Glaucoma Foundation, The Characterization of a mouse model of glaucoma with exfoliation syndrome Role:Collaborator $40,000.00 Active Level:Private Non-Profit
Grant: #Fellowship Check# 1116 Investigators:Kao, Winston Whei Yang 09-01-2016 -08-31-2017 Ohio Lions Eye Research Foundation Ohio Lions Eye Research Fellowship Application FY 2017 Role:PI $10,000.00 Active Level:Private Non-Profit
Grant: #Fellowship Check# 1159 Investigators:Kao, Winston Whei Yang 09-15-2017 -09-14-2018 Ohio Lions Eye Research Foundation Effect of Extracellular Matrix Components on Umbilical Cord derived Mesenchymal Stem Cells (UMSCs) Role:PI $30,511.00 Active Level:Private Non-Profit
Grant: #Check# 1157-Eye Research Investigators:Kao, Winston Whei Yang 09-15-2017 -09-14-2018 Ohio Lions Eye Research Foundation Gene and Cell Therapy of Ocular Surface Diseases Role:PI $20,000.00 Active Level:Private Non-Profit
Grant: #Check # 1158 AMD Research Investigators:Kao, Winston Whei Yang; Park, Yoonjee 09-15-2017 -09-14-2018 Ohio Lions Eye Research Foundation "On-demand" Long-Term Drug Delivery for Age-Related Macular Degeneration Treatment Role:PI $10,000.00 Active Level:Private Non-Profit
Grant: #CEB Grant Investigators:Fox, Mindy; Kao, Winston Whei Yang 03-01-2018 -02-28-2019 Cincinnati Eye Bank Treatment of Dog Dry Eye Diseases with Umbilical Mesenchymal Stromal/Stem Cells Role:PI $25,000.00 Active Level:Private Non-Profit
Grant: #IGNITE Grant Investigators:Fox, Mindy; Kao, Winston Whei Yang; Yuan, Yong 07-01-2018 -06-30-2019 The Cincinnati Eye Institute Foundation CRISPR Gene Editing for Lysosomal Storage Diseases: Mucopolysaccharidosis VII (MPS VII) Role:PI $20,000.00 Active Level:Private Non-Profit
Grant: #Check 1201 Investigators:Kao, Winston Whei Yang 09-01-2018 -08-31-2019 Ohio Lions Eye Research Foundation Effect of Extracellular Matrix Components on Umbilical Cord derived Mesenchymal Stem Cells (UMSCs) Role:PI $31,476.00 Active Level:Private Non-Profit
Grant: #Check 1197 Eye 2018-19 Investigators:Kao, Winston Whei Yang 09-15-2018 -09-14-2019 Ohio Lions Eye Research Foundation Gene and Cell Therapy of Ocular Surface Diseases Role:PI $20,000.00 Awarded Level:Private Non-Profit
Grant: #Check 1206 Adm 2018-19 Investigators:Kao, Winston Whei Yang; Park, Yoonjee 09-15-2018 -09-14-2019 Ohio Lions Eye Research Foundation "On-demand" Long-Term Drug Delivery for Age-Related Macular Degeneration Treatment Role:PI $10,000.00 Awarded Level:Private Non-Profit
Grant: #CRFF-2018-004 Investigators:Amlal, Hassane; Dong, Fei; Kao, Winston Whei Yang 02-01-2019 -01-31-2020 Cystinosis Research Foundation Cell Therapy and Gene Editing for Cystinosis Role:PI $179,834.00 Awarded Level:Private Non-Profit
Grant: #R01EY029427 Investigators:Fox, Mindy; Kao, Winston Whei Yang; Yuan, Yong 09-30-2019 -06-30-2020 National Eye Institute Gene Therapy of Corneal Dystrophy: Lysosomal Storage Diseases Role:PI $401,250.00 Awarded Level:Federal
Grant: #Check 1240 Investigators:Kao, Winston Whei Yang 09-15-2019 -09-14-2020 Ohio Lions Eye Research Foundation Gene and Cell Therapy of Ocular Surface Diseases Role:PI $20,000.00 Awarded Level:Private Non-Profit
Grant: #Fellowship Check 1238 Investigators:Kao, Winston Whei Yang 09-15-2019 -09-14-2020 Ohio Lions Eye Research Foundation Use of Umbilical Mesenchymal Stem Cells (UMSC) in Treating Congenital & Acquired Corneal Disease Role:PI $31,556.00 Awarded Level:Private Non-Profit
Grant: #AMD Grant Investigators:Kao, Winston Whei Yang; Park, Yoonjee 09-15-2019 -09-14-2020 Ohio Lions Eye Research Foundation Biodegradable "On-demand" Drug Implant for Age-Related Macular Degeneration Treatment Role:PI $10,000.00 Awarded Level:Private Non-Profit
Grant: #OLERF Fellowship 2020 09-15-2020 -09-14-2021 Ohio Lions Eye Research Foundation Use of Umbilical Mesenchymal Stem Cells in Treating Alkali-burned Cornea Role:PI $32,093.00 Awarded Level:Private Non-Profit
Grant: #OLERF Fellowship 2020 09-15-2020 -09-14-2021 Ohio Lions Eye Research Foundation Use of Umbilical Mesenchymal Stem Cells in Treating Alkali-burned Cornea Role:PI $32,093.00 Awarded Level:Private Non-Profit
Grant: #OLERF Disaster Relief Award Investigators:Kao, Winston Whei Yang 09-15-2020 -09-14-2021 Ohio Lions Eye Research Foundation Gene and Cell Therapy of Ocular Surface Diseases Role:PI $20,000.00 Awarded Level:Private Non-Profit
Grant: #R01EY031452 Investigators:Addepalli, Balasubrahmanyam; Kao, Winston Whei Yang; Li, Kevin 01-01-2021 -11-30-2024 National Eye Institute RNA Nanosystem for Posterior Eye Drug Delivery Role:Collaborator $421,652.00 Awarded Level:Federal
Grant: #Fellowship Investigators:Dong, Fei; Kao, Winston Whei Yang 09-01-2013 -08-31-2015 Ohio Lions Eye Research Foundation Ohio Lions Eye Research Foundation Fellowship Award - Fei Dong Role:PI 20000.00 Active Level:Non Profit
Grant: #R15EY031500 Investigators:Kao, Winston Whei Yang; Li, Kevin; Park, Yoonjee 07-01-2021 -06-30-2024 National Eye Institute Undergraduate Research for Doses-Controllable Drug Delivery Implants Role:Collaborator 474519.00 Awarded Level:Federal
Grant: #OLERF Research Grant Investigators:Kao, Winston Whei Yang 09-15-2021 -09-14-2022 Ohio Lions Eye Research Foundation Gene and Cell Therapy of Ocular Surface Diseases Role:PI 40000.00 Hold Level:Non Profit
Investigators:Kao, Winston Whei Yang; Venkatakrishnan, Jhuwala 09-15-2021 -09-14-2022 Ohio Lions Eye Research Foundation Cell Therapy of Ocular Surface Diseases Role:PI 41295.47 Hold Level:Non Profit
Grant: #OLERF Fellowship 2023 award Investigators:Kao, Winston Whei Yang; Venkatakrishnan, Jhuwala 09-15-2022 -09-14-2023 Ohio Lions Eye Research Foundation Cell Therapy of Ocular Surface Diseases Role:PI 43403.00 Hold Level:Non Profit
Grant: #OLERF Research grant 2023 Investigators:Kao, Winston Whei Yang 09-15-2022 -09-14-2023 Ohio Lions Eye Research Foundation Roles of TGF Beta Receptors in Cornea Morphogenesis And Homeostasis Role:PI 40000.00 Hold Level:Non Profit
Peer Reviewed Publications
Mongan, Maureen; Wang, Jingcai; Liu, Hongshan; Fan, Yunxia; Jin, Chang; Kao, Winston Y-W; Xia, Ying (2011. ) Loss of MAP3K1 enhances proliferation and apoptosis during retinal development.Development (Cambridge, England), , 138 (18 ) ,4001-12 More Information
Zhu, Ying-Ting; Tighe, Sean; Chen, Shuang-Ling; John, Thomas; Kao, Winston Y; Tseng, Scheffer C G (2015. ) Engineering of Human Corneal Endothelial Grafts.Current ophthalmology reports, , 3 (3 ) ,207-217 More Information
Stem Cells,Proteoglycans,Age-related Macular Degeneration,Collagen Biochemistry,Molecular Genetics of Collagen,Prolyl-4 Hydroxylase,Collagen Disease,Fibrosis,Corneal Wound Healing,Expression of Collagen Gene,Embryonic Development,Embryonic Stem Cell,Gene Targeting,Mesenchyme-epithelium Interactions
Academic - Stetson Building
Suite 5300
Cincinnati  Ohio, 45267
Phone: 513-558-5151
winston.kao@uc.edu