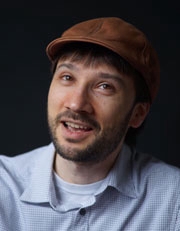 Dan Karlsberg
Instructor - Adjunct
Adjunct Instructor; CCM Prep Master Teacher, Jazz Piano
Corbett Cntr Perform Arts
CCM Ensembles & Conducting - 0003
A Cincinnati native, Dan Karlsberg began formal jazz and classical piano lessons at the age of five, and he began composing while in the third grade.  Today, he is active as a performer, composer, and teacher, performing regularly with his owns groups which include The Dan Karlsberg Group, The 'Nati 6, and DK's Organ Cartel. In July of 2007, the Dan Karlsberg Group released their first album, The Adventures of the Dan Karlsberg Group, for which Marc Medwin in Cadence Magazine comments, "This is a group functioning on the highest level of communication and commitment… they tackle freedom and restraint with equal vigor, convincing on whatever musical front they choose." 

Karlsberg has since released two more albums as leader: Mission to Mars and Other Short Stories (2010) and The 'Nati 6 (2015).  The latter features a group created by Karlsberg not only to perform his original music and arrangements, but also to showcase the talent and traditions of the Cincinnati jazz scene.   The ensemble is made up of seasoned veterans on the jazz scene today, all of which are leaders of their own ensembles. 

In addition to his albums as a leader, Karlsberg is also featured as a sideman on several other albums, including saxophonist Brent Gallaher's, Lightwave (2010). In 2007, City Beat Magazine nominated Karlsberg for a Cincinnati Entertainment Award in two categories, jazz and new artist of the year.  He was also nominated again in the jazz category from 2008 – 2010. Karlsberg is also in demand as a sideman, and has worked with numerous musicians including Donald Harrison, Tim Warfield, Ted Nash, JD Allen, John Fedchock, Don Braden, Marvin Stamm, Dan Fehnle, Aurell Ray, Roni Ben-Hur, John Von Ohlen, Brad Goode, the Blue Wisp Big Band, Cohesion Jazz Ensemble, Ron Enyard, Mike Wade, Jamey Aebersold, among many others. 

As a teacher, Karlsberg has been working as a private piano and composition instructor since 2001. He also has been teaching annually at the Blue Lake Fine Arts Camp in Michigan since 2005.
BM and MM: CCM