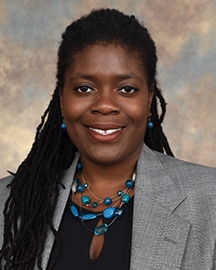 Francoise Alisha Knox Kazimierczuk
Assistant Professor
Health Sciences Building
3225 Eden Avenue
Cincinnati, Ohio 45267

Dr. Knox-Kazimierczuk, is an Assistant Professor in the Department of Rehabilitation, Exercise, & Nutrition Science at the University of Cincinnati. Dr. Knox-Kazimierczuk is a Registered Dietitian (RD) and Certifed Athletic Trainer (ATC). Prior to her work in academia, Dr. Knox-Kazimierczuk worked in clinical and community dietetics for over fifteen years focusing on behavioral health nutrition and obesity, and worked in athletic training at the university and clinic setting for ten years. Dr. Knox-Kazimirczuk's research is centered in racial/ethnic health disparities, with an emphasis on birthing and breastfeeding disparities as well as cardiometabolic disease.  Drawing on knowledge and experience from her interdisciplinary Ph.D. in Educational Leadership and Health Promotion with an emphasis in cultural studies from Miami University, Dr. Knox-Kazimierczuk works to address disparities through engaging and cultivating community assets to shift narratives, policies, and resources. This paradigm shift requires a thorough examination of societal structures which perpetuates power imbalances and scarcity in low resourced neighborhoods. Dr. Knox-Kazimierczuk has used her experience as an Interaction Institute for Social Change (IISC) Facilitator for Racial Justice and trained Qualified Administrator for the Intercultural Competence Development Inventory (IDI) along with her twelve years of experience facilitating Diversity, Equity, & Inclusion (DE&I) workshops to address inequities through educating other dietitians and healthcare providers and by working with policy makers for change.

Dr. Knox-Kazimierczuk has deep community ties and integrates her service, teaching, and scholarship through her engagement as a volunteer and board member of several organizations. She is a member of the Green Umbrella Regional Food Policy Council and serves on one of its Impact Teams focused on Healthy Eating (https://www.greenumbrella.org/). Dr. Knox-Kazimierczuk is a long-time volunteer with The Hive (https://www.cincyhive.org/), a contemplative practice, art, an action center in her neighborhood, where she has offered a community yoga class focusing on engaging those that might not have access to spaces/resources to manage stress.  Recently, Dr. Knox-Kazimierczuk was invited to serve on a Healthy Foods Steering Community for the American Heart Association and Cradle Cincinnati's Research & Evaluation Advisory Board due to her work locally in underserved communities and research with and for Black women. Additionally, Dr. Knox-Kazimierczuk serves as a board member for The Well, a women's wellness center in Kettering, Oh.
 
PhD: Miami University Oxford, OH, 2015 (Educational Leadership & Health Promotion)
MS: Ball State University Muncie, IN, 2005 (Nutrition & Dietetics)
MS: Illinois State University Normal, IL, 2000 (Kinesiology and Health)
BA: Concordia University River Forest, IL, 1997 (Double Major: Exercise Science & Fitness Management, Psychology)
MS: Ball State University Muncie, IN, 2005 (Chemistry)
Research and Practice Interests
Community-partnered research to improve community health in underserved populations.
UC Health Urban Health Pathways Pipeline Project Role:Co-PI $19,000
UC Office of Equity & Inclusion The Health Professions Pipeline Diversification Project Role:PI $7,030.82
Grant: #R25CA261610 Investigators:Butsch-Kovacic, Melinda; Kazimierczuk, Francoise; Kues, John; Nolan, Rachael 08-01-2021 -07-31-2026 National Cancer Institute The Cancer Research Scholars Program (CRSP): Exploring Research Across the Cancer Continuum and into Underserved Communities Role:Collaborator 1,500,000 Active Type:Grant
04-01-2021 CCTST Partnership Development Grant Exploring the Social and Behavioral Impacts of Covid-19 on Coping and Community Healing. Role:Principle Investigator 5,000 Active Type:Grant
Peer Reviewed Publications
Kim, S., Wills, K, Canfield, J., Kazimierczuk, F., Harley, D., Hyppolite, M., & Desrosiers, P. (2018. ) Assessment of college students with the revised conflict tactics scale (CTS2): Sociodemographic characteristics and relationship .Journal of Human Behavior in the Social Environment, ,
Kazimierczuk, F., Geller, K., Sellers, S. Baszile, D, and Smith, M. (2017. ) Race, Class, Gender, and the Obesity Epidemic .Journal of Pan African Studies, , 10 (1 ) ,76
Kazimierczuk, F., Geller, K., Sellers, S., Smith, M., and Baszile, D. (2018. ) African American Women Weight Trends Through the Prism of Race, .Health Education & Behavior., , 45 (3 ) ,371
Kazimierczuk, F., Andavarapu, D., and Shockley-Smith, M. (2021. ) Commentary on Queens Village: Harnessing the Power and Resilience of Black Moms. Health Promotion Practice., ,
Kazimierczuk, F., Summers, C., and Lotz, K. (2021. ) African American Women and the Experience of Breastfeeding: An Ethnography. Journal of Critical Dietetics, , 6 (1 ) ,49
Kazimierczuk, F., Nommens-Rivers, L., Gramham, C., and Conner, N. (2021. ) Exploring the Breastfeeding Experiences of African American mothers through Critical Race Theory. .Breastfeeding Medicine, , 16 (6 ) ,487
Kazimierczuk, F. and Lotz, K. (2020. ) Implications of Psychosocial and Sociocultural Factors on Obesity Prevalence in African American Women. Journal of Health Disparities Research and Practice, , 13 (3 ) ,
Kazimierczuk, F., Lotz, K., Tosolt, B. (2023. ) Cultivating a Sense of Belonging in Allied Health Education: An Approach Based on Mindfulness Anti-Oppression Pedagogy.Health Promotion Practice, , More Information
Kazimierczuk, F., Trinh, S., Mundy, D., and Shockley-Smith, M. (2023. ) Challenges and lessons learned birthing during the COVID‐19 pandemic: A scoping review .Health Science Reports, , 6 (7 ) ,
Trinh, S., Mundy, D., Monangi, N., Ward, L., Shockley-Smith, M., Previtera, M., and Kazimierczuk, F. (2023. ) Breastfeeding Experiences of WIC participants during COVID-19: A Systematic Review. .Breastfeeding Medicine, ,
Book Chapter
Smith, M. and Kazimierczuk, F (2017 ) Smith, M. and Kazimierczuk, F Special Events in the Era of Social Enterprise .Routledge/Taylor & Francis Group
Kazimierczuk, F. & Shockley-Smith, M. (2021 ) Misogynoir and Health Inequities: Giving Voice to the Erased. Hating Girls .(pp. 247).Brill
Invited Presentations
Kazimierczuk, F. and Shockley-Smith, M. (2023. ) Advancing Black Reproductive Justice through Community Partnerships .National Maternal Health Innovation Symposium,, Minneapolis, MN. Level:National
Kazimierczuk, F., Forbes, L., & Jenkins, M (2023. ) Black Owned: The Importance of the Black Food Justice Movement. Building Healthy Neighborhoods, Cincinnati, OH. Level:Local
Kazimierczuk, F. (2022. ) Training Compassionate Educators and Students- A Focus on Marginalized Communities .Nutrition Educators of Health Professionals (NEHP) Diversity Symposium, Virtual. Level:National
Kazimierczuk, F. and Shockley-Smith, M. (2022. ) Addressing Maternal Mental Health Disorder using Asset-Based Community Development .National Maternal Health Innovation Symposium, Chicago, IL. Level:National
Kazimierczuk, F. (2021. ) Through their eyes: Experiences of URM Students in White Space .Ohio Nutrition and Dietetic Educators and Preceptors, Virtual. Level:State
Academic - Health Sciences Building
3225 Eden Avenue
Cincinnati  Ohio, 45267