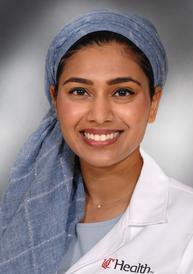 Sarah Khan , MD
Clinical Instructor
Personal Statement
"My tribe's chief told me that I should pray about this for a week before giving you an answer" was not the answer my team was expecting from our 61‐year‐old Native American patient who needed to be on blood thinners because of his clotting disorder, Factor V Leiden. Over the course of the week, I went to Mr. W's room before rounds to check on him
and see if I could help him understand his condition. However, most of our time was spent listening to stories about his singing career, his worries about aging, and his conspiracy theories. Noticing the scarf around my head, he asked me questions about Islam and told me that his mom made him read the Bible, Torah, and Qur'an when he was growing up.
I looked forward to these conversations each day and they helped me better understand Mr. W. He eventually revealed his fear of blood thinners because a few of his family members "bled to death" on blood thinners. After hearing this, I could grasp why he was hesitant to start blood thinners and ultimately decided against taking them. Before his discharge,
Mr. W thanked me for listening to him and said that listening to my patients will take me far in my career. Even though he made a decision against the best interest of his health, I realized that the role of a physician is not only managing diseases, but using empathy and patience to look at the patient as a whole person.

Why I Chose Cincinnati
During my fourth year of medical school, I had the opportunity to do an acting internship at UC. At first, I was nervous being a visiting student, but quickly felt welcomed by the residents and attendings I worked with and appreciated the camaraderie between the residents. I was impressed by the program's emphasis on patient‐centered rounds, resident autonomy, and continuity of care through Long Block. On my interview day, Dr. Warm's presentation demonstrated his dedication to resident education and how he truly wants to help his residents grow to their full potential. I also honestly laughed so much with the residents that day and could see myself as a resident there. Cincinnati is such a vibrant city and I'm happy to live closer to home as well!
Medical Degree: Northeastern Ohio University College of Medicine
Residency, Internal Medicine: University of Cincinnati College of Medicine
Peer Reviewed Publications
Khan, Sarah; Jones, Christine D; Kelly, Michelle M (2022. ) Trust during care transitions: Building the relationship between hospitalists and outpatient clinicians.Journal of hospital medicine, , 17 (4 ) ,322-323 More Information
Saleem, Maryam; Osman, Mohammed; Khan, Sarah; Kheiri, Babikir; Waqar, Fahad; Jamali, Hina K (2021. ) Meta-Analysis Comparing Ticagrelor or Prasugrel Versus Clopidogrel in Patients Undergoing Elective Percutaneous Coronary Intervention.The American journal of cardiology, , 143 ,160-162 More Information