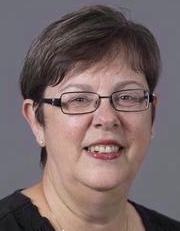 Gail Kiley
Gail earned her Bachelor's degree from Indiana University in Music Education.  After 15 years teaching in public schools, she earned her M.Ed. in School Counseling at UC in 2002.  She began teaching College Success Skills in the Center for Access and Transition in 2004, and moved to the College of Arts & Sciences in 2010.  Gail advises NeuroScience, Geology and Geography majors.   
BME: Indiana University South Bend, IN, 1975 (Instrumental music)
M.Ed.: University of Cincinnati Cincinnati, OH, 2002 (School Counseling)
Grant: #SRS 05188 Investigators:Kiley, Gail 09-01-2005 -06-30-2006 Department of Education Club ORO (Oyler Reach Out) Role:PI $2,500.00 Closed Level:Federal
Invited Presentations
Russ, K., Conyne, K., Tang, M., Goodman, J., Kiley, G., & Carras, E. (03-2006. ) Partnering to provide counseling for at-risk public schools .Presentation at annual conference of American Counseling Association, Montreal.