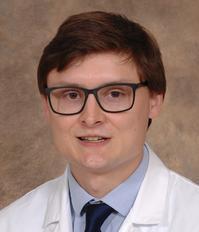 Thomas Knoerl
Clinical Instructor
Personal Statement
Participating in the care of a diverse group of patients has been an honor. By learning each patient's unique tory, I have had the opportunity to develop personal connections and address patient-specific concerns and goals. I am particularly drawn to the field of internal medicine as the core characteristics of this area of medicine closely align with my own interests, values, and skills. While processing complex differential diagnoses and discussing treatment options, I strive to advocate for each patient by putting their well-being first.
 
Why I Chose Cincinnati
The medical education and patient care curriculum at UC is based on a foundation of evidence that allows for innovation and continuous improvement. These qualities of the program, along with expert guidance and support from the UC community, will allow myself and my co-residents to grow into well rounded physicians that strive for improvement.
 
MD: State University of New York Upstate Medical University