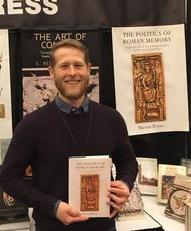 Marion Woodrow Kruse
Assoc Professor
Associate Professor
Blegen Library
220
A&S Classics - 0226
I am a Roman historian with a broad interest in ancient history and historiography, in particular the historiography of late antiquity. My early work focused on the reign of the emperor Justinian (r. 527-565 AD) and the preeminent historian of his reign, Prokopios of Kaisareia. My first book, The Politics of Roman Memory: from the Fall of the Western Empire to the Age of Justinian, explores the role narratives of Roman history played in constructing Roman identity in the eastern Roman empire after 476 AD. It posits that historical narratives were revised, redeployed, and contested as part of an ongoing debate over the nature and goals of the Roman empire, and its relationship to the city of Rome and the Gothic Kingdom in Italy.

My current work focuses on topics ranging from the textual tradition of Cassius Dio to the structure of the Roman military high command in late antiquity and the role of the Roman government in the formation of the Christian Church.

My full CV as well as samples of my publications may be found on my Academia page.
Ph.D.: The Ohio State University 2015 (Classics)
B.A.: University of Richmond 2008 (History)
Positions and Work Experience
2015 -2016 Lecturer in Classics, The Ohio State University,
2016 - Assistant Professor of Classics, University of Cincinnati,
Peer Reviewed Publications
"The Speech of the Armenians in Procopius: Justinian's Foreign Policy and the Transition between the Books of the Wars," Classical Quarterly, 63 (2013) 866-881.
"Archery in the Preface to Procopius' Wars: A Figured Image of Agonistic Authorship," Studies in Late Antiquity, 1.4 (2017) 381–406.
"The Epitomator Ioannes Xiphilinos and the Eleventh-Century Xiphilinoi," Jahrbuch der Österreichischen Byzantinistik 69 (2019) 257–274.
Book Chapter
"A Justinianic Debate Across Genres on the State of the Roman Republic," in Shifting Genres in Late Antiquity, ed. G. Greatrex, H. Elton, and L. McMahon (Ashgate, 2015) 233-245.
"Justinian's Laws and Procopius' Wars," in Procopius of Caesarea: Literary and Historical Interpretations, ed. E. Turqois and C. Lillington–Martin (Routledge, 2017) 186–200.
"Economic Thought and Ideology in Procopius," in Le monde de Procope, ed. G. Greatrex and S. Janniard (De Boccard, 2018) 39–54.
Book
The Politics of Roman Memory: From the Fall of the Western Empire to the Age of Justinian (Philadelphia: University of Pennsylvania Press, 2019).