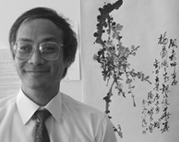 Man Bun Kwan
Professor
Associate Professor
Professor Kwan specializes in modern China, particularly its business, economic, legal, and social history. When traveling in China, he enjoys rummaging through local markets for land deeds and contracts. His "Salt Wars" has been published by Hawaii University Press, 2022.
PhD: Stanford University 1990
Investigators:Kwan Man Bun 09-01-2012 -To Present American Council of Learned Societies American Research in Humanities in China Role:PI 50,400 Active Type:Fellowship Level:International
Investigators:Kwan Man Bun 08-01-2012 -09-01-2012 Chiang Ching-Kuo Foundation Indigenization of chemical fertilizer in Taiwan Role:PI 2,600 Pending Type:Grant Level:International
Grant: #ACLS Fellowship 2012 Investigators:Kwan, Man Bun 09-01-2012 -06-30-2013 National Endowment for the Humanities Improving the Earth: Chemical Fertilizer in Modern China Role:PI $50,400.00 Active Level:Federal
Grant: #2012 Award Investigators:Kwan, Man Bun 08-10-2012 -08-30-2013 Chiang Ching-kuo Foundation for International Scholarly Exchange Indigenization of Chemical Fertilizer in Taiwan Role:PI $2,600.00 Active Level:Foreign Non-Profit
Book
Beyond Market and Hierarchy: Patriotic Capitalism and the Jiuda Salt Refinery, 1914-1953. London: Palgrave Macmillan, 2014.
Book Chapter
"Janus-faced Capitalism: Li Zhuchen and the Jiuda Salt Refinery, 1949-1953." Sherman Cochran, ed. The Capitalist Dilemma in China's Communist Revolution. Ithaca: Cornell University East Asia Program, 2014.
Invited Presentations
Kwan Man Bun (2012. ) Chemical Fertilizer in Modern China .History Institute, Tianjin Academy of Social Sciences. Level:State
Kwan Man Bun (2013. ) Breaking the nitrogen bottleneck, Yongli Chemicals and ICI at war, 1931-1935 .Symposium on transnational network in modern China, Chinese University of Hong Kong. Professional Meeting. . Level:International
Event Organized
Association of Asian Studies Annual Meeting

Association of Asian Studies Annual Meeting Conference 03-15-2012 Toronto Level:International
08-2012 -09-2012 "Indigenization of chemical fertilizer in Modern Taiwan" Chiang Ching-kuo Foundation for International Scholarly Exchange Status:Recipient Level:International Type:Grant
2012 -2013 Chemical Fertilizer in Modern China American Council of Learned Societies Status:Recipient Level:National Type:Fellowship
Economic and Social Research Council, UK (Award report review ) Member Type:Grant Panel Level:International
城市史研究 (编辑委员会 ) Committee Member Type:Editorial Service Level:International 2021 -2024
Post Graduate Training and Education
1993-1994 An Wang Fellow, Fairbank Center, , Harvard University
China, Japan
Asian Civilizations: China, Japan
Ancient China, Medieval China, Modern China
China according to Hollywood Level:Undergraduate
Commodification in World History Level:Both