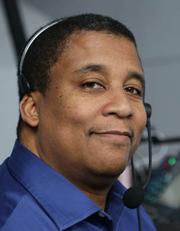 Kevin Lawson
Assistant Professor
Assistant Professor of Lighting Design and Technology
Corbett Cntr Perform Arts
CCM TAPAA - 0003
Kevin Lawson officially joins CCM's faculty on Aug. 15, 2021. His early career was spent in theatre, working as an assistant/associate and lighting designer in regional, off-Broadway and Broadway theaters. After a serendipitous career shift to broadcast television, he has spent most of the last 21 years as a lighting designer, lighting director and/or programmer on more than 200 televised productions.

His professional credits include work on high profile events like Mandela Day, Live Earth and the election night rallies and acceptance speeches for 44th US President Barack Obama in 2008 and 2012.

Lawson received Live Design's Excellence Award – Live for Broadcast – for the Election Night Rally in 2008 and for NBC's "Hairspray Live!" broadcast. He was nominated for Emmy Awards for the 2012 installment of "CNN Heroes," the 2013 Rock and Roll Hall of Fame Induction Ceremony, "The Wiz Live!" and "Hairspray Live!"

His other career highlights include work on HBO's 25th Anniversary Rock and Roll Hall of Fame concerts, MTV Video Music Awards, MTV Movie Awards, Victoria's Secret Fashion Shows, PBS' Soundstage, and Live at Lincoln Center and Great Performances. He has worked on concerts featuring Britney Spears, N'Sync, Tim McGraw, Aerosmith, Alicia Keys, Metallica, Dixie Chicks, J-Lo, Jay-Z, U2, Paul Simon, Garth Brooks and Usher. Lawson's credits also include work on comedy specials featuring Ellen DeGeneres, Will Farrell, Robin Williams and Chris Rock. In addition, he has worked on two Super Bowl Halftime Shows, seven Miss America competitions, 13 Comedy Central Roasts and 19 Rock and Roll Hall of Fame Inductions ceremonies. Lawson was the Lighting Designer for four seasons of "Gospel of Music with Jeff Majors" on TV One, "Signing of the Stars" for University of Michigan and various corporate events including Turner Networks Upfront Presentations and Press Reveals for Lexus and Toyota.

Lawson received his BFA in Lighting Design from the Theatre School at DePaul University. He is a recipient of the Arena Stage's Allen Lee Hughes Fellowship and the Lincoln Center Institute Fellowship.