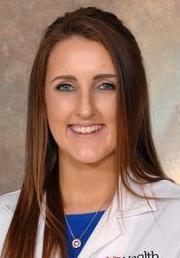 Christina Nicole Lehn
Clinical Instructor - GME
Medical Sciences Building
COM Internal Medicine - 0547
Personal Statement
I gained insight into the detrimental impact of a lack of health education and resources when conducting weekly classes at a women's homeless shelter during my first and second years of medical school. I recognized that without an understanding of their disease and health recommendations, they lacked the tools to manage their conditions. As each class came to an end, I felt fulfilled as the women were both more comfortable with their health plan and empowered to improve it. As a part of the future of healthcare, I aspire to continue to recognize and address social and behavioral determinants of health. I am passionate about utilizing my position as a physician to build relationships with patients that foster trust, understanding, and open communication.

Why I Chose Cincinnati
I deeply value the patient-centered approach that University of Cincinnati Medical Center employs with their patients. Throughout my clinical rotations at the UC, I witnessed the positive impact of patient-centered care on health outcomes and enjoyed the relationship and trust built with patients through this approach. Additionally, as a Cincinnati native, I have always had a special place in my heart for Cincinnati. My entire family lives in the area and Cincinnati always has fun events going on around the city.
 
MD: University of Cincinnati College of Medicine