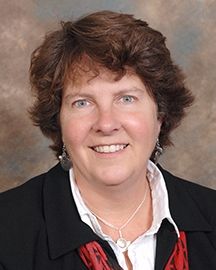 Rebecca C. Leugers , PT, MS, PhD
Assoc Professor - Educator
Assistant Professor
269 Health Sciences Building
3225 Eden Avenue
PO Box 670394
Cincinnati, Ohio 45267
Phone 513-558-7480
Fax 513-558-7474
Email leugerrc@ucmail.uc.edu
MS: The Ohio State University Columbus, Ohio,
BS: The Ohio State University Columbus, Ohio,
PhD: University of Cincinnati Cincinnati, Ohio, 2021 (Epidemiology)
Research and Practice Interests
Physical Therapy; neurorehabilitation
Positions and Work Experience
1984 -1991 Staff Physical Therapist; Senior Physical Therapist; Supervisor, Physical Therapy, Clinically involved with acutely ill patients, with rotations in: ICU, Burns and Wounds, CVA, TBI, General debilitation, Cardiac Rehabilitation, Outpatient Orthopedics, Total Joint Replacement Unit. Served as CCCE as well as Clinical Instructor, Saint Anthony Medical Center, Columbus, Ohio
1986 -1988 Graduate Teaching Assistant [Lab Assistant/Instructor], Instructor, PT585.01 Planning and Coordinating Coordinator, Junior Preclinical rotations Unit Lecturer, PT543 Therapeutic Exercise III Course Coordinator, AM530 Neuromuscular Disease , The Ohio State University, Columbus, Ohio
1991 -1993 Director of Physical Therapy, Clinically involved with CVA, Pulmonary Rehab, Traumatic Brain Injury Administrative responsibility for PT operations, Tri-State Regional Rehabilitation Center, Evansville, Indiana
1993 -1996 Director of Physical Therapy and Work Rehab, Clinically involved with a variety of inpatient diagnosis, Work rehab Administrative responsibility for two hospital inpatient acute and two hospital inpatient rehab and skilled care, five outpatient departments, Pain and Work Rehab Center, Franciscan Health System of the Ohio Valley, Cincinnati, Ohio
1996 -2001 Staff Physical Therapist , Provided PRN PT services; Clinical inpatient work, esp. rehab; mentor for BS and MS prepared staff members, Franciscan Health System of the Ohio Valley, Cincinnati, Ohio
1996 -2002 Instructor, Physical Therapy Program, College of Allied Health Sciences PT 381 Neuromuscular Problems I PT 486 PT Across the Life Span I PT 479 Therapeutic Exercise II PT 451 Rehabilitation I PT 483 Cardiopulmonary PT PT 487 PT Across the Life Span II PT 452 Rehabilitation II PT 481 Neuromuscular Problems II PT 491 Administration and Management PT 488 Critical Analysis, University of Cincinnati, Cincinnati, Ohio
2002 -2022 Assistant Professor, Tenured Teaching: Medical Patient Client Management I 8066 Neuromuscular Patient Client Management I 8056 Research I 9011 Research III 9013 Neuromuscular Patient Client Management II 8057 Research II 9012 Research IV 9014 Also serve as graduate student faculty advisor, serve on and lead multiple committees , University of Cincinnati, Cincinnati, Ohio
2022 -To Present Associate Professor, Teaching: Neurologic Physical Therapy I & II, Medical Physical Therapy I (Integumentary), Professional Roles II, Special Topics (Pro Bono Clinic). Service: Faculty Senate, Faculty Senate Cabinet, Board of Trustees Faculty Representative, Academy of Fellows for Teaching and Learning Executive Committee, Faculty Mentor, Pro Bono clinical work, University of Cincinnati, Cincinnati, Ohio
2019 -2020 NIH HDM Healthy Goals Study Role:Co-PI
Published Abstracts
E. King, S. Couch, R. Leugers, J. Prendeville, T. Whalen (2006. ) A National Collaboration: Reframing RPT Documents to Facilitate the Transformation of service Learning Pedagogy to Community Based Participatory Research .[Abstract]ASAHP Annual Conference,
Peer Reviewed Publications
Leugers, R., Whalen, T, Couch, SC, King, E., Prendeville, J. (2009. ) Re-Framing RPT documents to facilitate the transformation of service learning pedagogy to community-engaged research utilizing Kotter's Model for change. Metropolitan Universities Journal, , 20 (2 ) ,
Jordan, CA, Wong, KA, Jungnickel, PW, Joosten, YA, Leugers, RC, Shields, SL (2009. ) The community-Engaged Scholarship Review, Promotion, and Tenure Package: a guide for faculty and committee members .Metropolitan Universities Journal, , 20 (2 ) ,
Engelhard C, Leugers R, Stephan J (2016. ) Effectiveness of pre-admission data and letters of recommendation to predict students who will need professional behavior intervention during clinical rotations in the United States.Journal of Educational Evaluation of Health Professions, , 13 (26 ) , More Information
A Comparison of muscle strength testing techniques in amyotrophic lateral sclerosis .Neurology, , 61 (11 ) ,1503 -1507
Poster Presentations
R. Cooper, R. Leugers (2002. ) Local Perceptions of PNF or NDT use for Treating patients Recovering from CVA: Greater Cincinnati Area .National APTA Conference, Level:National
Goodlander M, Leugers R, Ficker D, Hanks E, Johnston S. (2004. ) The Current Level of Activity and Quality of Life in Patients with Epilepsy .Ohio Physical Therapy Fall Conference, Columbus, Ohio. .
Leugers, R. (2012. ) Creating an Engaging Peer Review Opportunity for Healthcare Students .Lilly Conference on College Teaching and Learning, Traverse City, MI. . Conference. . Level:National
Michael Darnell; Amy Goad; Rebecca Leugers; Chalee Engelhard (2015. ) Can certain admission variables be predictors of academic success in a Doctor of Physical Therapy program? .APTA Combined Sections Meeting , Indianapolis, IN. . Level:National
Rebecca Leugers, Chalee Engelhard, Jenna Stephan, Andrew Tran (2016. ) The effectiveness of letters of recommendation and pre admission data to predict students who will have a professional behavior intervention during a clinical rotation .APTA NEXT , Nashville, TN. . Level:National
Rebecca Leugers, Lindsey Mills (2017. ) The Mentor-Mentee Relationship: Taking Advantage of Campus Resources for Interdisciplinary Mentoring .Original Lilly Conference on College Teaching, Oxford, Ohio. . Level:International
Engelhard C, Leugers, R, Ambrose S, Murphy C (2018. ) (In Progress. ) Innovative Clinical Faculty Development: A Strategic Roadmap to Change Attitudes, Beliefs and Adoption of the Clinical Collaborative Model .APTA Combined Sections Meeting , New Orleans, LA. . Conference. . Level:National
2002 College of Allied Health Sciences Excellence in Teaching Award
2011 A.B. (Dolly) Cohen Award for Teaching Excellence University of Cincinnati Status:Recipient Level:University
2011 Excellence in Teaching Award College of Allied Health Sciences Status:Recipient Level:College
2011 Excellence in Teaching Award The Greater Cincinnati Consortium of Colleges and Universities Level:Local
2012 Academy of Fellows for Teaching and Learning University of Cincinnati Level:University
2013 Excellence in Service Award College of Allied Health Sciences Status:Recipient Level:College
2016 Outstanding Educators Best of the Best Award Cincy Magazine Level:Local
2021 Ethics in Action Award Awarded by the Ethics Center of the University of Cincinnati for "going above and beyond to address a social health inequity and harassment experienced by one of our study participants." Ethics Center, University of Cincinnati Status:Recipient Level:University Type:Recognition
University of Cincinnati (Presidential Leadership Medal of Excellence Committee ) Elected Member Type:University/College Service Level:University 2017 -2019
The Journal for Research and Practice in College Teaching Peer Review/Referee Type:Editorial Service Level:University 2017 -To Present
University of Cincinnati (RENS Department RPT Committee ) Committee Chair Type:Departmental Service Level:Department 2017 -2018
(CAHS RPT Committee ) Committee Chair Type:University/College Service Level:College 2015 -2017
(Search Committee Visiting Adjunct Dept. Rehab Sciences ) Member Type:Departmental Service Level:Department 2017 -2017
University of Cincinnati (Faculty Senate Nominating Committee ) Member Type:University/College Service Level:University 2016 -2017
2012 -2013: Secretary/Treasurer, Academy of Fellows for Teaching and Learning University of Cincinnati,
2013 -2015: President, Academy of Fellows for Teaching and Learning University of Cincinnati,
Academic - 269 Health Sciences Building
3225 Eden Avenue
Cincinnati  Ohio, 45267
Phone: 513-558-7480
Fax: 513-558-7474
leugerrc@ucmail.uc.edu