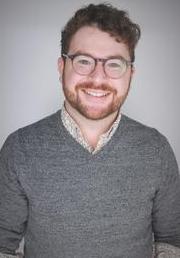 Jeremy Aaron Brenner-Levoy
Graduate Assistant
Graduate Assistant
Hello! My name is Jeremy Brenner-Levoy (they/them) and I am a Ph.D. Candidate in Sociology at the University of Cincinnati.

My research generally focuses on what I call "nerd culture," by looking at how social structures influence our preferences and experiences within video games, table-top games, cosplay, and other associated activities. I am especially interested in using mixed methods research to understand how individuals' experiences are grounded in the experiences of larger communities.

My dissertation, which I am currently working on, looks at how identity may structure our preferences within video games. Through this project I hope to understand how social structure may shape the way we view games, the games we play, and the roles within games that we prefer. Drawing on 4,500 survey responses and 60 interviews, I hope to illustrate the importance of social identity in our goals for play.

My thesis used a survey and interviews to understand how queer men experience, understand, address, and cope with harassment in online video games. My most recent published work focused on gender, identity, and body in cosplay (a portmanteau of costume and play). I have previoiusly worked as part of the Ohio Policy Evaluation Network (OPEN), as well as individual research on queer identity formation and care work in video games. I am currently a Taft Dissertation Fellow.

In my spare time, I enjoy reading fantasy books, watching anime, playing video games, and caring for my many plants and cats. 
Positions and Work Experience
2019 -2022 Project Manager for the Ohio Policy Evaluation Network., Ohio Policy Evaluation Network, Cincinnati, OH
2022 -2023 Taft Dissertation Fellow, University of Cincinnati., Cincinnati, OH
2023 -To Present Assistant Editor, Social Problems, University of Cincinnati., Cincinnati, OH.
2017 -2019 Research and Teaching Assistant, University of Cincinnati., Cincinnati, OH.
Peer Reviewed Publications
Casanova, Erynn masi, Jeremy Brenner-Levoy, and Cole Weirich (2020. ) The Blurred Boundaries of Cosplay: Space, Performance, and Embodiment .Symbolic Interaction, , 44 (4 ) ,798-818
Brenner-Levoy, Jeremy (2023. ) "Virtually Masculine: Queer Men's Experiences with Harassment in Online Video Games." .Sociology of Sport Journal, , 40 (4 ) ,385
Turner, Abigail Norris, Jeremy Brenner-Levoy, Katherine Rivlin, Tamika Odum, Zoe Muzyczka, Alison Norris, and Danielle Bessett (2022. ) "Who loses access to legal abortion with a 6-week gestational limit?" .The Journal of the American Medical Association (JAMA) , , 227 (5 ) ,777-780
Rivlin, Katherine, Jeremy Brenner-Levoy, Tamika Odum, Zoe Muzyczka, Alison H. Norris, Abigail Norris Turner, and Danielle Bessett. (2022. ) "Provider mistrust and telemedicine abortion preferences among patients in Ohio, West Virginia and Kentucky." .Journal of Telemedicine and e-Health , , 29 (3 ) ,414-424
Brenner-Levoy, Jeremy (2023. ) "Playing with Masculinity: Playing with Gender Identity in Online Video Games." .Forthcoming with Visual Resources, ,
Invited Publications
Casanova, Erynn masi de and Jeremy Brenner-Levoy (2021. ) Fantastic Bodies: Navigating Ideals of Beauty in Cosplay .Beauty Politics Handbook,