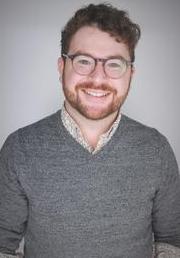 Jeremy Aaron Brenner-Levoy
Graduate Assistant
Graduate Assistant
Hello! My name is Jeremy Brenner-Levoy (they/them) and I am a Ph.D. student in Sociology at the University of Cincinnati.

I am a scholar of play and play cultures. My research focuses primarily on how masculinity, whiteness, and heterosexuality structures access to and privilege within play spaces. I am especially interested in using mixed methods research to understand how individuals' experiences are grounded in the experiences of larger communities.

My thesis used a survey and interviews to understand how queer men experience, understand, address, and cope with harassment in online video games. My most recent published work focused on gender, identity, and body in cosplay (a portmanteau of costume and play). I am currently working on multiple papers as part of the Ohio Policy Evaluation Network (OPEN), as well as individual research on queer identity formation and care work in video games. I currently work as a project manager for OPEN's Experiences of People Seeking Abortion project.

In my spare time, I enjoy reading fantasy books, watching anime, playing video games, and caring for my many plants and cats. 
Positions and Work Experience
2019 -To Present Project Manager for the Ohio Policy Evaluation Network., Manages the patient experience survey study for patients seeking abortion care. Coordinates research and communication across multiple research sites. Primary data analyst for the research team., Ohio Policy Evaluation Network, Cincinnati, OH
Peer Reviewed Publications
Casanova, Erynn masi, Jeremy Brenner-Levoy, and Cole Weirich (2020. ) The Blurred Boundaries of Cosplay: Space, Performance, and Embodiment.Symbolic Interaction, , More Information
Book Chapter
Casanova, Erynn masi de and Jeremy Brenner-Levoy (2021 ) Fantastic Bodies: Navigating Ideals of Beauty in Cosplay Beauty Politics Handbook . (Co-Author)