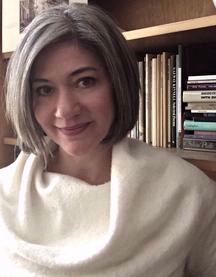 Rebecca K Lindenberg , Ph.D.
Assoc Professor
Area Director of Creative Writing, Assistant Professor
University of Cincinnati
Department of English
Cincinnati, Ohio Email lindenra@uc.edu
Rebecca Lindenberg is a poet, essayist, translator, and literary editor.  She is the author of Love, an Index (McSweeney's) and The Logan Notebooks (Mountain West Poetry Series), winner of the 2015 Utah Book Award. Her third poetry collection, Our Splendid Failure to Do the Impossible, is forthcoming from BOA Editions in Fall 2024. Her work also appears in many national magazines and literary journals including POETRY, The Believer, McSweeney's Quarterly, American Poetry Review, Tupelo Quarterly, Seneca Review, Iowa Review, and many more.  She is the recipient of several grants and awards including an Amy Lowell Traveling Poetry Fellowship, a National Endowment for the Arts Literature Grant, a seven-month fellowship from the Fine Arts Work Center in Provincetown, and residencies at the MacDowell Arts Colony, the Sewanee Writers Conference, and elsewhere.  In addition to her work as a writer, she is the Poetry Editor of the Cincinnati Review.  
Ph.D.: University of Utah Salt Lake City, UT, 2011 (Literature & Creative Writing (with a focus on 20th and 21st century poetry and poetics, literary nonfiction, and interdisciplinary literary practices))
B.A. (Magna Cum Laude): The College of William & Mary Williamsburg, VA, 2000 (English)
Research and Practice Interests
Poetry writing; literary nonfiction writing; 20th and 21st century poetry and poetics; creative writing pedagogy; literary editing; literary translation; Modernism; interdisciplinary literary practices
08-2013 -09-2014 Choate, Hall & Stewart/Estate of Poet Amy Lowell The Amy Lowell Poetry Traveling Fellowship Role:Fellow 55, 000 Completed Type:Fellowship Level:National
03-2011 -02-2013 National Endowment for the Arts National Endowment for the Arts Individual Artist Grant in Literature 25,000 Completed Type:Grant Level:National
10-2009 -05-2010 Fine Arts Work Center in Provincetown Fine Arts Work Center Fellowship Role:Fellow 10,000 Completed Type:Fellowship Level:National
03-2012 -08-2012 Dorothy Sargent Rosenberg Foundation (now Poetry Foundation) Dorothy Sargent Rosenberg Poetry Prize 5,000 Completed Type:Grant Level:National
Published Books
Rebecca Lindenberg (2012. ) Love, an Index .San Francisco, California USA , McSweeney's Books (Author)
Rebecca Lindenberg (2014. ) The Logan Notebooks .Fort Collins, Colorado USA , Mountain West Poetry Series (Center of Literary Publishing at Colorado State) (Author)
Graduate Programs (English) Director Type:Departmental Service Level:College 2022
Academic - University of Cincinnati
Department of English
Cincinnati  Ohio, lindenra@uc.edu