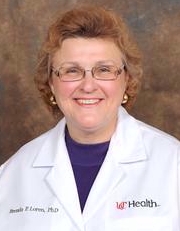 Brenda P. Loren , PhD
Staff Psychologist
Dept of Neurology & Rehabilitation Medicine
Stetson Buiilding, Suite 2300
260 Stetson Street
Cincinnati, Ohio 45219
Phone 513-558-2968
Email brenda.loren@ucmail.uc.edu
     Dr. Loren is a Staff Psychologist in the University of Cincinnati College of Medicine, Department of Neurology& Rehabilitation Medicine, Division of Neuropsychology & Medical Psychology.  She provides psychological assessment and treatment services to adult and older adult medical inpatients on the long term acute care (LTACH) units at the UC Health Daniel Drake Center for Post-Acute Care (DDC) in Cincinnati, Ohio.  Inpatient work involves provision of psychological assessment and treatment of adult and older adult LTACH inpatients having difficulty coping with complex medical problems including ventilator weaning, multi-organ failure, complex wounds, post-operative complications, and chronic or life-altering medical conditions such as cancer, cardio- and cerebrovascular conditions and events, neurodegenerative disorders, organ transplant, and early stage TBI and SCI, as well as consultation with families of patients who have these challenging conditions.  Consultation with physicians and staff regarding managing patients' cognitive, emotional, and behavioral issues is also provided. Please note that Dr. Loren only serves medical inpatients at the Daniel Drake Center, and does not provide outpatient services.

     Dr. Loren also serves as the Psychology Representative on the Medical Executive Committee at the Daniel Drake Center for Post-Acute Care, representing the neuropsychologists, rehabilitation psychologists, and medical psychologists who also serve at the Daniel Drake Center.  In this capacity, she relays psychosocial perspectives on patient biopsychosocial needs, medical services, and associated policies at DDC as relevant.  She also assists with revision of Daniel Drake Center policies involving psychological services.  

     Finally, Dr. Loren's work also respects the spiritual needs of medical inpatients and provides information regarding facilitating patient access and use of spiritual ways of coping to her medical, psychological, and rehabilitation therapy colleages via Grand Rounds presentations on the topic and via consultation when needed.  
Doctoral Degree: Kent State University Kent, Ohio, 1991 (Clinical Psychology, Behavioral Medicine Track)
Internship: West Virginia University College of Medicine, Morgantown, WV, 1990 (Clinical Psychology with specialty in Behavioral Medicine)
Master's Degree : Kent State University Kent, Ohio, 1985 (Clinical Psychology, Behavioral Medicine Track)
Bachelor of Arts: Indiana University of Pennsylvania Indiana, PA, 1982 (Major in Psychology Minor in Art)
Depression
Neuropsychology
Adjustment Disorder
Depressive Disorder
Psychology-Clinical
Research and Practice Interests
Behavioral Medicine and Psychology
Positions and Work Experience
09-01-2012 - Clinical Psychologist, University of Cincinnati Physicians, Cincinnati, OH
10-01-2007 -08-30-2012 Clinical Psychologist, UC Health Drake Center, Cincinnati, OH
Academic - Dept of Neurology & Rehabilitation Medicine
Stetson Buiilding, Suite 2300
Cincinnati  Ohio, 45219
Phone: 513-558-2968
brenda.loren@ucmail.uc.edu