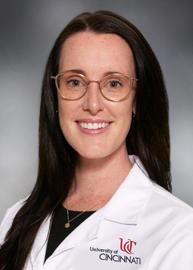 Sarah Wallace Ludvigsen , MD
Medical Resident/Fellow
Personal Statement
"What you will one day become, you are now becoming." My collegiate choir director, Dr. Thomas Jenrette, reminded us of this lesson frequently. He held high expectations for each of his singers and taught us to have high expectations of ourselves so that we could learn self‐discipline, introspection, and constructive criticism. I learned that some of life's most rewarding experiences come with great challenges and sacrifice during my time in the East Tennessee State University Music Department. The chorale, for example, rehearsed together for two hours a day to perfect the intricacies of Brahms, Bach, Mozart, and Bernstein; great works filled with technical parts that when performed well work in unison to create an exquisite piece. This concordance is echoed in medicine with each organ system complementing the other in perfect harmony. Internal Medicine is a field that requires an understanding of the entire body and the integration of its processes. My attention to detail, desire to learn, and dedication to patient care drives me towards the complexities of this specialty.

Why I Chose Cincinnati
I chose Cincinnati because throughout my interview day, I was impressed by the program's focus on resident education and patient centered care. I was also overwhelmed by the kindness of the residents from the pre‐interview dinner to interview day Pictionary. I believe that UC will provide both a challenging and supportive residency which will allow me to grow both as a person and physician.
American Board of Internal Medicine (Nephrology) (Certification Date: 08-23-2022 )
Primary Care