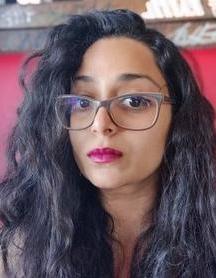 Aditi P Machado
Assistant Professor
I am a poet, translator, and scholar whose work draws on translation and transnational literatures; experimental writing methods; historical prosodies and theories of the sentence. While I read across time periods, my research tends to focus on twentieth- and twenty-first century US and transnational poetries with particular emphases on global avant-gardes; the poetry of philosophy; literatures of migration and displacement; ecocriticism; serial/longform poetics; literatures of witness and documentary poetics; and the haptic.

Some additional interests that make their way into my teaching and writing: Beowulf, Old English and Latin, television and cinema, cooking, walking, fashion, and the baroque.

EDUCATION

PhD, University of Denver, 2019
MFA, Washington University in Saint Louis, 2012

EMPLOYMENT

Assisant Professor, Department of English, University of Cincinnati, 2020-present
               (also: Affiliate Faculty Member, Department of Romance and Arabic Languages and Literatures)
Visiting Writer-in-Residence, Department of English, Washington University in Saint Louis, 2018-2020
Adjunct Lecturer, Department of English & University Writing Program, University of Denver, 2016-2018

BOOKS

Emporium. Nightboat Books, 2020. James Laughlin Award 2019 from the Academy of American Poets. (Poetry Collection)
Some Beheadings. Nightboat Books, 2017. The Believer Poetry Award 2018. (Poetry Collection)
Prosopopoeia by Farid Tali. Action Books, 2016. (Hybrid Novel translated from the French)

CHAPBOOKS & PAMPHLETS

The End. Ugly Duckling Presse, 2020. (Essay)
Rhapsody. Albion Books, 2020. (Poetry)
Prologue | Emporium. Garden-Door Press, 2018. (Poetry)
This Touch. Belladonna*, 2018. (Essay)
Route: Marienbad. Further Other Book Works, 2016. (Poetry)
The Robing of the Bride. Dzanc Books, 2013. The Collagist Chapbook Contest, 2012. (Poetry)

More about my publications can be found at my personal website. 
Research and Practice Interests
Poetry & Poetics. Theory & Practice of Translation. Essay Writing. 20th- & 21st Century US Poetry. Transnational Poetics. Serial/Longform Poetics. Global Avant-Gardes. Experimental Writing Methods. Prosody. Ecopoetics & Landscape Writing. Documentary Poetics. Literatures of Witness. Poetry of Philosophy/Phenomenology. Literatures of Migration & Displacement. Multilingual Writing.
James Laughlin Award, Academy of American Poets, 2019
The Believer Poetry Award, 2018
Poetry Winner, Mountain West Writers' Contest, Western Humanities Review, 2017
The Collagist Chapbook Contest, 2012
Poetry Runner-Up, The Iowa Review Contest, 2012
The Srinivas Rayaprol Poetry Prize, 2009
The Toto Funds the Arts Award for Creative Writing, 2009
ENGL 3019 Contemporary American Poetry
ENGL 3085 Forms of Poetry
ENGL 5114 Senior Writing Seminar: Creative Writing and Research
ENGL 7018 Graduate Poetry Workshop
ENGL 7087 Innovative Forms
aditi.machado@uc.edu