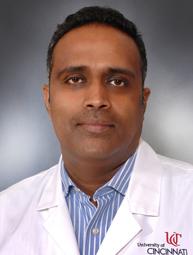 Satish Kumar Madala
Professor
Division of Pulmonary, Critical Care, and Sleep Medicine
Bldg CVC, Rm 4938
231 Albert Sabin Way
Cincinnati, Ohio 45267
Phone (513)-558-1955
Fax 513-558-4858
Email satish.madala@uc.edu
Fibrosis is due to excessive deposition of collagen and other extracellular matrix (ECM) proteins in tissues, a pathology common to several fibrotic lung diseases. Fibrosis in the distal areas of the lung disrupts gas exchange and is the leading cause of morbidity and mortality in Interstitial Lung Diseases including Idiopathic Pulmonary Fibrosis (IPF) and systemic sclerosis (SSC-ILD). Nevertheless, despite the enormous impact of fibrotic diseases on human health, there are currently few treatments with limited or no cure. My laboratory research goals are to identify mechanisms underlying the initiation and maintenance of pulmonary fibrosis and develop novel therapies that prevent fibrosis and support the regeneration of severely damaged lung tissue.

 
Research and Practice Interests
My laboratory research interests include idiopathic pulmonary fibrosis, asthma, scleroderma, cystic fibrosis, and lung injury. Our research studies aim to identify the cellular and molecular mechanisms underlying chronic lung diseases to guide the development of new therapies.

Our research on genomic comparisons of IPF and non-IPF cells revealed significant differences in cellular and molecular pathways underlying the pathogenesis in IPF. We were the first to describe an increase of WT1 protein in IPF and the first to show that this dysfunction resulted in a significant increase in fibroblast activation and ECM production. Using advanced cell lineage tracing methods, we showed in vivo that WT1-positive mesothelial cells transform into myofibroblasts in the pathogenesis of pulmonary fibrosis.

The key findings of my laboratory include:
Identifying mesenchymal cell subsets, signaling pathways, and molecules involved in pulmonary fibrosis (Journal of Immunology 2010, 2015; American Journal of Respiratory Cell and Molecular Biology 2014, 2016; JCI Insight 2018, 2019 & 2021).
Identifying novel therapeutic targets and develop new therapies to reverse established and ongoing pulmonary fibrosis (American Journal of Respiratory Cell and Molecular Biology 2012, 2014; American Journal of Physiology Lung Cellular and Molecular Physiology 2014, 2016, 2017; JCI Insight 2017; EMBO Mol. Med. 2020).
Identified downstream mediators of Th2 T cells involved in allergic asthma and lung function decline (Journal of Biological Chemistry 2019, and 2015; PLOS One 2016).
I am honored to have received many awards throughout my career, including:
The Parker B. Francis Jo Rae Wright Award for Scientific Excellence, USA (2019)
Best Poster Award, FASEB Conference, Olean, NY, USA (2018)
Science and Innovation Center (SIC) Rising Star Research Award, Respiratory Cell & Molecular Biology (RCMB) Assembly, American Thoracic Society (ATS), Washington, DC, USA (2017)
Best Abstract Award, Gordon Conference on Lung Injury and Repair, Andover, NH, USA (2015)
Parker B. Francis (PBF) Fellow Award, PBF Foundation, USA (2013)
Young Investigator Award, International Summit on Fibrosis, Cleveland Clinic, USA (2010)
Best Abstract Award, Fibrosis Meeting, Keystone Symposia, Keystone, CO, USA (2009)
Fellows Award for Research Excellence (FARE), Excellence in Biomedical Research, NIH, Bethesda, USA (2008)
Dr. K. V. Rao Annual Research Award, India (2004)
Council of Scientific and Industrial Research-University Grants Commission (CSIR-UGC) Fellowship, Government of India (2000)
The primary focus of our ongoing research efforts is to advance our use and understanding of genomics in preclinical modeling that leads to novel therapeutic approaches in the treatment of chronic lung diseases.
Positions and Work Experience
2010 -2022 CINCINNATI CHILDRENS HOSPITAL MEDICAL CENTER, USA
Grant: #2R01HL134801-06 Investigators:Madala, Satish 05-01-2022 -04-30-2026 National Heart, Lung and Blood Institute WT1 REGULATION OF PULMONARY FIBROSIS Role:PI 530280.00 Active Type:Grant Level:National
Grant: #R01HL157176 Investigators:Madala, Satish; Gupta, Nishant 06-01-2022 -05-31-2026 National Heart, Lung and Blood Institute Sox9 Regulation of Fibroblast Activation and Pulmonary Fibrosis Role:PI 0.00 Active Type:Grant Level:National
Grant: #CCHMC (NIDDK P30DK117467) Investigators:Madala, Satish 07-01-2022 -06-30-2023 National Inst of Diabetes and Digestive and Kidney Disease Mechanisms of fibroblast activation in liver and lung in patients with Cystic Fibrosis Role:PI 119250.00 Hold Level:Federal
Grant: #R01HL162261-01A1 Investigators:Madala, Satish; McCormack, Francis 05-01-2023 -04-30-2028 National Heart, Lung and Blood Institute Novel Mechanisms of Pulmonary Fibrosis Role:Collaborator 738656.44 Hold Level:Federal
Peer Reviewed Publications
Ghandikota, Sudhir; Sharma, Mihika; Ediga, Harshavardhana H; Madala, Satish K; Jegga, Anil G (2022. ) Consensus Gene Co-Expression Network Analysis Identifies Novel Genes Associated with Severity of Fibrotic Lung Disease.International journal of molecular sciences, , 23 (10 ) , More Information
Schuliga, Michael; Madala, Satish K (2022. ) ASK1ng to Delay the Progression of Pulmonary Fibrosis.American journal of respiratory cell and molecular biology, , 66 (5 ) ,465-467 More Information
Gajjala, Prathibha R; Kasam, Rajesh K; Soundararajan, Divyalakshmi; Sinner, Debora; Huang, Steven K; Jegga, Anil G; Madala, Satish K (2021. ) Dysregulated overexpression of Sox9 induces fibroblast activation in pulmonary fibrosis.JCI insight, , 6 (20 ) , More Information
Gajjala, Prathibha R; Madala, Satish K (2021. ) Notch3: A New Culprit in Fibrotic Lung Disease.American journal of respiratory cell and molecular biology, , 64 (4 ) ,403-404 More Information
Yombo, Dan J K; Odayar, Varshini; Gupta, Nishant; Jegga, Anil G; Madala, Satish K (2021. ) The Protective Effects of IL-31RA Deficiency During Bleomycin-Induced Pulmonary Fibrosis.Frontiers in immunology, , 12 ,645717 More Information
Kasam, Rajesh K; Ghandikota, Sudhir; Soundararajan, Divyalakshmi; Reddy, Geereddy B; Huang, Steven K; Jegga, Anil G; Madala, Satish K (2020. ) Inhibition of Aurora Kinase B attenuates fibroblast activation and pulmonary fibrosis.EMBO molecular medicine, , 12 (9 ) ,e12131 More Information
Kasam, Rajesh K; Gajjala, Prathibha R; Jegga, Anil G; Courtney, Jennifer A; Randell, Scott H; Kramer, Elizabeth L; Clancy, John P; Madala, Satish K (2020. ) Fibrocyte accumulation in the lungs of cystic fibrosis patients.Journal of cystic fibrosis : official journal of the European Cystic Fibrosis Society, , 19 (5 ) ,815-822 More Information
Kramer, Elizabeth L; Madala, Satish K; Hudock, Kristin M; Davidson, Cynthia; Clancy, John P (2020. ) Subacute TGF? Exposure Drives Airway Hyperresponsiveness in Cystic Fibrosis Mice through the PI3K Pathway.American journal of respiratory cell and molecular biology, , 62 (5 ) ,657-667 More Information
Wang, Yunguan; Yella, Jaswanth K; Ghandikota, Sudhir; Cherukuri, Tejaswini C; Ediga, Harshavardhana H; Madala, Satish K; Jegga, Anil G Pan-transcriptome-based candidate therapeutic discovery for idiopathic pulmonary fibrosis.Therapeutic advances in respiratory disease, , 14 ,1753466620971143 More Information
Yombo, Dan J K; Mentink-Kane, Margaret M; Wilson, Mark S; Wynn, Thomas A; Madala, Satish K (2019. ) Heat shock protein 70 is a positive regulator of airway inflammation and goblet cell hyperplasia in a mouse model of allergic airway inflammation.The Journal of biological chemistry, , 294 (41 ) ,15082-15094 More Information
Kasam, Rajesh K; Reddy, Geereddy B; Jegga, Anil G; Madala, Satish K (2019. ) Dysregulation of Mesenchymal Cell Survival Pathways in Severe Fibrotic Lung Disease: The Effect of Nintedanib Therapy.Frontiers in pharmacology, , 10 ,532 More Information
Guo, Jinbang; Hardie, William D; Cleveland, Zackary I; Davidson, Cynthia; Xu, Xuefeng; Madala, Satish K; Woods, Jason C (2019. ) Longitudinal free-breathing MRI measurement of murine lung physiology in a progressive model of lung fibrosis.Journal of applied physiology (Bethesda, Md. : 1985), , 126 (4 ) ,1138-1149 More Information
Sontake, Vishwaraj; Gajjala, Prathibha R; Kasam, Rajesh K; Madala, Satish K (2019. ) New therapeutics based on emerging concepts in pulmonary fibrosis.Expert opinion on therapeutic targets, , 23 (1 ) ,69-81 More Information
Kramer, Elizabeth L; Hardie, William D; Madala, Satish K; Davidson, Cynthia; Clancy, John P (2018. ) Subacute TGF? expression drives inflammation, goblet cell hyperplasia, and pulmonary function abnormalities in mice with effects dependent on CFTR function.American journal of physiology. Lung cellular and molecular physiology, , 315 (3 ) ,L456-L465 More Information
Sontake, Vishwaraj; Kasam, Rajesh K; Sinner, Debora; Korfhagen, Thomas R; Reddy, Geereddy B; White, Eric S; Jegga, Anil G; Madala, Satish K (2018. ) Wilms' tumor 1 drives fibroproliferation and myofibroblast transformation in severe fibrotic lung disease.JCI insight, , 3 (16 ) , More Information
Reddy, V Sudhakar; Madala, Satish K; Trinath, Jamma; Reddy, G Bhanuprakash (2018. ) Extracellular small heat shock proteins: exosomal biogenesis and function.Cell stress & chaperones, , 23 (3 ) ,441-454 More Information
Singh, Brijendra; Kasam, Rajesh K; Sontake, Vishwaraj; Wynn, Thomas A; Madala, Satish K (2017. ) Repetitive intradermal bleomycin injections evoke T-helper cell 2 cytokine-driven pulmonary fibrosis.American journal of physiology. Lung cellular and molecular physiology, , 313 (5 ) ,L796-L806 More Information
Wang, Yunguan; Yella, Jaswanth; Chen, Jing; McCormack, Francis X; Madala, Satish K; Jegga, Anil G (2017. ) Unsupervised gene expression analyses identify IPF-severity correlated signatures, associated genes and biomarkers.BMC pulmonary medicine, , 17 (1 ) ,133 More Information
Sontake, Vishwaraj; Wang, Yunguan; Kasam, Rajesh K; Sinner, Debora; Reddy, Geereddy B; Naren, Anjaparavanda P; McCormack, Francis X; White, Eric S; Jegga, Anil G; Madala, Satish K (2017. ) Hsp90 regulation of fibroblast activation in pulmonary fibrosis.JCI insight, , 2 (4 ) ,e91454 More Information
Singh, Brijendra; Jegga, Anil G; Shanmukhappa, Kumar S; Edukulla, Ramakrishna; Khurana Hershey, Gurjit Kaur; Medvedovic, Mario; Dillon, Stacey R; Madala, Satish K (2017. ) Correction: IL-31-Driven Skin Remodeling Involves Epidermal Cell Proliferation and Thickening That Lead to Impaired Skin-Barrier Function.PloS one, , 12 (1 ) ,e0170446 More Information
Madala, Satish K; Sontake, Vishwaraj; Edukulla, Ramakrishna; Davidson, Cynthia R; Schmidt, Stephanie; Hardie, William D (2016. ) Unique and Redundant Functions of p70 Ribosomal S6 Kinase Isoforms Regulate Mesenchymal Cell Proliferation and Migration in Pulmonary Fibrosis.American journal of respiratory cell and molecular biology, , 55 (6 ) ,792-803 More Information
Singh, Brijendra; Jegga, Anil G; Shanmukhappa, Kumar S; Edukulla, Ramakrishna; Khurana Hershey, Gurjit H; Medvedovic, Mario; Dillon, Stacey R; Madala, Satish K (2016. ) IL-31-Driven Skin Remodeling Involves Epidermal Cell Proliferation and Thickening That Lead to Impaired Skin-Barrier Function.PloS one, , 11 (8 ) ,e0161877 More Information
Glasser, Stephan W; Hagood, James S; Wong, Simon; Taype, Carmen A; Madala, Satish K; Hardie, William D (2016. ) Mechanisms of Lung Fibrosis Resolution.The American journal of pathology, , 186 (5 ) ,1066-77 More Information
Madala, Satish K; Thomas, George; Edukulla, Ramakrishna; Davidson, Cynthia; Schmidt, Stephanie; Schehr, Angelica; Hardie, William D (2016. ) p70 ribosomal S6 kinase regulates subpleural fibrosis following transforming growth factor-? expression in the lung.American journal of physiology. Lung cellular and molecular physiology, , 310 (2 ) ,L175-86 More Information
Sontake, Vishwaraj; Shanmukhappa, Shiva K; DiPasquale, Betsy A; Reddy, Geereddy B; Medvedovic, Mario; Hardie, William D; White, Eric S; Madala, Satish K (2015. ) Fibrocytes Regulate Wilms Tumor 1-Positive Cell Accumulation in Severe Fibrotic Lung Disease.Journal of immunology (Baltimore, Md. : 1950), , 195 (8 ) ,3978-91 More Information
Huang, Yan; Powers, Corey; Madala, Satish K; Greis, Kenneth D; Haffey, Wendy D; Towbin, Jeffrey A; Purevjav, Enkhsaikhan; Javadov, Sabzali; Strauss, Arnold W; Khuchua, Zaza (2015. ) Cardiac metabolic pathways affected in the mouse model of barth syndrome.PloS one, , 10 (6 ) ,e0128561 More Information
Edukulla, Ramakrishna; Singh, Brijendra; Jegga, Anil G; Sontake, Vishwaraj; Dillon, Stacey R; Madala, Satish K (2015. ) Th2 Cytokines Augment IL-31/IL-31RA Interactions via STAT6-dependent IL-31RA Expression.The Journal of biological chemistry, , 290 (21 ) ,13510-20 More Information
Madala, Satish K (2015. ) Reply: tissue fibrocytes are a subpopulation of macrophages.American journal of respiratory cell and molecular biology, , 52 (1 ) ,138 More Information
Madala, Satish K; Korfhagen, Thomas R; Schmidt, Stephanie; Davidson, Cynthia; Edukulla, Ramakrishna; Ikegami, Machiko; Violette, Shelia M; Weinreb, Paul H; Sheppard, Dean; Hardie, William D (2014. ) Inhibition of the ?v?6 integrin leads to limited alteration of TGF-?-induced pulmonary fibrosis.American journal of physiology. Lung cellular and molecular physiology, , 306 (8 ) ,L726-35 More Information
Madala, Satish K; Edukulla, Ramakrishna; Schmidt, Stephanie; Davidson, Cynthia; Ikegami, Machiko; Hardie, William D (2014. ) Bone marrow-derived stromal cells are invasive and hyperproliferative and alter transforming growth factor-?-induced pulmonary fibrosis.American journal of respiratory cell and molecular biology, , 50 (4 ) ,777-86 More Information
Madala, Satish K; Edukulla, Ramakrishna; Phatak, Mukta; Schmidt, Stephanie; Davidson, Cynthia; Acciani, Thomas H; Korfhagen, Thomas R; Medvedovic, Mario; Lecras, Timothy D; Wagner, Kimberly; Hardie, William D (2014. ) Dual targeting of MEK and PI3K pathways attenuates established and progressive pulmonary fibrosis.PloS one, , 9 (1 ) ,e86536 More Information
Madala, Satish K; Edukulla, Ramakrishna; Davis, Katy R; Schmidt, Stephanie; Davidson, Cynthia; Kitzmiller, Joseph A; Hardie, William D; Korfhagen, Thomas R (2012. ) Resistin-like molecule ?1 (Fizz1) recruits lung dendritic cells without causing pulmonary fibrosis.Respiratory research, , 13 ,51 More Information
Madala, Satish K; Schmidt, Stephanie; Davidson, Cynthia; Ikegami, Machiko; Wert, Susan; Hardie, William D (2012. ) MEK-ERK pathway modulation ameliorates pulmonary fibrosis associated with epidermal growth factor receptor activation.American journal of respiratory cell and molecular biology, , 46 (3 ) ,380-8 More Information
Mentink-Kane, Margaret M; Cheever, Allen W; Wilson, Mark S; Madala, Satish K; Beers, Lara Megan; Ramalingam, Thirumalai R; Wynn, Thomas A (2011. ) Accelerated and progressive and lethal liver fibrosis in mice that lack interleukin (IL)-10, IL-12p40, and IL-13R?2.Gastroenterology, , 141 (6 ) ,2200-9 More Information
Wynn, Thomas A; Barron, Luke; Thompson, Robert W; Madala, Satish K; Wilson, Mark S; Cheever, Allen W; Ramalingam, Thirumalai (2011. ) Quantitative assessment of macrophage functions in repair and fibrosis.Current protocols in immunology, , Chapter 14 ,Unit14.22 More Information
Wilson, Mark S; Ramalingam, Thirumalai R; Rivollier, Aymeric; Shenderov, Kevin; Mentink-Kane, Margaret M; Madala, Satish K; Cheever, Allen W; Artis, David; Kelsall, Brian L; Wynn, Thomas A (2011. ) Colitis and intestinal inflammation in IL10-/- mice results from IL-13R?2-mediated attenuation of IL-13 activity.Gastroenterology, , 140 (1 ) ,254-64 More Information
Madala, Satish K; Dolan, Michael A; Sharma, Deepak; Ramalingam, Thirumalai R; Wilson, Mark S; Mentink-Kane, Margaret M; Masison, Daniel C; Wynn, Thomas A (2011. ) Mapping mouse IL-13 binding regions using structure modeling, molecular docking, and high-density peptide microarray analysis.Proteins, , 79 (1 ) ,282-93 More Information
Madala, Satish K; Maxfield, Melissa D; Davidson, Cynthia R; Schmidt, Stephanie M; Garry, Daniel; Ikegami, Machiko; Hardie, William D; Glasser, Stephan W (2011. ) Rapamycin Regulates Bleomycin-Induced Lung Damage in SP-C-Deficient Mice.Pulmonary medicine, , 2011 ,653524 More Information
Madala, Satish K; Pesce, John T; Ramalingam, Thirumalai R; Wilson, Mark S; Minnicozzi, Samantha; Cheever, Allen W; Thompson, Robert W; Mentink-Kane, Margaret M; Wynn, Thomas A (2010. ) Matrix metalloproteinase 12-deficiency augments extracellular matrix degrading metalloproteinases and attenuates IL-13-dependent fibrosis.Journal of immunology (Baltimore, Md. : 1950), , 184 (7 ) ,3955-63 More Information
Nemeth, Krisztian; Keane-Myers, Andrea; Brown, Jared M; Metcalfe, Dean D; Gorham, James D; Gorham, Jared D; Bundoc, Virgilio G; Bundoc, Victor G; Hodges, Marcus G; Jelinek, Ivett; Madala, Satish; Karpati, Sarolta; Mezey, Eva (2010. ) Bone marrow stromal cells use TGF-beta to suppress allergic responses in a mouse model of ragweed-induced asthma.Proceedings of the National Academy of Sciences of the United States of America, , 107 (12 ) ,5652-7 More Information
Wilson, Mark S; Madala, Satish K; Ramalingam, Thirumalai R; Gochuico, Bernadette R; Rosas, Ivan O; Cheever, Allen W; Wynn, Thomas A (2010. ) Bleomycin and IL-1beta-mediated pulmonary fibrosis is IL-17A dependent.The Journal of experimental medicine, , 207 (3 ) ,535-52 More Information
Ramalingam, Thirumalai R; Pesce, John T; Mentink-Kane, Margaret M; Madala, Satish; Cheever, Allen W; Comeau, Michael R; Ziegler, Steven F; Wynn, Thomas A (2009. ) Regulation of helminth-induced Th2 responses by thymic stromal lymphopoietin.Journal of immunology (Baltimore, Md. : 1950), , 182 (10 ) ,6452-9 More Information
Russell, Nicholas X; Burra, Kaulini; Shah, Ronak; Bottasso-Arias, Natalia; Mohanakrishnan, Megha; Snowball, John; Ediga, Harshavardhana H; Madala, Satish K; Sinner, Debora (2023. ) Wnt signaling regulates ion channel expression to promote smooth muscle and cartilage formation in developing mouse trachea.bioRxiv : the preprint server for biology, , More Information
Madala, Satish K; Reznikov, Leah R (2022. ) Lung Fibrosis Finds an Unsung Hero in Neuropeptide Y.American journal of respiratory cell and molecular biology, , 67 (6 ) ,613-614 More Information
Russell, Nicholas X; Burra, Kaulini; Shah, Ronak; Bottasso-Arias, Natalia; Mohanakrishnan, Megha; Snowball, John; Ediga, Harshavardhana H; Madala, Satish K; Sinner, Debora (2023. ) Wnt signaling regulates ion channel expression to promote smooth muscle and cartilage formation in developing mouse trachea.bioRxiv : the preprint server for biology, , More Information
Madala, Satish K; Reznikov, Leah R (2022. ) Lung Fibrosis Finds an Unsung Hero in Neuropeptide Y.American journal of respiratory cell and molecular biology, , 67 (6 ) ,613-614 More Information
Post Graduate Training and Education
1997-1999 Masters in Biochemistery, Osmania University, , India
1999-2005 Ph.D. in Biochemistry, Osmania University, , India
2005-2006 Postdoctoral, Vanderbilt University Medical Center, , USA
2006-2010 Postdoctoral, NIAID, NIH, , USA
Academic - Division of Pulmonary, Critical Care, and Sleep Medicine
Bldg CVC, Rm 4938
Cincinnati  Ohio, 45267
Phone: (513)-558-1955
Fax: 513-558-4858
satish.madala@uc.edu