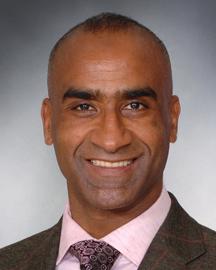 Ayman Mahdy , MD,PhD,MBA
Professor of Clinical
Division Chief; R. Bruce and Barbara Bracken Endowed Chair
Medical Sciences Building
Room 2519
231 Albert Sabin Way
Cincinnati, Ohio 45267
Phone 513-558-4388
Email ayman.mahdy@uc.edu
Ayman Mahdy, MD, PhD is currently the interim chief of Urology, and an Associate Professor of Urology at the Department of Surgery. He is also the Urology medical director and educational site director at the Westchester Hospital. Dr. Mahdy was an Assistant Professor of Urology at the University of Arkansas before he joined the Department of Surgery at the University of Cincinnati in 2011.

Dr. Mahdy has published over 45 peer-reviewed articles, ten book chapters and over 50 meeting abstracts and videos. He has presented over 40 state-of-the-art lectures to different societies and at different scientific meetings both nationally and internationally. He also participated in several reconstructive surgery missions abroad. Dr. Mahdy was listed in the Cincinnati Magazine as one of the "Cincinnati Top Doctors" since 2013 and for 7 years in a row. He is an active member at several national and international organizations including the American Urological Association, the Society of Urodynamics, Female Pelvic Medicine and Urogenital Reconstruction, The International Urogynecological Association and others.

Dr. Mahdy has developed extensive experience in the new technology and skilled techniques including genitourinary reconstruction, urinary diversion, sling procedures, Holmium Laser Enucleation of the Prostate (HoLEP), Interstim, and the Artificial Urinary Sphincter. 
 
Medical Degree: Assiut University Hospital Governorate, Egypt, 1998
Residency: Assiut University Hospital Governorate, Egypt, 2003 (General Urology)
Fellowship: Medical University of South Carolina Charleston, SC , 2007 (Microbiology and Immunology)
Fellowship: Cleveland Clinic Weston, FL, 2009 (Voiding Dysfunction and Female Urology)
Surgical Oncology
Urology
Bladder Infection (Cystitis)
Bladder Stones (Bladder calculi)
Blood in urine (Hematuria)
Calculi
Cystocele (Prolapsed bladder)
Dysuria
Enlarged Prostate
Epididymitis
Fecal Incontinence
Hydrocele
Hypospadias
Incontinence
Lower Urinary Tract Symptoms
Male Urogenital Diseases
Maple Syrup Urine Disease
Neurogenic Bladder
Nighttime Incontinence (Noctural enuresis)
Orchitis
Overactive Bladder
Overactive Urinary Bladder
Paraphimosis
Pelvic Floor Disorders
Pelvic Floor Dysfunction
Pelvic Organ Prolapse
Pelvic Support Problems, Uterine Prolapse
Prostatic Hyperplasia
Prostatitis
Rectovaginal Fistula
Retrograde Ejaculation
Spermatocele
Stress Incontinence
Stress Urinary Incontinence
Testicular Torsion
Undescended Testicle (Cryptorchidism)
Ureteral Calculi
Ureteral Obstruction
Urethral Obstruction
Urethral Stricture Disease
Urge Urinary Incontinence
Urinary Bladder Fistula
Urinary Bladder Neck Obstruction
Urinary Fistula
Urinary Frequency
Urinary Incontinence
Urinary Tract Infections
Urinary Urgency
Urine Retention
Urogenital Abnormalities
Urolithiasis
Uterine Prolapse
Vaginal Fistula
Vaginal Prolapse
Varicocele
Vesicoureteral Reflux
Vesicovaginal Fistula
Voiding Difficulty
Voiding Dysfunction
Rectocele
Urology
Research and Practice Interests
Female Urology, Urinary Incontinence, Voiding Dysfunction
Positions and Work Experience
03-2003 -05-2003 Instructor, Assiut University, Assiut 71516, Egypt
05-2003 -07-2005 Assistant Lecturer, Department of Urology, Assiut University, Assiut 71516, Egypt
10-2009 -03-2011 Assistant Professor of Urology, Section Voiding Dysfunction, Female Urology and Reconstructive Surgery, University of Arkansas for Medical Sciences (UAMS),
03-2011 -To Present Assistant Professor, Director Voiding Dysfunction, Urodynamics and Female Urology, Division of Urology, University of Cincinnati College of Medicine, Cincinnati, Ohio
10-01-2022 -09-30-2025 Outcome Sciences, LLC Composur, A Patient-centric, Phase IV, Open-label, Prospective, Real World US Study to Evaluate Vibegron on Patient Treatment Satisfaction, Quality of Life, and Healthcare Resource Utilization in Pati Role:PI 71617.26 Hold Level:Industry
10-01-2022 -09-30-2025 Outcome Sciences, LLC Composur, A Patient-centric, Phase IV, Open-label, Prospective, Real World US Study to Evaluate Vibegron on Patient Treatment Satisfaction, Quality of Life, and Healthcare Resource Utilization in Pati Role:PI 71617.26 Hold Level:Industry
Peer Reviewed Publications
Elmissiry, Mostafa; Mahdy, Ayman; Ghoniem, Gamal (2011. ) Treatment of female stress urinary incontinence: what women find acceptable and the impact of clinical and urodynamic evaluation on their final choice.Scandinavian journal of urology and nephrology, , 45 (5 ) ,326-31 More Information
Ghoniem, Gamal; Faruqui, Nuzhat; Elmissiry, Mostafa; Mahdy, Ayman; Abdelwahab, Hassan; Oommen, Mathew; Abdel-Mageed, Asim B (2011. ) Differential profile analysis of urinary cytokines in patients with overactive bladder.International urogynecology journal, , 22 (8 ) ,953-61 More Information
Karp, Deborah R; Peterson, Thais V; Mahdy, Ayman; Ghoniem, Gamal; Aguilar, Vivian C; Davila, G Willy (2011. ) Biologic grafts for cystocele repair: does concomitant midline fascial plication improve surgical outcomes?.International urogynecology journal, , 22 (8 ) ,985-90 More Information
Richards, Masters M; Khalil, Daniel; Mahdy, Ayman (2011. ) Successful treatment of stent knot in the proximal ureter using ureteroscopy and holmium laser.Case reports in medicine, , 2011 ,502191 More Information
Mahdy, Ayman; Faruqui, Nuzhat; Ghoniem, Gamal (2010. ) Objective cure of urinary retention following laparoscopic hysterectomy for a large uterine fibroid.International urogynecology journal, , 21 (5 ) ,609-11 More Information
Bissada, Nabil K; Mahdy, Ayman (2010. ) Editorial comment.Urology, , 75 (3 ) ,500; author reply 50 More Information
Mahdy, Ayman; Weiss, Eric; Ghoniem, Gamal M (2009. ) Rectourethral fistula stenting: a technique for better fistula visualization and efficient repair.Surgical innovation, , 16 (4 ) ,289-92 More Information
Mahdy, Ayman E M; Cheng, Joseph C; Li, Jun; Elojeimy, Saeed; Meacham, William D; Turner, Lorianne S; Bai, Aiping; Gault, Christopher R; McPherson, Alex S; Garcia, Nicole; Beckham, Thomas H; Saad, Antonio; Bielawska, Alicja; Bielawski, Jacek; Hannun, Yusuf A; Keane, Thomas E; Taha, Mohhammed I; Hammouda, Hisham M; Norris, James S; Liu, Xiang (2009. ) Acid ceramidase upregulation in prostate cancer cells confers resistance to radiation: AC inhibition, a potential radiosensitizer.Molecular therapy : the journal of the American Society of Gene Therapy, , 17 (3 ) ,430-8 More Information
Mahdy, Ayman; Elmissiry, Mostafa; Ghoniem, Gamal (2008. ) The outcome of transobturator cystocele repair using biocompatible porcine dermis graft: our experience with 32 cases.International urogynecology journal and pelvic floor dysfunction, , 19 (12 ) ,1647-52 More Information
Mahdy, Ayman; Elmissiry, Mostafa; Ghoniem, Gamal (2008. ) Recurrent stress urinary incontinence after dislodged screws in patient with bone-anchored suburethral sling.Urology, , 72 (5 ) ,1185.e11-3 More Information
Mahdy, Ayman; Elmissiry, Mostafa; Ghoniem, Gamal M (2008. ) Urethral diverticulum after tension-free vaginal tape procedure: case report.Urology, , 72 (2 ) ,461.e5-6 More Information
Liu, Xiang; Elojeimy, Saeed; Turner, Lorianne S; Mahdy, Ayman E M; Zeidan, Youssef H; Bielawska, Alicja; Bielawski, Jacek; Dong, Jian-Yun; El-Zawahry, Ahmed M; Guo, Gui-wen; Hannun, Yusuf A; Holman, David H; Rubinchik, Semyon; Szulc, Zdzislaw; Keane, Thomas E; Tavassoli, Mahvash; Norris, James S (2008. ) Acid ceramidase inhibition: a novel target for cancer therapy. Frontiers in bioscience : a journal and virtual library, , 13 ,2293-8
Saad, Antonio F; Meacham, William D; Bai, Aiping; Anelli, Viviane; Elojeimy, Saeed; Mahdy, Ayman E M; Turner, Lorianne S; Cheng, Joe; Bielawska, Alicja; Bielawski, Jacek; Keane, Thomas E; Obeid, Lina M; Hannun, Yusuf A; Norris, James S; Liu, Xiang (2007. ) The functional effects of acid ceramidase overexpression in prostate cancer progression and resistance to chemotherapy. Cancer biology & therapy, , 6 (9 ) ,1455-60
Elojeimy, Saeed; Liu, Xiang; McKillop, John C; El-Zawahry, Ahmed M; Holman, David H; Cheng, Jonathan Y; Meacham, William D; Mahdy, Ayman Em; Saad, Antonio F; Turner, Lorianne S; Cheng, Joseph; A Day, Terrence; Dong, Jian-Yun; Bielawska, Alicja; Hannun, Yusuf A; Norris, James Scott (2007. ) Role of acid ceramidase in resistance to FasL: therapeutic approaches based on acid ceramidase inhibitors and FasL gene therapy.Molecular therapy : the journal of the American Society of Gene Therapy, , 15 (7 ) ,1259-63 More Information
Elojeimy, Saeed; Holman, David H; Liu, Xiang; El-Zawahry, Ahmed; Villani, Maristella; Cheng, Joseph C; Mahdy, Ayman; Zeidan, Youssef; Bielwaska, Alicja; Hannun, Yusuf A; Norris, James S (2006. ) New insights on the use of desipramine as an inhibitor for acid ceramidase.FEBS letters, , 580 (19 ) ,4751-6 More Information
Mahdy, Ayman (2014. ) Comments on Badejoko et al.: Overflow urinary incontinence due to bladder stones.International urogynecology journal, , 25 (10 ) ,1445 More Information
Boateng, Akwasi A; Mohamed, Mahmoud A; Mahdy, Ayman E (2014. ) Novel management approach to connecting tube erosion of artificial urinary sphincter. The Canadian journal of urology, , 21 (2 ) ,7246-7
Mahdy, Ayman (2014. ) Interposition flaps in vesicovaginal fistula repairs can optimize cure rate. Urology annals, , 6 (1 ) ,98
Evans, Janelle Morgan; Karram, Mickey M; Mahdy, Ayman; Robertshaw, Daniel Urinary tract injury at the time of laparoscopic and robotic surgery: presentation and management.Female pelvic medicine & reconstructive surgery, , 19 (4 ) ,249-52 More Information
Mahdy, Ayman; Karp, Deborah; Davila, G Willy; Ghoniem, Gamal M The outcome of transobturator anterior vaginal wall prolapse repair using porcine dermis graft: intermediate term follow-up. International braz j urol : official journal of the Brazilian Society of Urology, , 39 (4 ) ,506-12
Boateng, Akwasi A; Eltahawy, Ehab A; Mahdy, Ayman (2013. ) Vaginal repair of ureterovaginal fistula may be suitable for selected cases.International urogynecology journal, , 24 (6 ) ,921-4 More Information
Kalyanaraman, Balaji; Mahdy, Ayman (2012. ) Extensive gluteal hematoma following InterStim implant: a case report.International urogynecology journal, , 23 (12 ) ,1805-7 More Information
Sidana, Abhinav; Zhai, Q J; Mahdy, Ayman (2012. ) Nephrogenic adenoma in a urethral diverticulum.Urology, , 80 (2 ) ,e21-2 More Information
Mahdy, Ayman; Patil, Rohan; Parajuli, Shobha (2019. ) Biochemical Recurrence in Prostate Cancer and Temporal Association to Bone Metastasis.The American journal of case reports, , 20 ,1521-1525 More Information
Mahdy, Ayman; Ghoniem, Gamal M (2019. ) Autologous rectus fascia sling for treatment of stress urinary incontinence in women: A review of the literature.Neurourology and urodynamics, , 38 Suppl 4 ,S51-S58 More Information
Ansari, Sana H; Mahdy, Ayman E (2019. ) Are video-urodynamics superior to traditional urodynamic studies in changing treatment decision with urinary symptoms?.Arab journal of urology, , 17 (2 ) ,160-165 More Information
Habashy, Engy; Mahdy, Ayman E (2019. ) Patient-Reported Outcome Measures (PROMs) in Pelvic Floor Disorders.Current urology reports, , 20 (5 ) ,22 More Information
Jesse, Erin; Mahdy, Ayman (2018. ) Surgical management of large pouch stone in continent urinary diversion.International urogynecology journal, , 29 (1 ) ,165-166 More Information
Horodyski, Laura; Mahdy, Ayman (2017. ) Right-sided InterStim Placement in a Patient With Left Sacral Hypoplasia.Urology, , 103 ,e3-e4 More Information
Hong, Yaejee H; Mahdy, Ayman (2017. ) Postvoid abdominal pain may be a symptom of spontaneous bladder rupture.International urogynecology journal, , 28 (1 ) ,161-162 More Information
Fichtenbaum, Eric J; Shah, Aparna D; Mahdy, Ayman (2017. ) Ectopic ureter as an unusual cause of urinary incontinence in a middle-aged woman.International urogynecology journal, , 28 (1 ) ,159-160 More Information
Kansal, Jagan K; Mohamed, Mahmoud; Mahdy, Ayman (2016. ) Vaginal Approach to Excise a Rare Paraurethral Leiomyoma.Urology case reports, , 9 ,18-20 More Information
Motiani, Karan; Mahdy, Ayman (2016. ) Operative Management of Crossover Femoral-femoral Graft Erosion into Bladder: A Case Report.Urology case reports, , 8 ,38-9 More Information
Ansari S.;Mahdy A. (04-03-2019. ) Are video-urodynamics superior to traditional urodynamic studies in changing treatment decision with.Arab Journal of Urology, , 17 (2 ) ,160-165 More Information
Kansal J.;Mohamed M.;Mahdy A. (11-01-2016. ) Vaginal Approach to Excise a Rare Paraurethral Leiomyoma.Urology Case Reports, , 9 ,18-20 More Information
Motiani K.;Mahdy A. (09-01-2016. ) Operative Management of Crossover Femoral-femoral Graft Erosion into Bladder: A Case Report.Urology Case Reports, , 8 ,38-39 More Information
Bahnson E.;Mahdy A. (12-01-2015. ) Clean Intermittent Catheterization in the Elderly.Current Bladder Dysfunction Reports, , 10 (4 ) ,376-380 More Information
Mahdy A. (01-01-2014. ) Interposition flaps in vesicovaginal fistula repairs can optimize cure rate .Urology Annals, , 6 (1 ) ,98
Mahdy A.;Ghoniem G. (01-01-2014. ) Role of Urodynamics in the Evaluation of Elderly Voiding Dysfunction.Current Bladder Dysfunction Reports, , 9 (4 ) ,350-363 More Information
Kalyaranaman B.;Mahdy A. (12-01-2013. ) Technical and Patient Factors: Selection of Type and Length of Bowel Segment for Augmentation Cystop.Current Bladder Dysfunction Reports, , 8 (4 ) ,332-335 More Information
Sidana A.;Zhai Q.;Mahdy A. (01-01-2012. ) Nephrogenic adenoma in a urethral diverticulum.Urology, , 80 (2 ) , More Information
Richards M.;Khalil D.;Mahdy A. (01-01-2011. ) Successful treatment of stent knot in the proximal ureter using ureteroscopy and holmium laser.Case Reports in Medicine, , 2011 , More Information
Karp D.;Peterson T.;Mahdy A.;Ghoniem G.;Aguilar V.;Davila G. (01-01-2011. ) Biologic grafts for cystocele repair: Does concomitant midline fascial plication improve surgical ou.International Urogynecology Journal, , 22 (8 ) ,985-990 More Information
Ghoniem G.;Faruqui N.;Elmissiry M.;Mahdy A.;Abdelwahab H.;Oommen M.;Abdel-Mageed A. (01-01-2011. ) Differential profile analysis of urinary cytokines in patients with overactive bladder.International Urogynecology Journal, , 22 (8 ) ,953-961 More Information
Ghoniem G.;Faruqui N.;Elmissiry M.;Mahdy A.;Abdelwahab H.;Oommen M.;Abdel-Mageed A. (01-01-2011. ) Erratum: Differential profile analysis of urinary cytokines in patients with overactive bladder (Int.International Urogynecology Journal, , 22 (8 ) ,1069 More Information
Mahdy A.;Faruqui N.;Ghoniem G. (01-01-2010. ) Objective cure of urinary retention following laparoscopic hysterectomy for a large uterine fibroid.International Urogynecology Journal, , 21 (5 ) ,609-611 More Information
Kim D.;Faruqui N.;Mahdy A.;Ghoniem G. (11-01-2009. ) Significant complications following minimally invasive office-based treatments for BPH: Experience f.Current Urology, , 3 (3 ) ,124-128 More Information
Karani, Rajiv; Mahdy, Ayman; Asghar, Ferhan (2020. ) Postoperative Urinary Retention in Patients Who Undergo Joint Arthroplasty or Spine Surgery.JBJS reviews, , 8 (7 ) ,e1800040 More Information
Mostafa, Mostafa M; Khallaf, Ashraf; Khalil, Mahmoud; Elgammal, Mohammed A; Mahdy, Ayman (2023. ) Efficacy and safety of TURP, HoLEP, and PVP in the management of OAB symptoms complicating BPH in patients with moderately enlarged prostates: A comparative study.Canadian Urological Association journal = Journal de l'Association des urologues du Canada, , 17 (1 ) ,E1-E7 More Information
Mostafa, Mostafa M; Khallaf, Ashraf; Kamel, Mohamed; Patil, Nilesh; Mahdy, Ayman (2022. ) Outcomes of continent and incontinent external urinary diversion in management of patients with refractory non-malignant lower urinary tract dysfunction.Archivio italiano di urologia, andrologia : organo ufficiale [di] Societa italiana di ecografia urologica e nefrologica, , 94 (4 ) ,384-389 More Information
Mostafa, Mostafa M; Patil, Nilesh; Khalil, Mahmoud; Elgammal, Mohammed A; Mahdy, Ayman (2022. ) Is Holmium Laser Enucleation of Prostate equally effective in management of benign prostatic hyperplasia patients with either voiding or storage lower urinary tract symptoms? A comparative study.Archivio italiano di urologia, andrologia : organo ufficiale [di] Societa italiana di ecografia urologica e nefrologica, , 94 (2 ) ,174-179 More Information
Kahn, Bruce; Varner, R Edward; Murphy, Miles; Sand, Peter; Thomas, Sherry; Lipetskaia, Lioudmila; Chung, Doreen E; Mahdy, Ayman; Noblett, Karen (2022. ) Transvaginal Mesh Compared With Native Tissue Repair for Pelvic Organ Prolapse.Obstetrics and gynecology, , 139 (6 ) ,975-985 More Information
Norton, J Corbin; Khalil, Mahmoud I; Bhandari, Naleen Raj; Acharya, Mahip; Payakachat, Nalin; Davis, Rodney; Mahdy, Ayman; Raheem, Omer A; Hanberry, Jordan; Eltahawy, Ehab (2021. ) Early Postoperative Complications and Factors Associated with Early vs Late Discharge of Patients Undergoing Colporrhaphy for Pelvic Organ Prolapse: A National Report.Urology practice, , 8 (4 ) ,431-439 More Information
Academic - Medical Sciences Building
Room 2519
Cincinnati  Ohio, 45267
Phone: 513-558-4388
ayman.mahdy@uc.edu