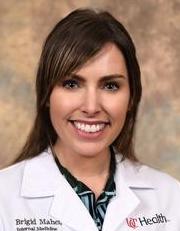 Brigid Maher , DO, MS
Assistant Professor of Clinical
Medical Sciences Building
COM IM Hospital Medicine - 0535
Personal Statement
As the Med IV student on the oncology team, I listened to patients and their families as I assisted the care team in making diagnostic and therapeutic decisions. During my prior career as a speech pathologist, I learned that patients and their families often have trouble telling physicians and hospital staff exactly what is most important to them. They are typically overwhelmed and a diagnosis of cancer only amplifies communication barriers. After visiting with Mr. and Mrs. D. at length, I was able to pinpoint their misgivings about hospice care. They believed that hospice meant they were giving up. Once I understood their position, I attempted to allay their fears by describing how hospice would provide better pain control, as well as emotional and spiritual support. Through an honest and at times, difficult discussion, guided by the medical knowledge of the oncology care team, I was able to provide Mr. and Mrs. D. accurate information about their current situation and prognosis. I was able to lay out the options for Mr. D.'s next step in care and how hospice could provide the best outcome for both Mr. and Mrs. D. I did not make a diagnostic "coup" or perform a heroic surgical procedure, but my input clearly helped to make life better for Mr. and Mrs. D. I think that this is what physicians are supposed to do.

Why I Chose Cincinnati
During my interview day, UC was the only program that I actually had fun and could really get a sense of community and respect that all of the residents have for each other. I especially remember watching a case presentation during my interview day. Residents were actively engaged and seemed to enjoy discussing the medical case in a fun and lowpressure
environment. I realized that UC was the type of learning environment that I wanted for myself going forward as a new physician.
BS: Miami University Oxford, OH, 2008 (Pathology and Audiology)
MS: Massachusetts General Hospital Institute of Health Professions Boston, MA, 2010 (Speech Language Pathology)
Clinical Fellowship: University of Pittsburgh Pittsburgh, PA, 2011 (Speech Language Pathology)
DO: Kansas City University of Medicine and Biosciences Kansas City, MO, 2019
Residency: University of Cincinnati Cincinnati, OH, 2022
American Board of Internal Medicine (Certification Date: 08-17-2022 )
Internal Medicine
Internal Medicine