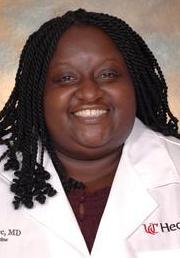 Joan Marc
Clinical Instructor
Personal Statement
A number of years ago, as I contemplated pursuing a career in medicine, I completed a Community HealthCorps service year in my hometown of Brooklyn. During my term, I worked at a clinic in Sunset Park, with a patient population mainly comprised of Latinx immigrants that were undocumented and uninsured. I had the opportunity to assist these patients in getting medication that they needed, mostly for diabetes, asthma and COPD, while staying within their means. Over the months of my service, I came to know the patients, and would sometimes come across them in the neighborhood during my commute. For a short time, I became a part of the Sunset Park community. That experience in forming relationships and a sense of community with patients, as well as working with marginalized, under-resourced and underserved populations, formed the basis for my decision to pursue a career in primary care.

Why I Chose Cincinnati
As someone who is strongly interested in primary care leadership, I was drawn to the structure of Long Block, which will lay a strong foundation for my intended future practice. I am also considering pursuing academic medicine, and the program's strong medical education component made it an excellent fit on that front as well.
 
MD: University of Illinois College of Medicine