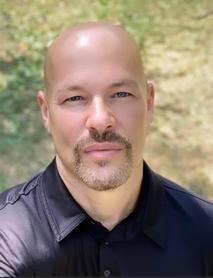 Gregory Neil Marinic, PhD
Associate Professor
Associate Professor
DAA Addition
DAAP School of Arch & Interior Design - 0016
Gregory Marinic, PhD is Associate Professor in the University of Cincinnati College of Design, Architecture, Art, and Planning SAID and Director of URBANIA, a grant-funded research lab speculating on urban futures. His research examines architecture and urbanism in relation to obsolescence, publicness, informality, interiority, and identity. His current field work is based in Mexico, Ecuador, Peru, and Bolivia where it focuses on informal urbanism, urban design, and contemporary architecture.

Dr. Marinic has been widely published in peer-reviewed journals including AD Journal, Journal of Architectural Education, Journal of Urbanism, Design Issues, International Journal of Architectural Research, AIA Forward Journal, IntAR Journal of Interventions and Adaptive Reuse, and Perspectives on Global Development & Technology, among others. His recently published book chapters include 'Remaking Space in American Suburbia', in The Routledge Handbook of Henri Lefebvre, the City, and Urban Society, (Routledge, 2019); 'Urban Sights', in The Blackwell Companion to Contemporary Design Since 1945, (Routledge, 2019); 'Industrialized Vernaculars: Reassessing Postwar Hybrid Influences on Paul Rudolph and the Sarasota School', in Arquitectura y Explotación Forzada: El Golfo de México, 1920-1970, (Universidad Autónoma de Tamaulipas, 2019); and 'The Rise, Fall, and Reemergence of Ponte City', in The African Metropolis: Struggles Over Urban Space, Citizenship, and Rights to the City, (Routledge, 2017). His current book project, Constructed Ecologies: Urbanism, Infrastructure, and Architecture Shaped by Nature is under contract with Springer. His co-edited book with Pablo Meninato, Informality and the City, was published by Springer in 2022.
 
Dr. Marinic serves on doctoral committees in architecture and planning, and applies his research to teaching design studios, PhD/MS Architecture research methods, and history-theory courses. His teaching seeks to advance interdisciplinary practices that foster sustainability, resilience, and social justice. This work has been recognized with national awards including the ACSA Diversity Achievement Award and AIA/ACSA Housing Design Education Award.

He holds over twenty years of experience in professional practice. Prior to academia, he worked in architecture firms in New York and London including Rafael Viñoly Architects, Gensler, Tsao & McKown, Yoshihara McKee, and ABS Architects. At Viñoly, he contributed to RIBA and AIA award-winning civic, academic, performing arts, residential, aviation, master planning, and urban design projects. At ABS, he designed affordable housing in Harlem with the NYC Department of Housing Preservation and Development. In 2008, he established Arquipelago, a practice that has been awarded by the American Institute of Architects, Seoul Metropolitan Government, and Association of Collegiate Schools of Architecture, as well as exhibited in the New York Center for Architecture, Philadelphia Center for Architecture and Design, Seoul Dongdaemun Design Plaza, Estonian Architecture Museum,TSMD Turkish Architecture Center in Ankara, and National Building Museum in DC.
PhD, Architecture: Texas A&M University
Master of Architecture: University of Maryland
BS, Geography-Urban Planning: Ohio University
Certificate of Latin American Studies: Ohio University
Research and Practice Interests
History & Theory of Architecture; Urban History & Theory; Informal Urbanism; Urban Design; Urban Morphology, Community Design; Sustainability; Housing; Interior Urbanism; Public Interiors; De-industrialization & Revitalization; Consumption & Obsolescence; Redlining; Suburbia; Dead Malls; Adaptive Reuse; Historic Preservation; Sustainability & Resilience; Architecture & Urbanism of Latin America and the Global South; Transnationalism; Immigration, Migration, & Placemaking; Ethnic Succession; Multiculturalism; World Expositions; Identity & Heterotopia; Utopia/Dystopia; Inter-/Cross-/Trans-disciplinary Studies in Architecture-Planning-Design-Geography-Film; Diversity-Equity-Inclusion; Social Justice
Shuo Qin (Doctoral ) Chair Status:In Progress
Weiqi Chu (Doctoral ) Chair Status:In Progress
Hazim Alhazmi (Doctoral ) Chair Status:In Progress
Alican Alexandre Yildiz (Doctoral ) Committee Member Status:In Progress
Leo Liu (Doctoral ) Committee Member Status:In Progress
Samira Sarabandikachyani (Doctoral ) Committee Member Status:In Progress
Nicholas Afadzi (Doctoral ) Committee Member Status:In Progress
Almoiad Alkadam (Doctoral ) Chair Status:In Progress
Aronoff Center for Design & Art
7217 DAAP
Cincinnati  Ohio, 45221
Phone: 513-556-1126
marinign@ucmail.uc.edu