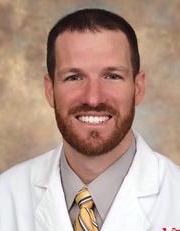 Aaron M Marshall
Associate Professor - Educator
Medical Sciences Building
G452A
COM Medical Education - 0667
Medical Science Building
Room G452A
Cincinnati, Ohio 45267
Bachelor's Degree, Millersville University 2005 (Molecular Biology & Biochemistry)
Doctoral Degree, University of Cincinnati Department of Molecular and Cellular Physiology, 2009 (Endocrinology and Lactation)
Grant: #Educational Scholarship Grant Investigators:Christensen, Heather; Marshall, Aaron 06-01-2018 -05-31-2020 International Association of Medical Science Educators Medical Nutrition Therapy Immersion to Enhance Learning and Use of Nutrition Counseling Role:PI $4,337.50 Active Level:Private Non-Profit
Peer Reviewed Publications
Marshall AM, McClaine RJ, Gurusamy D, Gray JK, Lewnard KE, Khan SA, Waltz SE. (2012. )Estrogen receptor alpha deletion enhances the metastatic phenotype of Ron overexpressing mammary tumors in mice .Molecular Cancer, ,11 (2 ),
Pai VP, Marshall AM (2011. )Intraluminal volume homeostasis: A common sertonergic mechanism among diverse epithelia. Communicative and Integrative Biology, ,4 (5 ),532-7
Marshall AM, McClaine RJ, Wagh PK, Waltz SE (2010. )Ron receptor tyrosine kinase activation confers resistance to tamoxifen in breast cancer cell lines. Neoplasia, ,12 (8 ),650-8
Marshall AM, Nommsen-Rivers LA, Hernandez LL, Dewey KG, Chantry CJ, Gregerson KA, Horseman ND (2010. )Serotonin transport and metabolism in the mammary gland modulates secretory activation and involution .Journal of Clinical Endocrinology and Metabolism, ,95 (2 ),837-46
Pai VP, Marshall AM, Hernandez LL, Horseman ND (2009. )Altered serotonin physiology in human breast cancers favors paradoxical growth and cell survival. Breast Cancer Research, ,11 (6 ),R81
Marshall AM, Pai VP, Sartor MA, Horseman ND (2009. )In vitro multipotent differentiation and barrier function of a human mammary epithelium .Cell and Tissue Research, ,335 (2 ),383
Stull MA, Pai V, Vomachka AJ, Marshall AM, Jacob GA, Horseman ND (2007. )Mammary gland homeostasis employs serotonergic regulation of epithelial tight junctions .Proceedings of the National Academy of Sciences of the United States of America, ,104 (42 ),16708
Marshall AM, Hernandez LL, Horseman ND. (2014. )Serotonin and serotonin transport in the regulation of lactation .Journal of Mammary Gland Biology and Neoplasia, ,19 (1 ),139
Marshall AM, Pickle, S, Lawlis, S. (2017. )Transgender medicine curriculum: Integration into an organ-system based preclinical program .MedEdPortal, ,13 (10536 ),
Thompson, Andrew R; Marshall, Aaron M (2019. )Participation in Dissection Affects Student Performance on Gross Anatomy Practical and Written Examinations: Results of a Four-Year Comparative Study.Anatomical sciences education, ,
Positions and Work Experience
2011 -2012 Assistant Professor, Good Samaritan College, Cincinnati, OH
2012 -To Present Associate Professor, University of Cincinnati - College of Medicine,
Post Graduate Training and Education
2009-2011 Post-doctoral Fellow, University of Cincinnati, ,Department of Cancer and Cell Biology
Research and Practice Interests
Research interests include: (1) lactation physiology, (2) metabolic determinants of the milk supply, and (3) medical school curriculum development.
US 8,133,916 Control of milk production and mammary involution Horseman, Nelson D.; Collier, Robert J.; Marshall, Aaron M.; Baumgard, Laura Hernandez, 03-2012
Academic - Medical Science Building
Room G452A
Cincinnati  Ohio, 45267
Phone: 513-558-5615
Fax: 513-558-2727
aaron.marshall@uc.edu