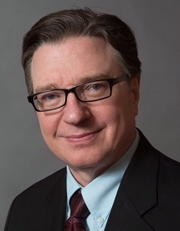 John Martin
Asst Dean
Assistant Dean of Admissions
Emery Hall
3245
CCM Admissions & Student Services - 0003
John William Martin joined CCM in April 2015 as the Assistant Dean of Preparatory and Community Engagement shortly after finishing his tenure as Executive Director of the Brookline Music School, a preparatory-style, community arts education institution in Brookline, Massachusetts. He began serving as Interim Assistant Dean of Admissions in 2019, and was named CCM's Assistant Dean of Admissions in 2021.

In addition to Brookline, he has built a long career as a music administrator dating back to the 1980s: founding director of the Community Music School and Director of Admissions at the College of Music at Michigan State University; coordinator of Music Services, director of the Celebrity Artists Series and instructor in the Music Administration program at the University of Alabama; director of the Wausau Conservatory of Music in Wisconsin; and arts coordinator for the Jefferson County School system in Florida.

As a flutist, Martin served as principal flutist of the Wausau (WI) Symphony Chamber Orchestra and associate principal flutist with the Central Wisconsin Symphony Orchestra. He has also had several engagements as a teacher: flute instructor for the University of Wisconsin-Marathon Center, visiting lecturer for the University of Wisconsin Stevens Point and an artist-in-residence for the state arts councils of Florida and Alabama.

Martin has served as a board member of the National Guild for Community Arts Education and has served as chairperson of the Guild's Central Great Lakes Chapter, as well a member of the Council of School Directors and the membership committee. He has served as a consultant to numerous community and university arts programs throughout the country and has been a participant in the National Guild's Management Assessment Training Program.

A native of Charleston, South Carolina, John William Martin received his bachelor's degree from the University of Montevallo (AL). He then earned a master of music degree in flute performance from Florida State University, where he studied under Charles DeLaney.

Martin's other interests have included collaborations as both performer and composer with numerous dance companies including Happendance (Michigan's oldest, continuing professional company), Children's Dance Touring Theatre of Florida and dancers from the Martha Graham Company. He served as an officer on the board of directors and production manager of the Children's Ballet Theatre of Michigan, 2003-09.
BM: University of Montevallo Montevallo, AL, 1979 (Flute Performance)
MM: Florida State University Tallahassee, FL, 1981 (Flute Performance)