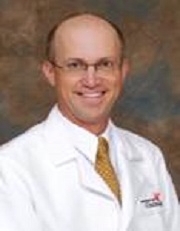 Bradley R. Mathis , MD
Professor of Clinical
Medical Sciences Building
231 Albert Sabin Way, ML 0535
Cincinnati, Ohio 45267-0535
Phone 513-475-7880
Fax 513-475-8766
Email bradley.mathis@uc.edu
Bachelor's Degree: University of Dayton 1991 (Premedicine)
Medical Degree: Unviersity of Cincinnati College of Medicine 1995
Residency : University of Cincinnati College of Medicine 1998 (Internal Medicine )
Chief Medical Resident : University Hospital - University of Cincinnati College of Medicine 1999
American Board of Internal Medicine (Certification Date: 08-26-1998 ) - (Recertification Date: to 12-01-2018 )
Internal Medicine
Preventive Health
Primary Care
Telehealth
Internal Medicine
Positions and Work Experience
2009 -To Present Associate Chair for Ambulatory Clinical Affiars, Department of Internal Medicine, University of Cincinnati College of Medicine, Cincinnati, OH
2001 -To Present Associate Residency Program Director, Department of Internal Medicine, University of Cincinnati College of Medicine, Cincinnati, OH
1999 -2007 Assistant Professor of Clinical Medicine, Division of General Internal Medicine, University of Cincinnati College of Medicine, Cincinnati, OH
2007 -To Present Associate Professor of Clinical Medicine, Division of General Internal Medicine, University of Cincinnati College of Medicine, Cincinnati,OH
1999 -To Present Alliance Primary Care Physician, Cincinnati, OH
Peer Reviewed Publications
Mathis, Bradley R; Warm, Eric J; Schauer, Daniel P; Holmboe, Eric; Rouan, Gregory W (2011. ) A multiple choice testing program coupled with a year-long elective experience is associated with improved performance on the internal medicine in-training examination.Journal of general internal medicine, , 26 (11 ) ,1253-7 More Information
Warm, Eric J; Schauer, Daniel P; Diers, Tiffiny; Mathis, Bradley R; Neirouz, Yvette; Boex, James R; Rouan, Gregory W (2008. ) The ambulatory long-block: an accreditation council for graduate medical education (ACGME) educational innovations project (EIP).Journal of general internal medicine, , 23 (7 ) ,921-6 More Information
Mathis, Bradley R; Diers, Tiffiny; Hornung, Richard; Ho, Mona; Rouan, Gregory W (2006. ) Implementing duty-hour restrictions without diminishing patient care or education: can it be done? .Academic medicine : journal of the Association of American Medical Colleges, , 81 (1 ) ,68-75
Warm, Eric J; Mathis, Bradley R; Held, Justin D; Pai, Savita; Tolentino, Jonathan; Ashbrook, Lauren; Lee, Cheryl K; Lee, David; Wood, Sharice; Fichtenbaum, Carl J; Schauer, Daniel; Munyon, Ryan; Mueller, Caroline (2014. ) Entrustment and mapping of observable practice activities for resident assessment.Journal of general internal medicine, , 29 (8 ) ,1177-82 More Information
Warm, Eric J; Held, Justin D; Hellmann, Michael; Kelleher, Matthew; Kinnear, Benjamin; Lee, Caroline; O'Toole, Jennifer K; Mathis, Bradley; Mueller, Caroline; Sall, Dana; Tolentino, Jonathan; Schauer, Daniel P (2016. ) Entrusting Observable Practice Activities and Milestones Over the 36 Months of an Internal Medicine Residency.Academic medicine : journal of the Association of American Medical Colleges, , 91 (10 ) ,1398-1405 More Information
Invited Presentations
Mathis, B (10-2008. ) "Update in General Internal Medicine" .Ohio ACP annual meeting, Columbus, OH.
Mathis, B (10-2005. ) "Update in General Internal Medicine .Ohio ACP annual meeting, Cleveland, OH.
Poster Presentations
Mathis, B (04-2009. ) "The Effect of Structured, Serial, Curriculum Based Multiple Choice Testing of Medical Knowledge on Internal Medicine Residents' In-Training Exam Performance." .National APDIM Poster Presentation, Dallas, TX. .
Mathis, B (05-2004. ) "Implementing Duty Hour Restrictions Without Diminishing Patient Care or Education: Can it Be Done?" .National SGIM Poster Presentation, Chicago, IL. .
Mathis, B (04-1999. ) "Resident Moonlighting" .APDIM National Meeting, New Orleans, LA. .
Richard Vilter Faculty Teaching Award 2002, 2009
Selected as one of Cincinnati Magazine's "Top Doctors" 2004, 2005, 2006, 2007, 2008, 2009, 2010, 2011
Faculty Speaker at Residency Commencement 2001, 2002, 2005, 2006, 2010, 2011
2005 Certified as "preferred diabetes provider" by the Diabetes Physician Recognition Program sponsored by Bridges to Excellence
2005 Faculty speaker at Residency Commencement
2002 Silver Apple class of 2002 University of Cincinnati College of Medicine
1998 Resident Teaching Award
1997 Honarable Mention Poster Presentation at the 1997 Ohio American College of Physicians annual meeting "An extragondal nonseminomatus germ cell tumor in a young man with supraclavicular adenopathy."
1995 Peter T. Kilgour Award Given to the graduate who best expresses the ideals of medicine
1995 Dr. Robert Ott Memorial Award Given to the top two students in the University of Cincinnati medical school class of 1995
1995 Most Distinguished Graduate Award University of Cincinnati, Department of Internal Medicine and the Ohio Chapter of the American College of Physicians.
1995 Alpha Omega Alpha, Medical Honor Society, Inductee
1993 American Society of Clinical Pathologists Award Given for Academic Excellence and Achievement for the top student in Pathology
1993 Eugene B. Ferris Award Given to the top student in the University of Cincinnati medical school class, after the second year
1993 Merrell Dow Pharmacology Award Given to the top three students in Medical Pharmacology
1992 McGraw Hill Book Award for Outstanding Academic Performance Given to the top two students in the University of Cincinnati medical school class, after the first year
1991 -1995 Slone Scholarship University of Cincinnati, College of Medicine
1987 -1991 Presidential Scholarship University of Dayton
Primary Care, General Internal Medicine, Executive Health Program
2004 -To Present: Member, APDIM
2001 -To Present: Member, SGIM
2000: Writer for ACP/ASIM
1999 -To Present: Member, ACP/ASIM -Ohio ACP annual meeting, Associate Quiz Bowl Moderator: 2003, 2007, 2008, 2009, 2010, 2011 -Ohio ACP annual meeting, Presenter "Update in General Internal Medicine: 2005, 2008 -Ohio ACP Elected Fellow: 2007 -Ohio ACP Reviewer, MKSAP 14-Cardiovascular Medicine: 2005 -Ohio ACP annual meeting, Judge-Associate Clinical Vignette Competition: 2001,2002
2008: Physician Champion Department of Internal Medicine Committee to Design a Productivity Based Compensation Model,
2007 -To Present: Director General Internal Medicine Consult Service,
2006 -2010: Electronic Medical Record Steering Committee -Decision-making group regarding design and implementation of EMR in APC Alliance Primary Care,
2005 -2008: Clinical Council Represent GIM division in contracting, billing and clinical direction of the Department of Internal Medicine Department of Internal Medicine,
2005 -2010: Executive Committee -Represent my practice in contracting, expansion and acquisition decisions within ACP Alliance Primary Care,
2005 -2006: Governance Board -APC representative in interaction with Health Alliance governance personnel Alliance Primary Care,
2002 -2007: Co-Editor Ambulatory Medical Education Curriculum
2000 -To Present: Residency Selection Committee -Select rank list of resident applicants
2000 -To Present: Mentor to residents at risk for ABIM Failure
2000 -To Present: PGY-1 Mentor
2000 -To Present: Residency Review Committee -Reviews performance of residents throughout training
1999 -To Present: ECG Conference Curriculum Development and Testing
1999 -To Present: Resident In-Training Exam Evaluation and Board Preparation
1999 -2008: Mini-CEX (Clinical Exam) - Development and Implementation
1999 -2007: AOD Orientation and Administration
Academic - Medical Sciences Building
231 Albert Sabin Way, ML 0535
Cincinnati  Ohio, 45267-0535
Phone: 513-475-7880
Fax: 513-475-8766
bradley.mathis@uc.edu