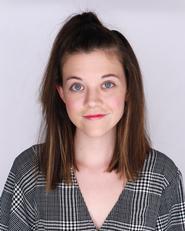 Annie Katherine McGhee
Graduate Assistant
Annie McGhee is a MA/PhD student in Sociology at the University of Cincinnati.  She is also working towards certificates in Women, Gender, and Sexualities Studies and Film & Media Studies at U.C.. Her broad research interests include medicine, gender and sexualities, media, and education.

A native of Cincinnati, OH, Annie received her B.S. in Mathematics from Xavier University in 2019.   

Her thesis focuses on how those who identify as LGBTQ understand their sex education experiences in private, religiously affiliated high schools.  Other current projects focus on abortion embodiment as well as representations of motherhood and disability in media.  
B.S.: Xavier University Cincinnati, OH, 2019 (Mathematics)
Graduate Certificate: University of Cincinnati 2021 (Women, Gender, & Sexuality Studies)
Research and Practice Interests
Medicine
Gender and Sexualities Studies
Popular Culture and Media

 
Positions and Work Experience
2019 -2020 Graduate Teaching Assistant, University of Cincinnati, Cincinnati, OH
2021 -2021 Graduate Research Assistant, University of Cincinnati, Cincinnati, OH
Colloquium
Danielle Bessett, Ayesha Casie-Chetty, Annie McGhee (10-16-2020). Understanding Abortion Embodiment: Reflections on Collaboration .UC.
Stephanie House-Niamke, Gabriel Lotarski, Beth McCune, Annie McGhee, Kearabetswe Mokoene, Kristin Newvine (11-17-2021). The Student Sociologist's Guide to Conferences . North Central Sociological Association Fall Session,
Paper Presentations
Annie McGhee (06-02-2021. ) Queering Motherhood: A Simple Favor .Conference.
2020 -2021 Niehoff Center for Film & Media Studies Grant Recipient
2021 -2021 Taft Graduate Summer Fellowship Taft Research Center Status:Recipient Type:Fellowship
2020 -2021 Taft Graduate Enrichment Award Taft Research Center Status:Recipient Type:Grant
2021 -2021 Graduate Student Research Support Award Kunz Center for Social Research Status:Recipient
North Central Sociological Association (Student Section Committee ) Committee Member Type:Service to Professional Associations 2021 -2022
Sociology Department (Lyceum ) Treasurer-Elect Type:Departmental Service Level:Department 2021 -2022
Popular Culture Association
American Sociological Association
Society for the Study of Social Problems
North Central Sociological Association