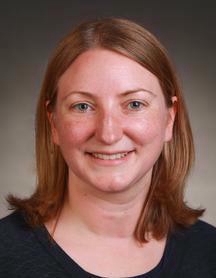 Michelle McGowan
Asst Professor - Adj Volunteer
Department of Women's, Gender & Sexuality Studies
French Hall West Office 3410
University of Cincinnati
Cincinnati, Ohio 45221
Phone 513-556-6453
Fax 513-556-6771
Email michelle.mcgowan@uc.edu
Michelle McGowan is a Research Associate Professor in the Ethics Center and Division of General and Community Pediatrics at Cincinnati Children's Hospital Medical Center within the Department of Pediatrics in the University of Cincinnati College of Medicine and the Department of Women's, Gender, and Sexuality Studies in the University of Cincinnati College of Arts and Sciences. She is the Women's, Gender & Sexuality Studies Graduate Program Director.

Dr. McGowan conducts research on the gendered ethical and social implications of reproductive and genomic technologies, with a particular focus how users of reproductive and genomic technologies conceptualize the risks and benefits of the integration of these technologies into research, clinical, and consumer settings. Her research aims to illustrate how the perspectives of users of novel technologies – including patients, families, health care providers, researchers, and consumers - can contribute to bioethical and feminist theory and the development of institutional, professional, and social policies and practice guidelines. Her recent scholarship has focused specifically on oocyte donation, preimplantation genetic diagnosis and screening, fertility preservation, reproductive carrier screening, direct-to-consumer and clinical genomic testing, precision medicine, and participant-centric approaches to genomic research.

Dr. McGowan teaches courses on reproductive politics, gendered aspects of health, feminist methods and methodologies, and comparative health policy.
Bachelor's Degree : Boston College Chestnut Hill, MA, 2000 (Sociology)
Doctoral Degree: University of Washington Seattle, WA, 2007 (Women Studies)
Postdoctoral Scholar: Case Western Reserve University Cleveland, OH, 2009 ( Center for Genetic Research Ethics and Law )
Research and Practice Interests
Ethical, legal, and social implications of genetics and genomics; ethical and social implications of reproductive technologies, gender and health, gender and medicine, gender and science, feminist bioethics, feminist science studies
Peer Reviewed Publications
Pervola, Josie; Myers, Melanie F; McGowan, Michelle L; Prows, Cynthia A (2019. ) Giving adolescents a voice: the types of genetic information adolescents choose to learn and why.Genetics in medicine : official journal of the American College of Medical Genetics, , 21 (4 ) ,965-971 More Information
McGowan, Michelle L; Prows, Cynthia A; DeJonckheere, Melissa; Brinkman, William B; Vaughn, Lisa; Myers, Melanie F (2018. ) Adolescent and Parental Attitudes About Return of Genomic Research Results: Focus Group Findings Regarding Decisional Preferences.Journal of empirical research on human research ethics : JERHRE, , 13 (4 ) ,371-382 More Information
Juengst, Eric T; McGowan, Michelle L (2018. ) Why Does the Shift from "Personalized Medicine" to "Precision Health" and "Wellness Genomics" Matter?.AMA journal of ethics, , 20 (9 ) ,E881-890 More Information
deSante-Bertkau, Jennifer E; McGowan, Michelle L; Antommaria, Armand H Matheny Systematic Review of Typologies Used to Characterize Clinical Ethics Consultations. The Journal of clinical ethics, , 29 (4 ) ,291-304
Meagher, Karen M; McGowan, Michelle L; Settersten, Richard A; Fishman, Jennifer R; Juengst, Eric T (2017. ) Precisely Where Are We Going? Charting the New Terrain of Precision Prevention.Annual review of genomics and human genetics, , 18 ,369-387 More Information
Aungst, Heide; Fishman, Jennifer R; McGowan, Michelle L (2017. ) Participatory Genomic Research: Ethical Issues from the Bottom Up to the Top Down.Annual review of genomics and human genetics, , 18 ,357-367 More Information
McGowan, Michelle L; Ponsaran, Roselle S; Silverman, Paula; Harris, Lyndsay N; Marshall, Patricia A (2016. ) "A rising tide lifts all boats": establishing a multidisciplinary genomic tumor board for breast cancer patients with advanced disease.BMC medical genomics, , 9 (1 ) ,71 More Information
Juengst, Eric; McGowan, Michelle L; Fishman, Jennifer R; Settersten, Richard A (2016. ) From "Personalized" to "Precision" Medicine: The Ethical and Social Implications of Rhetorical Reform in Genomic Medicine.The Hastings Center report, , 46 (5 ) ,21-33 More Information
Woolley, J Patrick; McGowan, Michelle L; Teare, Harriet J A; Coathup, Victoria; Fishman, Jennifer R; Settersten, Richard A; Sterckx, Sigrid; Kaye, Jane; Juengst, Eric T (2016. ) Citizen science or scientific citizenship? Disentangling the uses of public engagement rhetoric in national research initiatives.BMC medical ethics, , 17 (1 ) ,33 More Information
Blake, Valarie K; McGowan, Michelle L; Levine, Aaron D (2015. ) Conflicts of Interest and Effective Oversight of Assisted Reproduction Using Donated Oocytes.The Journal of law, medicine & ethics : a journal of the American Society of Law, Medicine & Ethics, , 43 (2 ) ,410-24 More Information
Juengst, Eric T; Fishman, Jennifer R; McGowan, Michelle L; Settersten, Richard A (2014. ) Serving epigenetics before its time.Trends in genetics : TIG, , 30 (10 ) ,427-9 More Information
McGowan, Michelle L; Fishman, Jennifer R; Settersten, Richard A; Lambrix, Marcie A; Juengst, Eric T (2014. ) Gatekeepers or intermediaries? The role of clinicians in commercial genomic testing.PloS one, , 9 (9 ) ,e108484 More Information
Farrell, Ruth M; Metcalfe, Jonathan S; McGowan, Michelle L; Weise, Kathryn L; Agatisa, Patricia K; Berg, Jessica (2014. ) Emerging ethical issues in reproductive medicine: are bioethics educators ready?.The Hastings Center report, , 44 (5 ) ,21-9 More Information
Choudhury, Suparna; Fishman, Jennifer R; McGowan, Michelle L; Juengst, Eric T (2014. ) Big data, open science and the brain: lessons learned from genomics.Frontiers in human neuroscience, , 8 ,239 More Information
McGowan, Michelle L; Settersten, Richard A; Juengst, Eric T; Fishman, Jennifer R (2014. ) Integrating genomics into clinical oncology: ethical and social challenges from proponents of personalized medicine.Urologic oncology, , 32 (2 ) ,187-92 More Information
Cho, D; McGowan, M L; Metcalfe, J; Sharp, R R (2013. ) Expanded carrier screening in reproductive healthcare: perspectives from genetics professionals.Human reproduction (Oxford, England), , 28 (6 ) ,1725-30 More Information
McGowan, Michelle L; Glinka, Allison; Highland, Janelle; Asaad, George; Sharp, Richard R (2013. ) Genetics patients' perspectives on clinical genomic testing.Personalized medicine, , 10 (4 ) ,339-347 More Information
McGowan, Michelle L; Cho, Deborah; Sharp, Richard R (2013. ) The changing landscape of carrier screening: expanding technology and options?. Health matrix (Cleveland, Ohio : 1991), , 23 (1 ) ,15-33
McGowan, Michelle L; Sharp, Richard R (2013. ) Justice in the context of family balancing.Science, technology & human values, , 38 (2 ) , More Information
Heidt-Forsythe, Erin; McGowan, Michelle L (2013. ) Whose right to know? The subjectivity of mothers in mandatory paternity testing.The American journal of bioethics : AJOB, , 13 (5 ) ,42-4 More Information
Juengst, Eric T; Settersten, Richard A; Fishman, Jennifer R; McGowan, Michelle L (2012. ) After the revolution? Ethical and social challenges in 'personalized genomic medicine'.Personalized medicine, , 9 (4 ) ,429-439 More Information
McGowan, Michelle L; Redding, Julie (2012. ) Reframing the justice implications of preserving the right to future children.The American journal of bioethics : AJOB, , 12 (6 ) ,53-5 More Information
Sharp, Richard R; McGowan, Michelle L; Verma, Jonathan A; Landy, David C; McAdoo, Sallie; Carson, Sandra A; Simpson, Joe Leigh; McCullough, Laurence B (2010. ) Moral attitudes and beliefs among couples pursuing PGD for sex selection.Reproductive biomedicine online, , 21 (7 ) ,838-47 More Information
McGowan, Michelle L; Fishman, Jennifer R; Lambrix, Marcie A (2010. ) Personal genomics and individual identities: motivations and moral imperatives of early users.New genetics and society, , 29 (3 ) ,261-290 More Information
Kenney, Nancy J; McGowan, Michelle L (2010. ) Looking back: egg donors' retrospective evaluations of their motivations, expectations, and experiences during their first donation cycle.Fertility and sterility, , 93 (2 ) ,455-66 More Information
McGowan, Michelle L (2010. ) Participation in investigational fertility preservation research: a feminist research ethics approach.Cancer treatment and research, , 156 ,209-21 More Information
McGowan, Michelle L; Burant, Christopher J; Moran, Rocio; Farrell, Ruth (2009. ) Patient education and informed consent for preimplantation genetic diagnosis: health literacy for genetics and assisted reproductive technology.Genetics in medicine : official journal of the American College of Medical Genetics, , 11 (9 ) ,640-5 More Information
McGowan, Michelle L; Lambrix, Marcie A (2009. ) Are social networkers and genome testers one in the same? The limitations of public opinion research for guiding clinical practice.The American journal of bioethics : AJOB, , 9 (6-7 ) ,21-3 More Information
McGowan, Michelle L; Fishman, Jennifer R (2008. ) Using lessons learned from BRCA testing and marketing: what lies ahead for whole genome scanning services.The American journal of bioethics : AJOB, , 8 (6 ) ,18-20 More Information
Comparative Perspectives on Women's Reproductive Lives Level:Undergraduate
Academic - Department of Women's, Gender & Sexuality Studies
French Hall West Office 3410
Cincinnati  Ohio, 45221
Phone: 513-556-6453
Fax: 513-556-6771
michelle.mcgowan@uc.edu