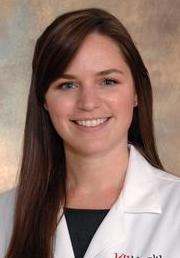 Katelyn Melgar
Clinical Instructor - GME
Personal Statement
Through all of my research training, the connection to human patients was always prevalent in my thoughts. When using patient cell lines, I thought of the individuals that they came from and the difficult circumstances that led their cells to my lab bench. This desire to see how scientific advancement could impact actual patients was highlighted during one of my hematology/oncology rotations. A young woman with acute myeloid leukemia was admitted for a relapse after her second bone marrow transplant. She was about to start a new drug – gilteritinib. This was the first time I had personally seen a therapy go from bench to bedside. During my PhD training, I worked with gilteritinib – one of several experimental compounds that I was studying. In my last year of graduate school, it received FDA approval for refractory AML. I was astounded to meet a patient on this new therapy, and excited to see how she would respond, hopeful that it would help. Over the first few days of treatment, her blast counts went from in the 50,000s to just a few thousand. As a physician scientist, I look forward to building a career that will allow me to both help individual patients with cancer while also advancing scientific knowledge to develop new cancer treatments.

Why I Chose Cincinnati
When choosing a residency, one of the most important qualities for me was that the program had a supportive environment for residents. As a medical student at the University of Cincinnati, I was able to see the comradery and support within the Internal Medicine Program – both between residents and between residents and faculty. The program's focus on innovate resident education techniques and resident wellness is truly special.
 
MD/PhD: University of Cincinnati College of Medicine
Grant: #Billing Agreement (Melgar) / F31CA217140 Investigators:Deepe, George; Melgar, Katelyn 05-01-2017 -04-30-2018 National Cancer Institute Novel mechanisms and therapeutic strategies of refractory leukemia F31 - Melgar Role:Collaborator $28,160.00 Active Level:Federal
Grant: #F31CA217140 Investigators:Melgar, Katelyn 06-24-2019 -04-30-2020 National Cancer Institute Novel mechanisms and therpauetic strategies of refractory leukemia Role:PI $34,230.00 Active Level:Federal