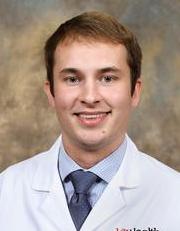 Paul Merchant
Personal Statement
During my clerkships, what really stuck out to me was the patient‐centered approach of Internal Medicine and the ability of the Internal Medicine attendings to work through uncertainty when the cause of a patient's symptoms was not clear. I enjoyed the comprehensive approach to thoroughly working through a patient's chief complaint, individual health history, and life circumstances to form an individualized understanding of that patient's health status. I also noticed that when it was unclear exactly what was going on with a patient, Internal Medicine doctors stood by the patient and were their ally. I took pride in being part of the team that was taking care of a patient when things were unclear, and I found it rewarding to work to provide the patient with answers and hopefully comfort in knowing what was going on with their health and a plan to move forward.

Why I Chose Cincinnati
The University of Cincinnati's commitment to patient‐centered care and medical education made it the ideal place for me to train. The focus on getting to the bedside and keeping the patient involved in their care, as well as the educational innovations, such as the long block, were unique features that I thought would really benefit my development as a physician. Additionally, everyone I met during my interview day was very nice and supportive, and I left the day feeling like I would love to be part of the UC team.