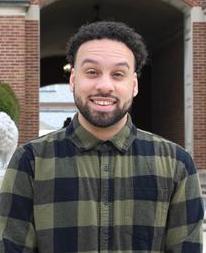 Kelly Merrill Jr , PhD
Asst Professor
Dr. Kelly Merrill Jr. (he/him/his) is an Assistant Professor of Health Communication and Technology in the School of Communication, Film, and Media Studies at the University of Cincinnati.
His primary research interests are at the intersection of health communication and communication technology. In particular, he is interested in stigmatization, marginalization, and disparities in both technological and health domains. Further, his research investigates the use of communication technologies for social, physical, and mental health benefits.
He has published several articles in various journals, including Journal of Medical Internet Research, Computers in Human Behavior, Telematics and Informatics, and Communication Research Reports.
B.S.: Barry University Miami Shores, 2016 (Mathematical Sciences; General Mathematics Specialization)
B.A.: Barry University Miami Shores, FL, 2016 (Broadcast and Emerging Media)
M.A.: University of Central Florida Orlando, FL, 2018 (Communication; Mass Communication Specialization)
Ph.D.: The Ohio State University Columbus, OH, 2022 (Communication)