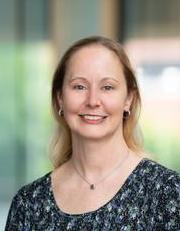 Kristan Metz , M.S.
Assoc Dir Academic Student Advising
Associate Director Student Affairs
Health Sciences Building
Room 309H
3225 Eden Ave.
Cincinnati, Ohio 45219
Phone 513-558-8540
Fax 513-558-8545
Email kristan.metz@uc.edu
Kristan Metz is a two-time UC graduate and experienced advisor for undergraduate students in the College of Allied Health Sciences. She is passionate about learning and helping others achieve their academic and professional goals.  
B.S.: Xavier University 1998 (Natural Science)
M.S.: University of Cincinnati 2000 (Criminal Justice)
B.S.: University of Cincinnati 2010 (Spanish)
M.S.: University of Cincinnati 2019 (Accounting)
Academic - Health Sciences Building
Room 309H
Cincinnati  Ohio, 45219
Phone: 513-558-8540
Fax: 513-558-8545
kristan.metz@uc.edu