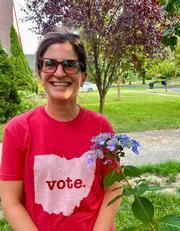 Laura R. Micciche
Professor
Area Director of Rhetoric and Composition, Professor
Laura R. Micciche, Professor of English, teaches a wide variety of writing-related courses. At the undergraduate level, she teaches composition, style, copyediting & publishing, and writing pedagogy for secondary teachers. At the graduate level, her courses have focused on theories of composing, affect and materiality studies, research methods, teaching college writing, writing for publication, and job market preparation. In addition, she developed and has led an interdisciplinary dissertation workshop since 2013 for advanced graduate students (for more about this, see "Dissertation Assistance During COVID-19").

Her research focuses on composing processes, feminist pedagogies, and affect. Monographs and edited collections include Failure Pedagogies: Learning and Unlearning What It Means to Fail (with Allison D. Carr; Peter Lang 2020), Acknowledging Writing Partners (WAC Clearinghouse/UP of Colorado 2017), Doing Emotion: Rhetoric, Writing, Teaching (with Dale Jacobs; Boynton/Cook 2007), and A Way to Move: Rhetorics of Emotion and Composition Studies (Boynton/Cook 2003). Essays and chapters on related and other topics (i.e., inclusive editing; wpa agency; feminist writing practices; graduate student writing instruction; grammar instruction) have appeared in WPA, College English, College Composition and Communication, Rhetoric Review, JAC, Composition Studies, Composition Forum, Peitho, The Atlantic, and numerous edited collections. For six years, she served as editor of Composition Studies, an independent journal in rhetoric and composition, and is currently co-editor, with Chris Carter, of the WPA Book Series for Parlor Press. See complete CV for more info.
PhD: University of Wisconsin-Milwaukee 1999 (Rhetoric and Composition)
M.A.: Ohio University Athens, OH, 1994 (Poetry and Writing Pedagogy)
Research and Practice Interests
Writing Pedagogy, Feminist Pedagogy, Rhetorical Theory (contemporary, rhetoric of emotion, public rhetoric, feminist theory), Writing Program Administration
Positions and Work Experience
2008 -2012 Director of English Composition,
Grant: #URC Faculty Awards 2014-2015 Investigators:Micciche, Laura 01-23-2014 -01-22-2015 UC's University Research Council URC Faculty Awards 2014-2015 Role:PI $8,000.00 Active Level:Internal UC
Peer Reviewed Publications
"Multimodality, Performance, and Teacher Training." With Hannah J. Rule and Liv Stratman. Computers and Composition Online (Spring 2012).
"Toward Graduate-Level Writing Instruction," with Allison Carr. College Composition and Communication62.3 (Feb. 2011): 477-501.
"For Slow Agency." WPA: Writing Program Administration 35 (Fall/Winter 2011): 73-90.
"Response Essay: The Trouble with Affect." JAC 26 (2006): 264, 75.
"Emotion, Ethics, and Rhetorical Action." JAC 25 (2005): 161, 81.
"Making a Case for Rhetorical Grammar." College Composition and Communication 55 (2004): 716, 37.
"Seeing and Reading Incest: A Study of Debbie Drechsler's Daddy's Girl." Rhetoric Review 23 (2004): 5, 20.
"More Than a Feeling: Disappointment and WPA Work." College English 64 (2002): 432, 58.
"The Role of Edited Collections in Composition Studies." Composition Forum: A Journal of Pedagogical Theory in Rhetoric and Composition 12 (2001): 101, 24.
"Male Plight and Feminist Threat in Composition Studies: A Response to 'Teaching and Learning as a Man' ." Composition Studies/Freshman English News 25 (1997): 21, 36.
Book Chapter
"Rhetorica in Motion: Feminist Rhetorical Methods and Methodologies." Writing as Feminist Rhetorical Theory. Ed. Eileen Schell and Kelly Rawson. University of Pittsburgh Press, 2010.
"Contrastive Rhetoric Theory Revisited and Redefined." Contrastive Rhetoric and the Possibility of Feminism. Ed. Clayann Panetta. New Jersey: Lawrence Erlbaum, 2001. 79, 89.
"Blundering for a Change: Errors and Expectations in Critical Pedagogy." When Class Equals Crass: A Working-Class Student's Ways With Words. Ed. John Tassoni and Bill Thelin. Portsmouth, NH: Boynton/Cook, 2000. 24, 36.
"Weaving Knowledge Together: Writing Centers and Collaboration." Erica and the Fish Lamps: Writing and Reading the Local Scene. Ed. Carol Peterson Haviland. Emmitsburg, MD: National Writing Center Press, 1998. 14, 27.
Review
"Review Essay: Rhetorics of Critical Writing: Implications for Graduate Writing Instruction." College Composition and Communication 60.3 (2009): W35-48.
Rev. of Writing Through Trauma: The Emotional Dimensions of Teaching Writing Composition Studies. (2001): 131, 41.
Rev. of Review of (Re)Visioning Composition Textbooks: Conflicts of Culture, Ideology, and Pedagogy JAC. (2000): 220, 25.
Rev. of Review of Writing in Multicultural Settings Composition Forum. (1999): 76, 80.
Rev. of Review of Sweet Reason: Rhetoric and the Discourses of Modernity American Studies International. (1998): 90, 91.
Book
Doing Emotion: Rhetoric, Writing, Teaching. Portsmouth, NH: Boynton/Cook, 2007.
A Way to Move: Rhetorics of Emotion and Composition Studies. Portsmouth, NH: Boynton/Cook, 2003.
Other Publication
"Poetry of Hope: An Interview with Robert Pack." Cream City Review 22 (1998): 40, 55.
"Interview with Robert Pinsky." Cream City Review 22 (1997): 1, 19.
Invited Presentations
(01-2006. ) Rhetorical Grammar Workshop .Hampden-Sydney College,
(02-2006. ) Teaching Grammar as Invention and Analysis .Indiana University-South Bend,
Paper Presentations
(2012. ) Writing as a Practice of Wonder .Philadelphia.
(2011. ) Writing Relations: Maybe a Manifesto .Atlanta.
(2010. ) Teachers Doing Multimodality .Louisville.
(2009. ) On Poaching and Protectionist Strategies .San Francisco.
(2008. ) Critical Writing Workshop for Graduate Students .New Orleans. Level:National
(03-2007. ) A 'Better Way to Live'?: On Composition's Metonymic Tendencies .New York.
(05-2006. ) Emotion as Rhetoric: 'Not Necessarily Reprehensible' .Memphis, TN.
(03-2006. ) On Acts of Misreading and Invention .Chicago, IL.
(03-2006. ) Generating Mentors in Composition: Beyond the Great Chain of Being .Chicago, IL.
(11-2004. ) Thinking Critically About Visual Rhetorics .Indianapolis, IN.
(12-2003. ) Whiteness Visible .San Diego, CA.
(10-2003. ) Race and Affect in Professional Life .Columbus, OH.
(03-2003. ) Gossip, Voting Blocks, and Other Dirty Laundry .New York.
(03-2002. ) Emotional Subjects for Composition .Chicago, IL.
(10-2001. ) Not so Funny: Incest as Comic Narrative .Decatur.
(03-2001. ) Is There Hope for Me?: Some Notes on Hope and Teacher-Training .Denver, CO.
(11-2000. ) Rhetorical Grammar for Critical Citizenship .Milwaukee, WI.
(04-2000. ) Teaching and Disappointment .Minneapolis, MN.
(10-1999. ) Emoting for a Change: Feminism and the Rhetoric of Anger .Minneapolis, MN.
(04-1998. ) Empowerment' from a Materialist Perspective .Chicago, IL.
(03-1998. ) Searching the Halls of Academe: Feminist Mentors and the Formation of Professional Identity .University of Houston-Clear Lake.
(06-1997. ) Materialist Feminism: A Necessary Rhetoric for the Future .Pittsburgh, PA.
(05-1995. ) Writing Center Scholarship: Can We Talk Methodologically? .Marquette University.
2012 Mrs. A.B. Dolly Cohen Award for Excellence in Teaching University-wide award
2011 Faculty Development Council Grant
2011 Taft Competitive Lecture Fund
2010 Faculty Development Council Grant
2010 Taft Summer Research Fellowship
2009 English Department Boyce Teaching Award
2007 Faculty Development Council Grant
2005 Taft Summer Research Fellowship
Post Graduate Training and Education
2010Writing Program Administrator's Workshop and Institute,, Philadelphia
2008Digital Media and Composition Institute,, The Ohio State University, ,
2012Study Abroad Course Design Institute, UC, ,
NCTE, CCCC, WPA, RSA, ATAC, Coalition of Women Scholars
15-ENGL-101 ENGLISH COMP I
15-ENGL-102 ENGLISH COMP II
15-ENGB-305 WRIT ENGL MAJORS
15-ENGC-715 CRIT WRIT ENGL STUD
15-ENGC-738 TOPC IN COMPOSITION
15-ENGL-200 DIGITAL COMPOSING
15-ENGL-289 INTERMEDIATE COMP
15-ENGL-359 INTRO RHETORIC WRIT
15-ENGL-387H EATING DISORDERS-H
15-ENGL-489 ADV COMPOSITION