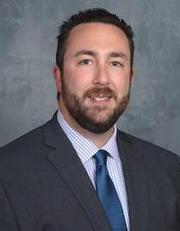 Robert Allen Milnes
Adjunct Assistant Professor
Kowalewski Hall
Pharmacy Leadership Program - 0004
Robert Milnes, PharmD, MBA, BCPS, is adjunct professor of the master's program in pharmacy leadership at the James L Winkle College of Pharmacy.  When he's not teaching at UC, he works at Cigna Express Scripts as Senior Director of Pharmacy Practice in the Home Delivery Pharmacy division.

Dr. Milnes earned his PharmD in 2008 from the LECOM School of Pharmacy and MBA in 2016 from West Texas A&M.  His career path has included retail pharmacy, hospital pharmacy, medication therapy management and pharmacy staffing services, specialty pharmacy, telepharmacy, and mail order pharmacy with leadership roles throughout.

Dr. Milnes is very active in his community.  He and his wife regularly volunteer at the community center, charitable pharmacy, and both hold leadership roles in the local PRIDE Committee.  It is his opinion that seeking opportunities to bring together a group of diverse individuals with varied backgrounds who hold different beliefs can only help us to bring about change and improvements in our professional and personal lives.
MBA: West Texas A&M 2016
PharmD: LECOM School of Pharmacy 2008
Positions and Work Experience
2019 -2020 Senior Director of Pharmacy Practice, Cigna Express Scripts,
2015 -2019 National Operations Director, Cardinal Health,
2019 - Adjunct Professor, University of Cincinnati,
2012 -2015 System Director of Pharmacy, Ashtabula County Medical Center,
2008 -2012 Pharmacy Manager, Walgreens,