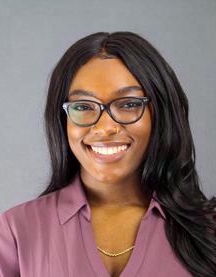 Jamisha Daniele Miniefield
Graduate Assistant
Hailing from Columbus, OH., Jamisha graduated from the University of Cincinnati with her Bachelors of Science in 2017. Immediately following that, she started graduate school at UC and in 2019 completed her Master of Arts in Psychology with a focus in Organizational Behavior.
 
Jamisha joined the A&S Advising team in October of 2019. Her passion for student advocacy, especially those that come from underserved and marginalized populations, is an important aspect of her background and is rooted in her purpose and passion for supporting students at the University level. Jamisha's goal as an academic advisor is to meet students where they are in order to best assist them with their development to ensure their success at the collegiate level and beyond.
 
Bachelor of Science : University of Cincinnati 2017 (Psychology )
Master of Arts : University of Cincinnati 2019 (Organizational Psychology )
Research and Practice Interests
Jamisha's research interesnts focus on the methods used in the selection, placement, and promotion of individuals within organizations and its relative influence on diversity, equity, and inclusion in the work envrironment and higher education institutions.