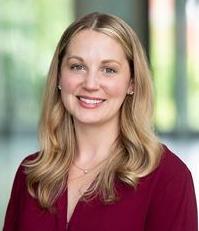 Katie Anne Mosure , M. Ed.
Asst Dir Academic Student Advising
Assistant Director
309 Health Sciences Building
3225 Eden Avenue
Cincinnati, Ohio 45219
Phone 513-558-4380
Fax 513-558-8545
Email katie.mosure@uc.edu
Katie Mosure is a two-time University of Cincinnati graduate dedicated to student development and success. As an academic advisor for the College of Allied Health Sciences at the University of Cincinnati, she is focused on helping future health care professionals achieve their academic, personal, and professional goals through appreciative advising sessions to encourage student growth through self-discovery, active learning, accountability, and respect. 
Bachelors of Science in Education: University of Cincinnati Cincinnati, OH, 2011
Masters of Education in School Counseling: University of Cincinnati Cincinnati, OH, 2013
Invited Presentations
Mosure, K. (09-2019. ) Per My Last Email: Zero Inbox Advising .2019 University of Cincinnati Advising Conference, University of Cincinnati. Conference. . Level:Local
Mosure, K. and Stein, K. (03-2019. ) The Positive Feedback Loop: Critical Reflection in Advising .NACADA Region 5 Conference, Detroit, MI. Conference. . Level:Regional
Mosure, K., Stein, K. and Andrews, K. (09-2018. ) The Positive Feedback Loop: Critical Reflection in Advising .2018 University of Cincinnati Advising Conference, University of Cincinnati. Conference. . Level:Local
Mosure, K., Rawe, K., and Shelton, B. (09-2014. ) Talking Dollars and Sense with College Students .2014 University of Cincinnati Academic Advising Conference, University of Cincinnati. Conference. . Level:Local
Richardson, K. (08-2012. ) PACE Leaders as Mentors .PACE Leader Training, University of Cincinnati. UC. . Level:University
Richardson, K. and Prinzo, M. (03-2011. ) First Year Leadership: Building and Becoming .University of Cincinnati Student Leadership Conference, University of Cincinnati. Conference. . Level:Local
Richardson, K., McMiller, M., and Nixon, K. (09-2010. ) Peer Mentors Creating Future Peer Mentors .IUPUI Mentoring Symposium, Indianapolis, IN. Conference. . Level:Regional
2013 Outstanding Student in School Counseling University of Cincinnati College of Education, Criminal Justice, and Human Services Status:Recipient Level:College Type:Recognition
2014 -2015 CECH Exemplary Student Service Award University of Cincinnati College of Education, Criminal Justice, and Human Services Status:Recipient Level:College Type:Recognition
2018 Darwin T. Turner Breakfast of Champions Honoree University of Cincinnati Status:Nomination Level:Honorary
2019 UC Outstanding First Year Advocate Status:Nomination Level:University Type:Recognition
2014 Sarah Grant Barber Outstanding Advising Award Status:Nomination Level:University
2015 Sarah Grant Barber Outstanding Advising Award Status:Nomination Level:University
2019 Sarah Grant Barber Outstanding Advising Award Status:Nomination Level:University
2019 -2021: UC Academic Advising Association (UCAADA) Membership Chair University of Cincinnati, Cincinnati, OH
-HLTH-1001 SUCCESS ALLI HLTH I Success In Allied Health I Level:Undergraduate
-HLTH-1002 SUCCESS ALL HLTH II Success in Allied Health II Level:Undergraduate
CNSL7060 Level:Graduate
Academic - 309 Health Sciences Building
3225 Eden Avenue
Cincinnati  Ohio, 45219
Phone: 513-558-4380
Fax: 513-558-8545
katie.mosure@uc.edu