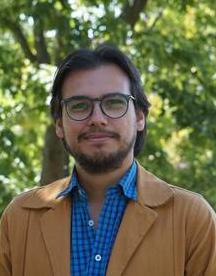 Carlos Andres Munoz
Graduate Assistant
My research focuses on studying emotions, specifically their internal structure, their relationship with other mental states, and their role in personal and political contexts. I am also interested in political psychology, the metaphysics of freedom, and moral responsibility in democratic settings. 
MA : Rosario University Bogota (Colombia), 2018 (Philosophy)
MA in Psychology: University of Cincinnati Cincinnati, (Organizational Psychology)
Peer Reviewed Publications
Murillo, Alejandro; Munoz, Carlos (2019. ) An approach to the non-conceptual content of emotions.Aurora, , 31 (54 ) ,750-768 More Information
Patarroyo, Carlos; Munoz, Carlos (2019. ) Self-Deception and Social Interactions.Letral, , 24 ,241-257 More Information
Invited Presentations
Carlos Munoz-Serna (08-2022. ) Images of a lost paradise. A revision to the simulationist approach to nostalgia .Duke University, Durham.
Carlos Munoz-Serna (08-2018. ) Emotions: Between the conceptual and the non-conceptual .UIS, Bucaramanga (Colombia). Level:National
Carlos Munoz-Serna (11-2015. ) Self-Deception and emotions .XXVI Conference of Epistemology and History of Science, Cordoba (Argentina). Level:International